Page 2 of 2
Focal Point: Open Kitchen
The heart of the restaurant, as in each Shake Shack location, is a large, open kitchen. It's what McCaughan calls the concept's "engine" and is a focal point of the design.
"We do all of our cooking from scratch and to order. That's always been a key to the concept, dating back to the original kiosk location in Madison Square Park. Whenever you enter a Shake Shack, you always have that experience of walking up to the counter, ordering, seeing what's going on in the kitchen and interacting with employees."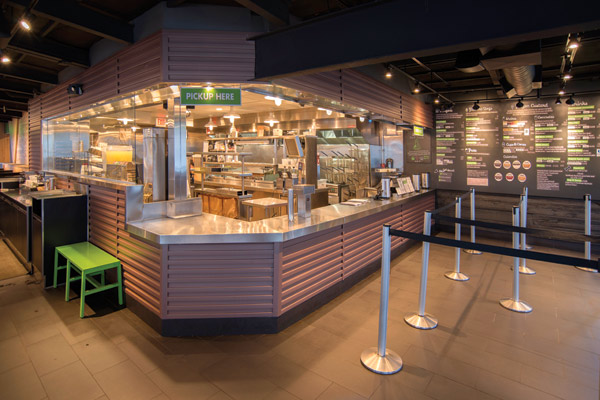 While each restaurant has a somewhat distinct appearance and utilizes different materials, all Shake Shack kitchens have a similar aesthetic. In addition to being open to full view, they're clad on the dining room side in corrugated metal panels. That's a reference back to the original Shake Shack in Madison Square Park. "They might vary in color in different units, but they'll all have that same basic material and consistent look," McCaughan says.
In Paramus, for example, the kitchen features warm reddish-grey corrugated zinc panels. In Battery Park City in New York, the panels are tinted a greenish-blue.
All told, the kitchen in Paramus takes up roughly 40 percent of total space, and is set up in 3 main aisles to maximize both food production efficiency and visibility from the front of the house. "We don't want to hide anything," McCaughan says. "We want people to be able to see right in and see their milkshake being made or their burger being cooked for them."
The exterior of the Paramus location also harkens back to the original unit, picking up the metal cladding. Outside, corrugated dark brown aluminum panels surround the structure and the angled roof provides a sleek and modern look, but one that is simultaneously warm and inviting.
Wood Warms the Interior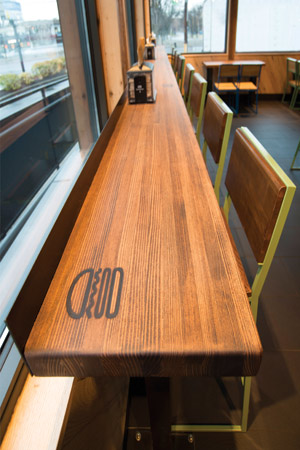 The restaurant's interior achieves that same modern, yet warm effect thanks to minimalist styling balanced by a liberal and creative use of wood. Tabletops, counters, chairs, half walls (which double as planters for native plants) and even wall coverings all exude warmth from a variety of natural woods.
"We reached for the warmth of local Jersey red oak balanced with a black charred look," Lee says. "Charcoal has a cleansing effect on water and air, and we felt the air here needed to be cleared to make way for this new restaurant."
The charred look comes from incorporating locally sourced, reclaimed mushroomwood. According to Lee, it's a blend of cypress and hemlock reclaimed from the bedding bins of local mushroom growing facilities. During the mushroom growth cycle, enzymes digest and erode the soft wood grain producing an organic, sculpted effect.
Also lending a distinctive look to Shake Shack's interior is the dark grey recycled concrete flooring tile that evokes a city sidewalk. "It has a little bit of sheen to it and a beautiful, clean look, but is finished to have a little grip for safety and is designed for very high volume," McCaughan says.
The continuation of the angles used on the building's roof sets the interior apart, as well. The design team chose the angled wall treatments as a way to reference the modern roadside shack, according to McCaughan. "We felt it referenced some of the more modern architecture of the 1950s that you see in the Madison Square Park unit," he says. "We like playing around with those angles and it makes for a much more interesting effect on the interior."
Philosophically, the approach fit. USHG strives in all of its units to utilize as much locally sourced, sustainable materials as possible. "We want to design restaurants and use materials that create a great experience, but that also have some strength and a good story to tell," McCaughan notes. "Our booths and benches are made for us by a company up in Rochester, N.Y. They produce everything in a very sustainable fashion."
One of McCaughan's favorite features is the counter seating along a wall of windows looking out onto Route 17. With room for 8, it spans roughly 16 feet and was constructed from reclaimed bowling alley wood. "We work with a great manufacturer out of Brooklyn, N.Y., who makes those counters by hand for us. It's something we just think really works and has value."
The counter, like all of the tables, is branded with the distinctive Shake Shack burger logo, a signature touch also found in other locations. "That's something that we're just in love with," McCaughan says. "It's what our guests touch and feel, and we think it adds a lot of value."
---
Project Team
USHG Director of Real Estate and Design: Andrew McCaughan
Design: Denise MC Lee, Sara Stracey, SITE
Architect Project Manager: Neal Thompson, Aria Group
Contractor: Trinity Building & Construction Management
MEP Engineer: Henderson Engineers

Snapshot

Owner: Union Square Hospitality Group
HQ: New York, N.Y.
Unit location: Paramus, N.J.
Opened: November 2013
Square footage: 3,370
Real estate type: freestanding, 67-year-old building
No. of seats: 100+
Front of house/back of house split: 60/40
Design highlights: Dark brown corrugated aluminum exterior, angled roof, open kitchen, angled reclaimed wood wall finishes, FSC-certified chairs and booths, logo-branded tables, large windows; window counter and tabletops made of reclaimed bowling alley lanes.
Build out: 17 weeks