Iraklis Karabassis, restaurateur and founder of IK Retail Group in Washington, D.C., has opened his first concept in South Florida, Sette Osteria, an authentic Italian restaurant and bar in Miami's Wynwood Art District designed by Miami-based Saladino Design Group. We caught up with Karabassis to learn more.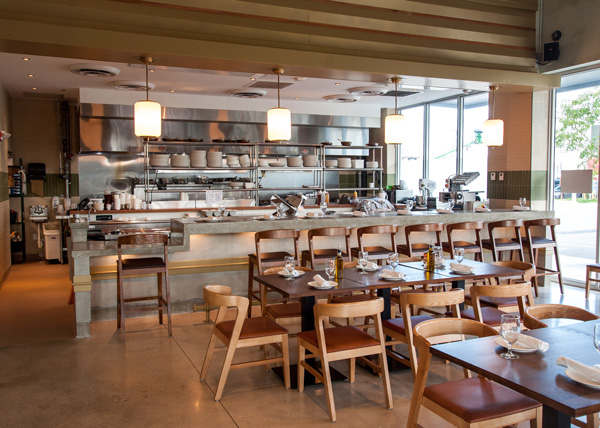 As a veteran of Washington D.C.'s food scene, why did you decide to open in Miami?
IK: Miami is home to an exploding culinary scene and we wanted in on the action. For 15 years we have become a neighborhood spot in Washington D.C., and we wanted to create a similar atmosphere in Miami — and the Wynwood Art District is the perfect place for that.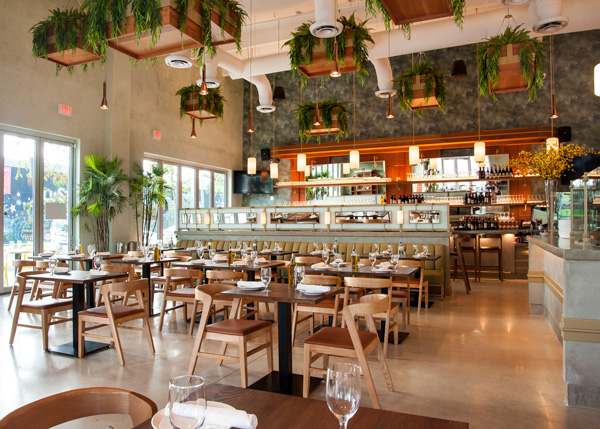 How did you try to fit in to the young, artsy neighborhood?
IK: Our ambiance very much appeals to the young crowd in Wynwood. We encourage all our guests to come as they are and enjoy our beautifully-plated dishes in an Instagrammable setting full of lush greenery.
What was the overall design concept for the space?
IK: We wanted to create a balanced atmosphere with warm earthy tones and casually sophisticated decor as an inviting, neighborhood restaurant for locals to enjoy. Wynwood is full of young professionals and visitors who yearn for delicious food in a fun and open environment. Sette Osteria provides them with that place — fresh Italian cuisine in a relaxed, neighborhood setting. I wanted our guests to be able to feel comfortable while appreciating the masterpieces our chefs create.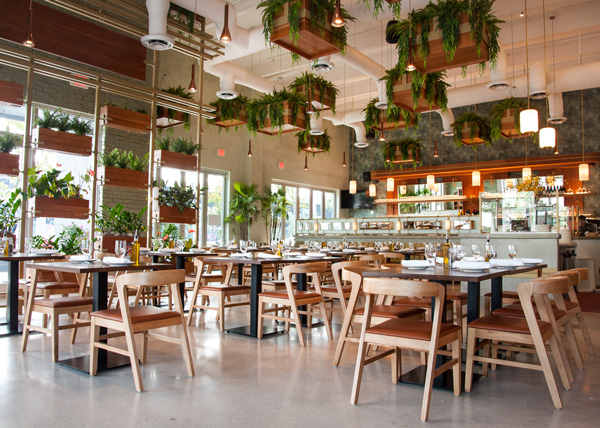 What is the main dining room like?
IK: The intimate dining room seats 80. Plants are the theme, with palm leaf wallpaper, lush greenery in wooden crates hang from the high ceiling overhead, while larger potted plants are spread throughout the dining room. There is also a green wall in the middle of the restaurant.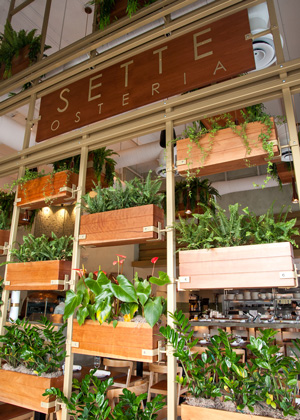 Why did you decide to go with greenery throughout the space?
IK: We wanted Sette Osteria Miami to be completely open, fresh and bright, where guests can feel like they're dining in a setting that's both sophisticated and casual, and the lushness of the space does just that.
Why did you choose the color scheme you did?
IK: Earthy tones like green, yellow, copper and brown were used to complement the sun, which shines in from our floor-to-ceiling windows and creates a fresh atmosphere, and allows our bright dishes to take the front seat in our guests' experience.
Were there any challenges in the design and development of the space? how did you overcome them?
IK: We were lucky enough the find a space that was new, so we were able to have full creative freedom with the design and development of Sette Osteria.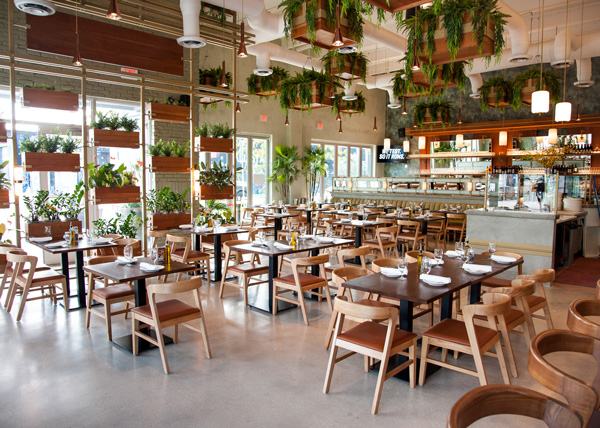 What is the lighting like? What about the color choices and furnishings?
IK: We went with floor-to-ceiling windows to allow the sun to come in and create a bright and alfresco dining experience. Throughout the space there are also earthy tones as well as greens, yellows, browns and copper. A mix of wooden tables and chairs center around a green, plush booth in the middle of the dining room.
Who runs the menu and what is the kitchen like?
IK: Executive Chef Nicolas Flores and Italian-born Corporate Chef Nicolas Sanna run the entirely open kitchen, where handmade pastas, Neopolitan-style pizzas and classic entrees are prepared. The kitchen area also features a seven-seat chef's table and nearby 30-seat bar where guests can watch the fresh pizzas and pastas being made and select wines from our expansive collection of bottles lining the mirrored back bar.