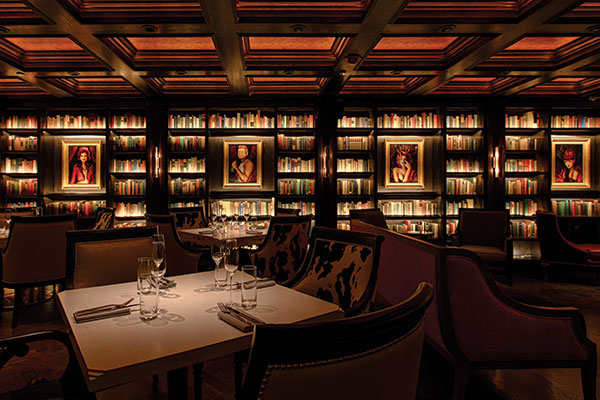 LEDs highlight the spines of old books at Yvonne's in Boston. Photo by Ryan Fischer.Light Emitting Diode (LED) lighting technology has come a long way and is developing so quickly that even lighting designers are hard-pressed to keep up. "There are many more options, and they're changing every month," says Brett Anderson, principal designer of New York-based lighting design firm Focus Lighting.
Over the past several years, manufacturers have increased the varieties and features of these light sources while prices have fallen steeply. When you consider total cost of ownership and their ever-increasing versatility, LEDs are now the preferred lighting choice in many instances for commercial and residential use. The rapid acceptance of LEDs in the market marks one of the fastest technology shifts in human history, according to a recent report by Goldman Sachs.
So, are LEDs a no-brainer for all restaurant fixtures today? Not necessarily. When lighting designers envision the interior of an eatery, they consider many factors, including type of establishment, operating hours, seating plan, desired ambience, cost and energy usage. All this considered, LEDs still fall short in the assessment of some designers in certain applications — particularly when it comes to directly lighting dining tables.
Nevertheless, LEDs are becoming the dominant light source for many new restaurants, and manufacturers are working to overcome the shortcomings that are stopping some restaurants from going all in. In fact, it may be just a few years before LEDs are the de facto solution for every restaurant lighting application. Here's what you need to know about where the technology is today and how to best use it.
Plummeting Costs
LEDs began to gain traction in the lighting market around 2008. At first, they were too expensive for mass adoption, but manufacturers have worked wonders in less than 10 years. The price decline of LED bulbs is linked to what's known in the industry as Haitz's Law, which predicts that every year, the price per lumen (a measure of brightness) of an LED falls by a factor of ten. This is due to continual advances in research and development.
That law has held up so far. Since 2008, prices for LED lightbulbs have dropped 90 percent. Standard 60-watt-equivalent LED bulbs now sell for as little as $2.50 (though other types of LEDs sell for considerably more). The cost declines have been so rapid that public perception lags behind the market rate. Many restaurant owners continue to believe LEDs are cost-prohibitive. "We're still educating customers about the cost of LEDs," says Garrett Neal, principal designer, Ron Neal Lighting Design, based in San Diego.
While there is a price premium compared with incandescent, fluorescent and halogen options, in many cases, it's not enough to deter designers and owners from choosing LEDs. Also, LEDs make up the initial cost premium over time with savings on power and maintenance costs. The most efficient LED bulbs use about 85 percent less electricity than incandescent bulbs and about 40 percent less than fluorescent bulbs. LEDs can last up to five years with nonstop use and even decades when used a few hours per day. That's 50 times longer than incandescents and about three to seven times longer than fluorescents. Think of the time and effort saved, given that replacing LED bulbs is rarely necessary.
With stricter energy codes becoming more widespread, the energy-saving traits of LEDs are critical. For example, lighting power density limits in California's Title 24 Building Energy Efficiency Standard make designing restaurant lighting a challenge. Each space has a power budget, and every watt must be measured for every fixture. The latest provisions of California's energy code, in fact, prohibit the use of incandescent and halogen lamps. In other states with less stringent codes, LEDs' considerable energy savings make it possible to meet code while also mixing in incandescent or halogen lamps within the overall lighting scheme.
Aesthetic Limitations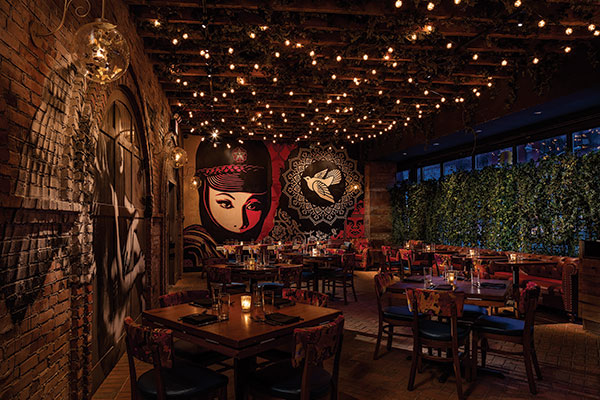 Vandal's "Secret Garden" room in New York has dramatic lighting to highlight its street art-inspired aesthetic. Photo by Warren JaggerLEDs offer a wide range of color quality ranging from warm to neutral to mimicking brilliant daylight. Bulbs are classified into three categories as measured in degrees Kelvin (K): Soft White (2700K–3000K), Bright White/Cool White (3500K–4100K) and
Daylight (5000K–6500K). The higher the degrees Kelvin, the whiter the color temperature. Most lighting in restaurants falls below 3800K. A cooler, whiter color suits a clean, modern aesthetic. Thus, many fast-casual establishments opt for a brighter, whiter lighting scheme, and LEDs fit the bill well in these spaces.
There are times when halogen lights are a better choice, however, according to some lighting designers. Fine-dining restaurants with a more traditional aesthetic — containing darker interior surfaces such as wood, brick and stone, for instance — typically opt for a warmer lighting scheme, an environment where LEDs have historically fallen short.
For Coje Management Group, a Boston-based restaurant operating group, lighting is an integral ingredient in the warm, romantic aesthetic of their three establishments. Coje's properties are fine-dining or full-service restaurants where most guests stay for a minimum of two hours. "They spend a lot of time soaking up the aesthetics," says Chris Jamison, principal with Coje. "The easiest way to insert warmth into the equation is through lighting."
"We don't use LEDs for down lighting or spotlighting on tables," Jamison continues. "We haven't seen LEDs that can mimic the warmth that we want when dimmed." LEDs can produce a flicker effect when dimmed that might be just barely perceptible but is enough to detract from the desired lighting scheme, he says, and is more prominent when an LED spotlight is positioned next to a halogen spotlight.
In California, the energy codes dictate that LEDs are the only real option in new or substantially renovated spaces to create a warm interior lighting aesthetic. Fluorescents will not produce the same effect. Neal says that there are current LED products that work in muted, warmer color tones. "The technology is there," he says. "It can be achieved, and price points have come down. There are new warm, dimmable LEDs that drop the color temperature as you dim them down."
Anderson counters that price sensitivity is still inhibiting the use of warm, dimmable LEDs, including trendy Edison-style bulbs, in the New York City area. "In an especially competitive environment like New York, if you pay a 30 percent or more premium for LEDs, is your restaurant going to be around long enough to reap the benefit?" he asks, noting that some new establishments may not last more than six months.
Aesthetic Advantages
Jamison is not anti-LED, as Coje's restaurants all use LEDs for specific purposes — mostly for accent lighting to highlight artwork or design features. "LEDs can go places that incandescents, including halogens, can't go," Jamison says. LEDs can be deployed in a long, thin form resembling Christmas lights or other smaller-fixture arrays that take up little space, give off little heat yet still provide appropriately bright light. "You can easily wire them under a shelf so that the fixtures are not visible," Jamison says. This has allowed for special effects such as lighting shelves of glasses so that they appear to be shimmering jewels, highlighting the spines of old books in bookcases and accenting paintings — all features within Coje's downtown Boston hot spot Yvonne's.
Within New York's trendy Vandal eatery in the Bowery, an 11-foot upside-down sculptured purple bunny is spotlighted by LEDs at the end of a long, vaulted brick tunnel in the entryway. The Alice-in-Wonderland-themed vignette includes black-and-white diagonal stripes on the floor and wall behind the sculpture. The installation stamps an unforgettable image on the minds of patrons. This piece and other artwork curated by a renowned street artist get bright and precise direct lighting from LED fixtures. Such applications are where LEDs are especially well suited.
Another trait, programmability for color and brightness, makes LEDs particularly desirable for certain purposes, Neal says. Some restaurants use LEDs for special effects, such as creating a green hue on a wall or in the back of a bar on St. Patrick's Day. Lighting control systems make it easy to preprogram the brightness of LED lighting so that brightness levels adjust automatically during different dayparts.
In an open kitchen, LEDs offer bright, focused task lighting, Neal adds. This lighting strategy provides chefs and staff with the amount of light they need within acceptable energy usage limitations and without overwhelming the dining area closest to the kitchen with ambient light. By contrast, other options for kitchens, such as fluorescent troffer ceiling lights, would emit too much indirect bright light and disrupt a muted, warmly lit dining atmosphere. Anderson says that fluorescent lighting works fine in the back of the house — as long as it isn't visible to customers — but if budget allows, his firm uses LEDs for those areas.
The Future
All in all, designers are thrilled to have LEDs in their arsenal. "It's a pretty exciting time because we're getting a lot of new tools from new technological developments," Neal says.
"I can do things with LEDs today that weren't possible three to five years ago," Anderson adds. "LEDs are key in our ability to design lighting that is rich and full of many layers — making both architecture and people look great." His firm is constantly working to keep up with new LED products. "We're testing all the time," he says. "Sometimes new is better; sometimes it isn't." The explosion of options makes it more important than ever for lighting designers and interior designers to work closely together, he explains. After all, the true impact of lighting can only be appreciated after a space is fully finished and furnished.
As LED technology continues to advance, the remaining holdouts are likely to drop any lingering resistance. Jamison, for example, is optimistic about the technology and believes manufacturers will solve any remaining aesthetic performance problems at a reasonable cost. "I'm sure they'll get there," he notes.