Opened in July 2017, the Omni Frisco Hotel is located on the grounds of the Dallas Cowboys practice facility and headquarters, dubbed The Star.
A team from Gensler's Dallas office handled the architectural design, while interior design, including the ground floor wine bar and restaurant, was led by Dallas' Wilson Associates.
According to Marc Ciafardini, senior interior designer with Wilson Associates, the hotel's entry and lobby are built on a grand scale — both to make an impression and to allow plenty of room for groups coming to the hotel for events.
While impressive, Ciafardini and the design team created the wine bar to be a bit of reprieve, a comfortable bistro-like place where guest can enjoy a glass of wine and a charcuterie plate.
While the bar and bar back have a monolithic look, these features are made of large porcelain tiles over a plywood subframe — a far more economical solution than granite or marble.
The bar back also features wood boxed shelves, lined with bronze accents, and uplit metal mosaic tiles. These shelves are filled with a collection of found items. Along with some other mixed material — brass bar stools and metal framed chairs — these features give the wine bar a slightly residential aesthetic alongside a high-end bar's look and feel, says Ciafardini.
The other main feature of the wine bar is the millworked "woven wall" with inset glass pieces completing the grid. "We wanted the wine bar to have layers. We wanted to give depth where we could and keep as much of an open feeling as possible."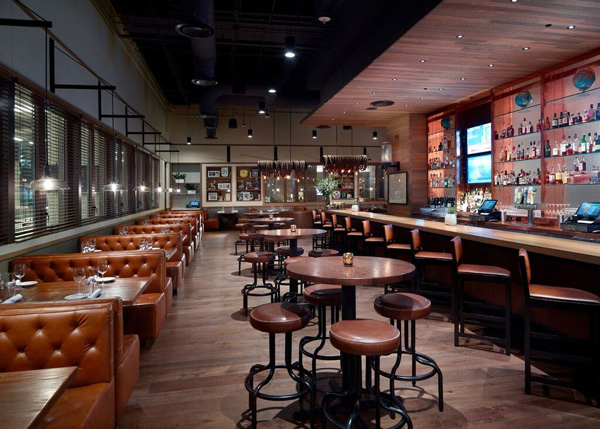 In addition to the wine bar, the hotel features Neighborhood Services, a restaurant owned and operated by Dallas-based multiconcept operator FlavorHook.
This space, says Ciafardini, isn't designed as a hotel restaurant. As the name implies, it's meant to be a local restaurant that's "inserted right into the corner of the building," attracting mostly local diners as well as some hotel guests.
This is reflected in the design. While the wine bar has elements that tie it to the lobby, such as tabletops that match the Brazilian granite at the check-in counter, Neighborhood Services has its own distinct look and feel. It features a darker color palette, natural materials and an intentionally congested feel.
"It has a very earthy quality to it. [The operator, Nick Badovinus,] wants his restaurants to feel broken in, "Like a great pair of comfortable 501 jeans" says Ciafardini.
The restaurant's lived-in elements include plenty of reclaimed cypress, which is used for the bar, the overhang above the bar, columns and bookcase trim. While not reclaimed, the floors and tables are solid wood as well.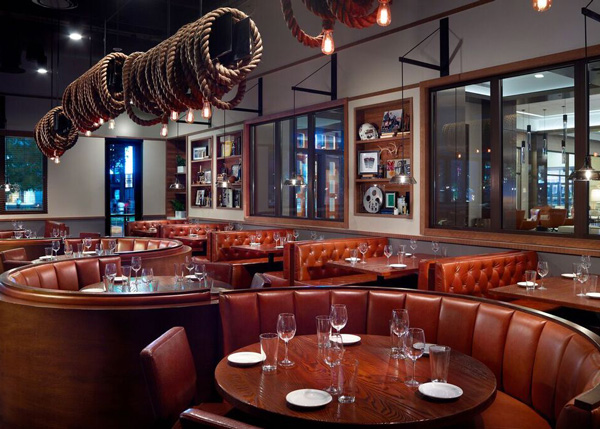 Neighborhood Services' "congested" feel is meant to provide the restaurant with a sense of energy and activity. The designers helped impart this with a serpentine set of booths running down the center of the space.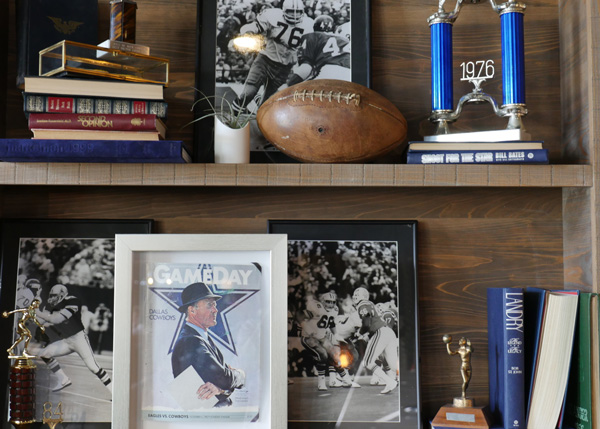 "It may feel crowded but the restaurant has a good flow. [Badovinus] wants to fit as much as he can in there. Even if it may seem kind of chaotic, as long as it's tastefully done, he's all for it," says Ciafardini.
The room's accessories also make the restaurant seem lived-in and packed. Spooled ropes hanging from the ceiling contribute to the natural, environment, while shelves are filled with Dallas Cowboy's artifacts, including historic programs, playbooks and photos. There's also a vintage locker that houses an actual Cowboys uniform — one that is a composite of pieces from famous Cowboys players uniforms. Ciafardini hung additional team memorabilia throughout the operation without any set pattern.
"It wasn't a grid, it was scattered. It looks like you acquired it over time. Everything's kind of chaotic, but it's a comfortable chaos," he says.
Neighborhood Services also has a private dining room. The space is located at the center of the operation, with the main area's bar back serving as one of the room's walls. Panels of safety glass give diners a hazy view of the bar's liquor selection.
The private dining room has a few features that give it a slightly special feel compared to the rest of the operation. The chairs are plusher and the hardwood table is more substantial than what's found in the main dining area. Instead of hardwood, the space is carpeted with squared designed to look like sections of different oriental rugs.
Notably, Neighborhood Services takes advantage of the private dining room's central location by locating its buffet and other offerings in the space on holidays or by special request.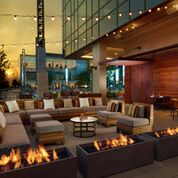 Neighborhood Service's space at the Omni extends to an outdoor patio. This is a large space, with seating for around 80, says Ciafardini. The area includes several seating types, including soft seating, floating tables and banquette seating. In addition to offering a comfortable environment, the patio provides guests with a view of a 60-yard Pop Warner field with a jumbotron that shows concerts, games or whatever event is being held inside the indoor practice field.
Since Neighborhood Services is designed to be a local restaurant, guests don't have to enter the hotel to get to the patio.
"It has direct access to the street. If you're coming from a game or a concert, you can just sort of walk up and immediately immerse yourself in whatever energy or events are happening at the restaurant, or just get something to eat or drink," says Ciafardini.