One of Nashville's top restaurateurs, Tom Morales of TomKats Hospitality, open his latest, Fin & Pearl, this month in The Gulch neighborhood of Nashville.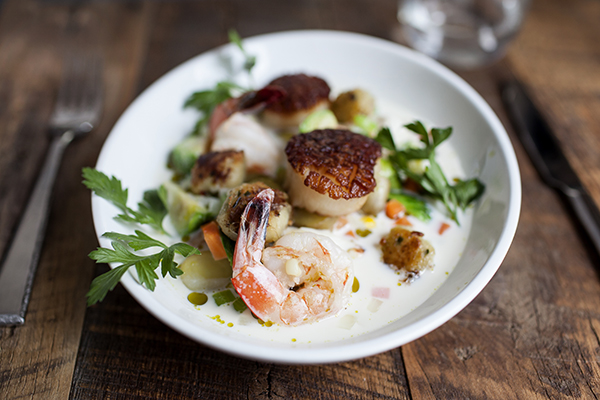 A "sea-to-table" concept committed to sustainable and traceable seafood sourcing and earth-friendly operations, the restaurant sits on the ground floor of the Twelve | Twelve luxury condo building. Designers at Nashville architecture firm Tuck Hinton and RC Matthews sought to create a comfortable and inviting space framed by the "Boathouse," a dining space with reclaimed wood floors and large teak tables intended for community dining and groups. Looking through the boathouse, guests can catch a glimpse into the open kitchen where a large chalkboard features the daily catches and where Executive Chef Matt Farley and Chef de Cuisine Dale Levitski collaborate on fresh seafood-focused dishes.
Teak details, sourced and designed by Mayasa & Company, pepper the restaurant with custom furniture, countertops, and a beadboard ceiling. Additionally, the restaurant's central bar evokes a ship's mast and features white-washed wood paneling, ocean stained concrete, patterned tiles, and a white marble shuck-to-order raw bar inspired by the classic oyster houses of New Orleans.
Drinkware made from rescued wine bottles grace the tables while sustainably-sourced wood makeup the furniture, counters, and ceiling details throughout.
In addition to the 144 seats in the main dining room, the restaurant also seats 20 guests at the bar, 40 guests on the patio terrace and 50 guests in The Chart Room, a private dining room with white-washed wood paneling, live edge teak counters, and two salvaged brass chandeliers.
Fin & Pearl remains committed to helping the foodservice industry reduce its carbon footprint and developing "zero waste" initiatives to stop landfilling organic waste. Additionally, Fin & Pearl is actively researching opportunities to recycle used oyster shells.
Photos courtesy of Fin & Pearl