Ray GonzalezDesigned by EDG and Axis Architecture, Scroll Bar Waterside Kitchen opened in early February at the new Pullman San Francisco Bay hotel in Redwood City, Calif.
The 3,217-square-foot space seats 156 in the main dining room, 19 at the bar, 74 on the outdoor patio and 19 poolside. Executive Chef Mariano Lalica serves a mix of shareable plates like mussels with ginger and watercress and larger dishes like roasted Petaluma chicken as well as a special luau pig feast for eight to celebrate the chef's Hawaiian heritage.
Here, Ray Gonzalez, project manager at EDG, gives us the lowdown on Scroll Bar.
What was the overall design concept for the restaurant?
RG: We were inspired by 21st-century ingenuity, the nature of innovation and technology; hence the name Scroll Bar, which is the long, thin bar at the edge of a computer display that shows the place on the page when scrolled using a mouse. Every seating area is equipped with a charging station for powering gadgets. We were also inspired by the natural and pristine North Coast of California where we would observe nature as a source for creation. We used a lot of warm, brown tones mixed in with blues, greens and yellows to represent the ocean and coastal land.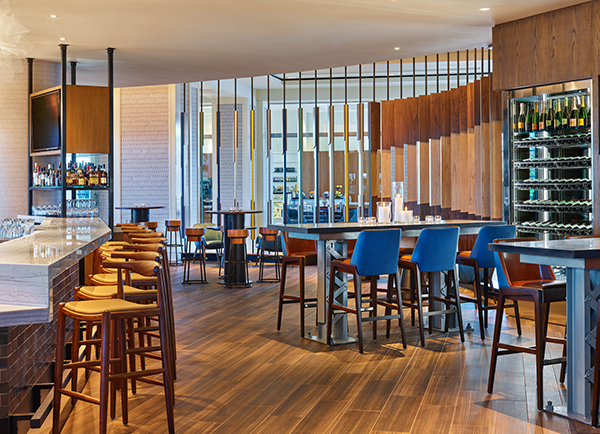 What are some design features in the space?
RG: The screen fin partitions were inspired by waves and the tidal shift. An algorithm was used to generate an iterative design for each screen to define spaces within the open floor plan of the restaurant, bar and lounge. On the patio, we designed a trellis to protect guests from direct sunlight and heat during the afternoon. The trellis is used to not only unify indoor and outdoor dining experiences: it also attracts more guests and ensures an extended and relaxed stay. The trellis' horizontal slats are made to look like wood and appear to float from the interior extending to the exterior dining terrace with seemingly minimal effort. The flooring is made up of a custom designed Axminster carpet and imported porcelain tile from Spain to resemble natural wood flooring. The decorative lighting is meant to accent the space with organic forms made from stainless steel mesh, glass and metals.
Any noteworthy artwork or wall pieces?
RG: There is a custom wall covering done by artist Julie Coyle that acts as a backdrop for the lounge dining space. There is another piece called Molalla Meander from local artist Adrien Segal based in Alameda, Calif., and it reflects the design concepts of our interiors, which is the nature of innovation. This artist worked with inspiration derived from natural phenomenon and scientific research, including a study of the alluvial flows of a river measured over five years. Segal takes this rich information to create a data visualization that represents her interpretations of the rivers change in path over time. Segal's work resides in other technology centers in the Northwest United States.
How did you choose the furnishings?
RG: There is a combination of upholstered stools with leather seats; there are also stools made with cork material and solid walnut, with different lounge chair options and dining chairs. We kept the furnishing styles contemporary and fun, yet still comfortable and inviting.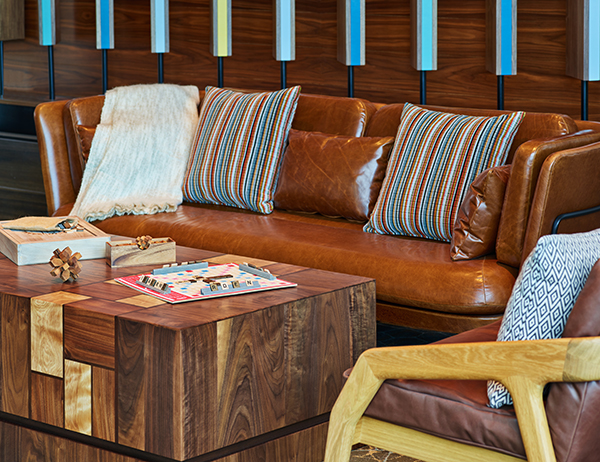 Were there any major challenges with the project you worked to overcome?
RG: The design of the outdoor dining terrace trellis was a little challenging, as it's made of metal for durability, but we worked to make it look more like natural wood in texture and color.