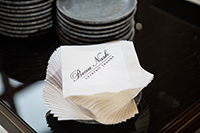 Hotel bars and restaurants want to draw in guests but increasingly work to tempt locals as well.
As part of a multimillion dollar renovation, Hotel Crescent Court in Dallas opened Beau Nash, a champagne and cocktail lounge located in the lobby of the luxury hotel.
Designed by Dallas-based interior architectural design firm Waldrop + Nichols Studio, Beau Nash is meant to be the focal point of the lobby.
It features a marble-top bar imported from Spain, brass light fixtures and rich materials. A sophisticated palette of slate, ink and silver textiles provides depth and mood to the space, which seats 15 at the bar and 70 more in the lobby.
Strategically placed architectural lighting and a pair of bespoke sconces place a spotlight on the bar while a custom leather art panel serves as the main feature of the back bar.
"Beau Nash sets the scene in the lobby and infuses an atmosphere conducive for socializing, relaxing and connecting," says Andrea Waldrop, vice president of Waldrop + Nichols Studio, a Dallas-based interior architectural design firm. "The reimagination of this inviting full-service bar brings to life original components of Hotel Crescent Court, such as warm brass accent finishes that complement the existing stone floors and refined bar millwork in Macassar Ebony."
Beau Nash features more than 30 champagnes and sparkling wines as well as local craft beers and signature cocktails. The cuisine is American classics with a Texas twist in both small and large plate offerings.