Scouting Trip: We get up close and person with four great restaurant designs.
KINDRED
Vegan craft cocktail enclave KINDRED is a 2,800-square-foot architectural showpiece. Opened in late 2015, restaurateurs Kory Stetina and Arsalun Tafazoli collaborated with Paul Basile of Basile Studio and ended up with a space that is a creative interplay of dark and light.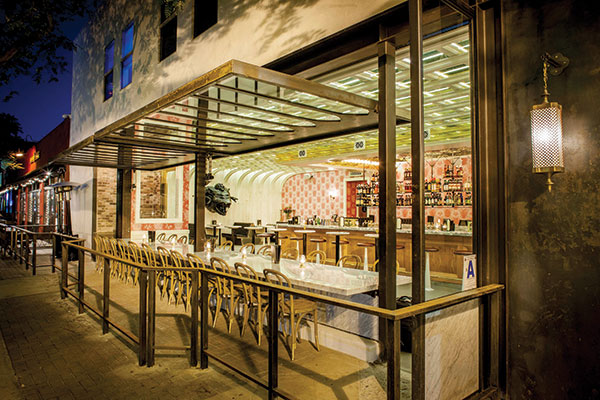 Exterior Credit Paul Body
Floor-to-ceiling windows flip up to allow open-air seating and showcase the exterior marble facade that features a custom laser-cut logo and brass door.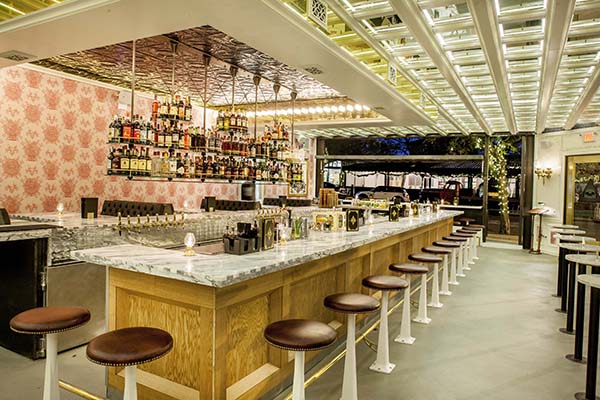 Bar Credit Paul Body
Inside, a custom-cut mirrored backlit and coffered ceiling runs the length of the interior and connects to a wall that features hand-carved, textured plaster modeled after Wyoming's iconic Devils Tower igneous rock formation.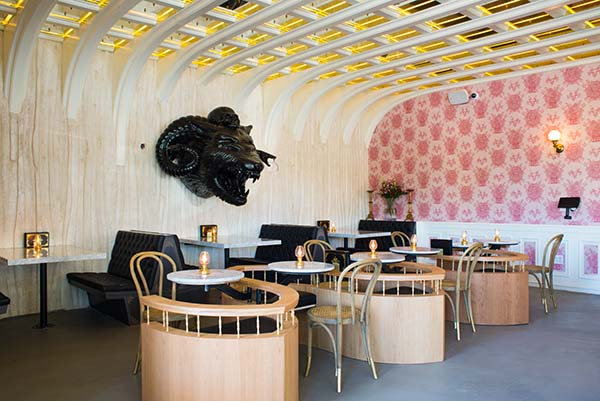 Seating Credit Lyudmila Zotova
A 900-pound, four-eyed black wolf with snake horns — hand-carved by Southern California artist Brandon Kihl using a sculpted wire frame covered with expandable foam — serves as the lone decoration. The other walls feature a delicate pink toile pattern (with hidden subversive imagery). An unusual curved seating installation with marble tabletops uses French Rococo furniture crafted from rift-sawn oak.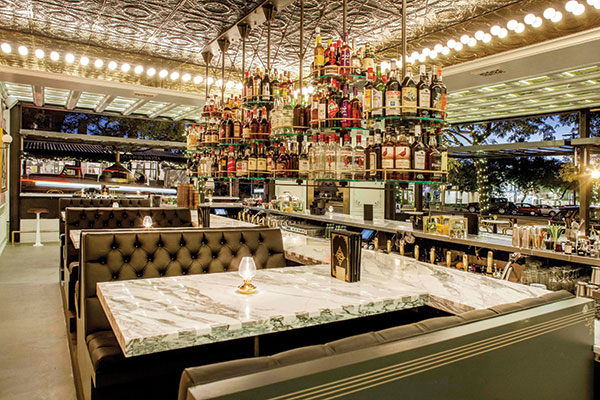 Bar Seating Credit Paul Body
Brown faux-leather seats top white cast-iron stools that are tucked under one side of the 35-foot-long marble bar. Custom-cast steel marble-topped standing tables make room for additional guests. Behind the bar area, black faux-leather booths complete the space.
Photos by Paul Body and Lyudmila Zotova.
cucina SORELLA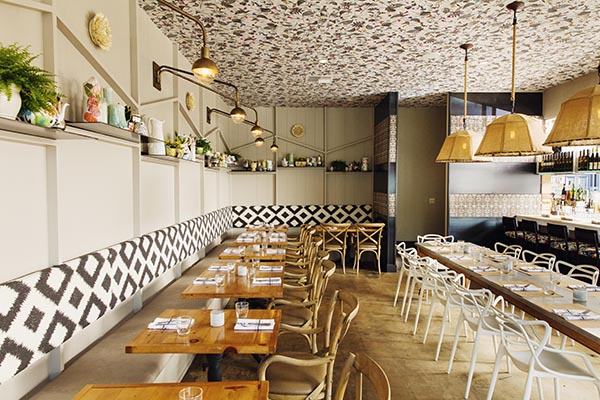 Photo by Robert Benson
A colorful and elegant California-inspired Italian kitchen, the Urban Kitchen Group's cucina SORELLA opened in May 2016. It exemplifies restaurateur and visionary Tracy Borkum's signature Bohemian-chic aesthetic, providing pops of flora, plush pillows and ornate fixtures throughout. Borkum transformed the 3,500-square-foot space in the city's bustling Kensington neighborhood into a charming destination emphasizing handmade pasta and shareable plates in a setting that features both a retail and restaurant component. A contrasting black-and-white banquette runs the length of one wall, and other design elements include a recycled wood backsplash, damask tile leading into the kitchen, and a botanical motif on the ceiling that is mirrored by splashes of color in the barstools. Three airy and modern glass and brass chandeliers hang above the bar, while tweed pendants highlight the dining area. Plants are positioned over the server station using retro macrame hangers for another burst of color and nature.
Herb & Wood
Celebrated chef Brian Malarkey's newest concept in San Diego's buzzing neighborhood of North Little Italy, Herb & Wood, opened in April 2016. The seasonal Mediterranean-inspired restaurant combines the elegance of the 1920s Gilded Age with industrial elements.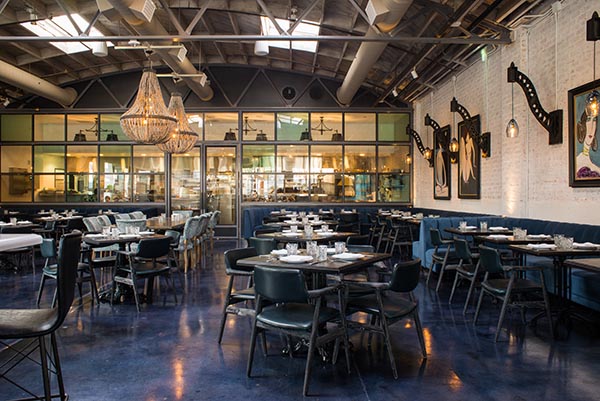 Christopher Puffer, designer and partner on the project, paired captain's chairs and tufted leather booths with wall-mounted iron arms, from which hang delicate globe pendants. A collection of modern portraits and nudes by artist Johnny Lane hang between the iron arms.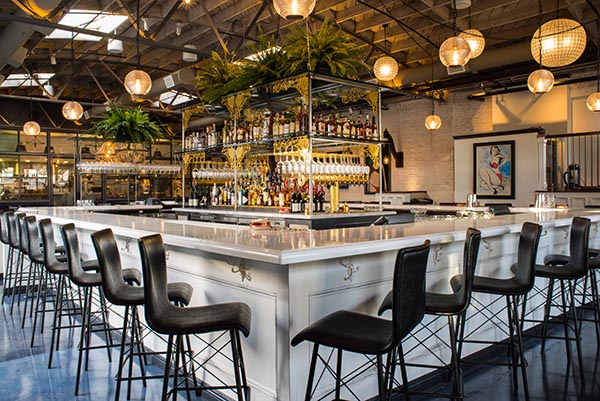 Photos by Sam Wells and Becca Batista
Exposed ironwork and gilded flourishes like large, ornate chandeliers are a nod to the French Quarter, while combinations of azure ombre walls and live greenery offer some Southern charm. A grand central bar made from French Poly Var rests beneath a barrel-vaulted ceiling, and a relaxed outdoor space features multiple seating areas anchored by a double-sided fireplace.
Craft & Commerce
The newly expanded, 3,300-square-foot Craft & Commerce in Little Italy was originally opened by acclaimed restaurateur Arsalun Tafazoli of CH Projects in 2009. It underwent a multimillion-dollar remodel last fall that also included the build-out of adjacent tiki bar False Idol.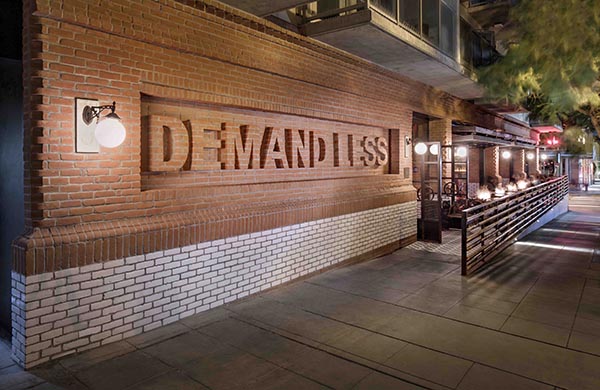 Highly visible at the corner of Kettner Boulevard and Beech Street by the extended, wraparound patio lined with built-in fire-pit tables and ceiling-high bifold windows, the restaurant's exterior also features a convex brick exterior displaying Craft & Commerce's guiding principle: "Demand Less."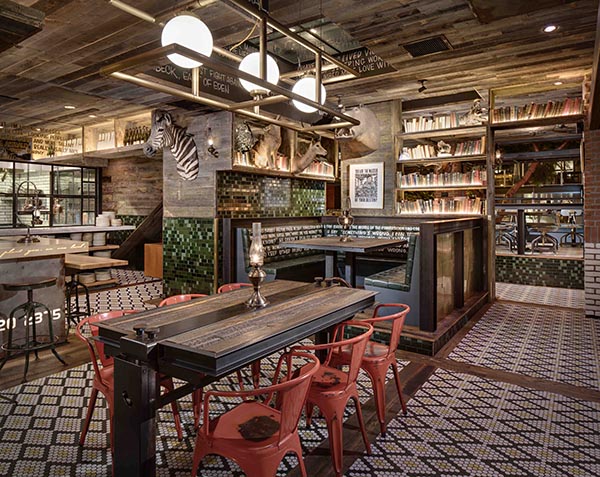 Inside, a dimly lit, industrial literary cabin of sorts features hundreds of hardbound classic novels stacked on ceiling-high bookshelves, along with handwritten passages from David Foster Wallace scrawled on the walls in between mountings of century-old taxidermy, some of which was sourced from San Diego's Natural History Museum.
Guests are greeted by a dramatic grassland scene of a lion preying on a warthog displayed above the taps at the main bar, while the heads and antlers of leviathan-type beasts are mounted overhead from the distressed wooden walls. At the heart of Executive Chef Ted Smith's revamped kitchen, a custom-made wood-fired grill fills the dining room with the sounds of crackling embers and smells of smoke as it's used to cook an ají-marinated Tomahawk pork chop and other slow-cooked meats, vegetables and grilled seafood. At the bar, a 24-tap lineup of craft beers offers diners a wide selection of brews and beer-based cocktails.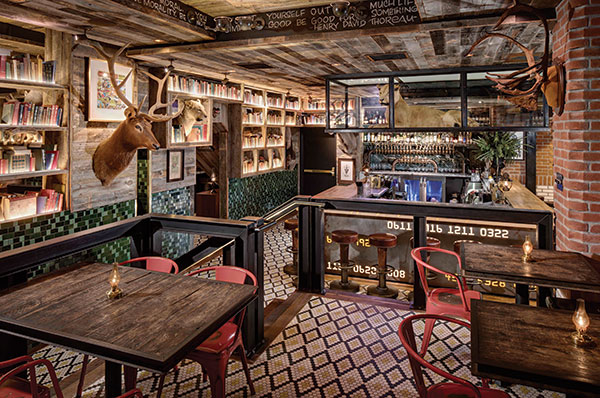 Photos by Zack Benson