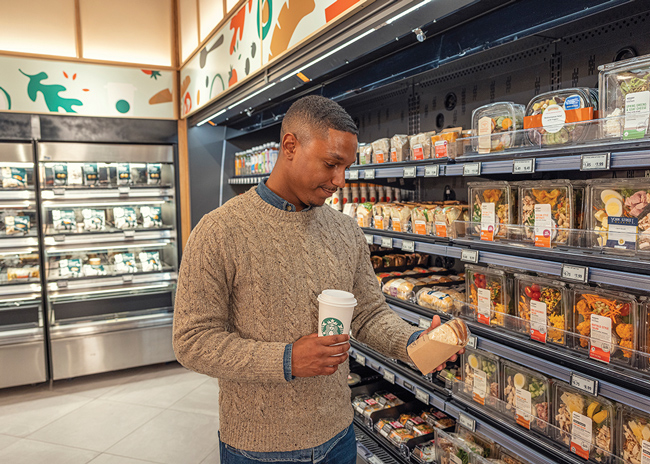 The co-branded Starbucks Pickup with Amazon Go location in New York City lets customers choose the experience they want, whether fast, frictionless grab-and-go or "third-place" destination to sit and enjoy. Images courtesy of StarbucksRestaurant brands and operators aren't the only ones working overtime to figure out how best to navigate to a "new normal." Retailers, too, are being forced to innovate their way through rapidly changing consumer behaviors and challenging marketplace realities. But retail is growing, strongly, and much of that growth continues to come from transactions happening within the physical store.
The National Retail Federation forecasts overall retail industry sales (excluding autos, gas and restaurants) will grow by 6% to 8% this year over last, to $4.86 to $4.95 trillion. Of that, roughly 15% will come from ecommerce. Yes, online sales continue to grow — at a rate of 11% to 13% projected for 2022, according to the NRF — but we're still a long way away from the death of traditional brick-and-mortar retail. And retailers aren't standing still waiting for the death knell to sound. Like restaurant operators, they're adapting and embracing new technologies and business models. Some of those parallel what's happening in the restaurant space; others may provide food for thought for future-focused business models.
To cross the aisle and gather insights on current retail trends, strategies and opportunities, rd+d turned to thought leaders at three top strategy and design firms active in both the retail and restaurant sectors. They report seeing significantly stepped-up investment on the part of retailers coming out of the pandemic and they see two central strategies developing: Consumers want it their way and brick-and-mortar experiences, for consumers and associates alike, must evolve.
"For well over a decade, we've all heard retail brands insist that they put the consumer at the heart of everything they do, but in reality that often hasn't been the case," says Caitlin Neyer, director, strategy at Cincinnati-based ChangeUp. "There's been a lot of 'we've always done it this way' and many have shackled themselves and prevented meaningful change from occurring. We're now seeing a much more aggressive, offensive approach to change. There's an acceptance that the new world order is here, and they're ready to move forward."
What form does that new world order take? Particularly during the pandemic, consumers surged into an increasingly tech-driven, endless-aisle, "swipe-for-new culture," Neyer says, and expectations are spilling over from online into the physical world. "Updating and refreshing at internet speed is a lot easier than trying to refresh a physical environment," she says. "Yet as a consumer, that's now my expectation. If I can get something new on a device, and I can get it how, when and where I want it, why can't I get that in a physical space?"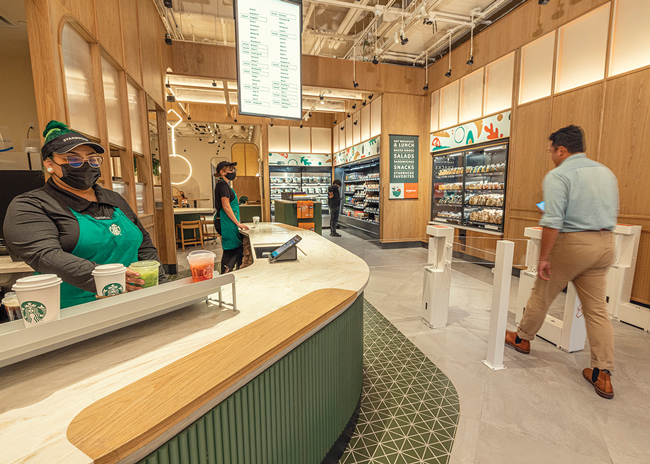 Images courtesy of Starbucks
Channel Agnosticism Rules
The days of retail stores simply warehousing and displaying racks of goods for on-site sales are largely over, notes Emily Albright Miller, senior vice president of strategy &
Images courtesy of Starbucksinsights at Columbus, Ohio-based Big Red Rooster. Particularly since the start of the pandemic, accommodating omnichannel revenue streams from brick-and-mortar stores has become an essential part of the retail pivot, just as it has for restaurants.
"There's much less focus on traditional, silo-based thinking and the channels are blurring more than ever," Albright Miller says. "As an agency, we don't even talk much about channels, because we believe that succeeding in this environment means creating fully integrated customer journeys, regardless of channel."
Joanne Heyob, senior vice president of operations strategy and design at WD Partners, also based in Columbus, agrees. She notes retailers are now pressed to leverage their stores differently, in ways that seamlessly incorporate online and in-store activity within the same footprint. They're shipping product out of stores to fill online orders, handling online order returns and shifting layouts and traffic patterns to handle BOPIS (buy online, pick-up in-store) and curbside pick-up orders to minimize cross-over with in-store shoppers.
"These things aren't temporary; they're going to continue to drive the retail business because consumers now expect them," Heyob says. "Never in a million years would many have thought the retail space would be changing the way that it has in the past two to three years. The old mentality was, 'That's online, this is in-store.' Now, it's one channel. You have to think about how your brand, your online presence and your physical presence accomplish that holistically."
Portfolio Trumps Prototype
Achieving channel agnosticism is increasingly leading retail brands to rethink traditional single-format, one-size-fits-all footprints. Just as many restaurant brands now do, they're creating multiple strategically developed formats that give them greater flexibility and more efficient ways to reach consumers how and where they want.
Amazon is dipping into the physical, experiential fashion retailing arena with its app-driven Amazon Style concept, set to debut in a 30,000-square-foot store in Los Angeles later this year. Images courtesy of Amazon Style"It's more of a portfolio-driven strategy. They're thinking about what type of store they need based on location and service to be provided," notes Jay Highland, executive vice president of creative at WD Partners. "Do they really need 1,000 stores across the country, or to be in every single mall in a certain market. Probably not. What's the point?"
Cue pop-ups, fulfillment-focused dark stores, micro stores, stores-within-stores highlighting partner retailers, small footprints in nontraditional locations and other outside-the-box strategies. It's all about creating efficiencies and meeting changing customer expectations as channels continue to shift, says Josh Broehl, senior vice president and managing director at Big Red Rooster.
"Gone are the days of a single-store prototype that tries to do everything," Broehl says. "We're seeing brands across the board look at ways they can have a portfolio of different formats that focus on particular channels or experiences. Having smaller formats enables you to be much nimbler and to position yourself closer to customers."
Grocers and mass-market retailers such as Walmart and Target have been experimenting for years with smaller, more focused formats. With demand for traditional large stores in big, old-school malls waning, department stores, too, are strategically downsizing. Among them, Macy's, which recently launched Market by Macy's. Described as "Everything you love about Macy's but in a smaller store," the concept touts a curated assortment of products, many by local producers, and store locations in easily accessible shopping centers versus large malls. New products arrive several times a week and customers can pick-up online orders in store, curbside, or have them shipped. Self-checkout is also available inside the stores.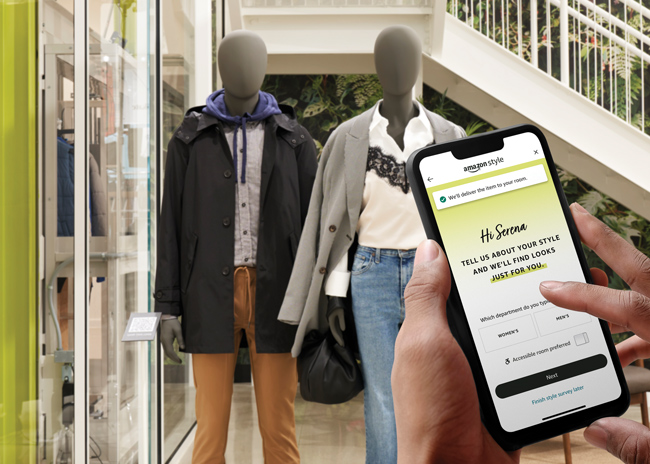 Images courtesy of Amazon StyleHowever, in the process of diversifying formats and platforms, it's important that brands not lose sight of their core brand promise, cautions Neyer. Adding that restaurant chains are farther along in developing platform strategies than many retailers, she holds up client Jimmy John's as an example of format diversification done right.
"They just launched an entirely new, drive-thru-only format," she says. "Not only does it address the exponentially increasing off-premises business and shift to digital, but it's also doubling down on who they are as a brand. They're delivering on their 'freaky fast' promise in a new, even faster way. It's not just because everyone's doing drive-thru, it's about giving consumers what they want — speed and convenience — in a way that makes sense for the brand."
Format strategy, she adds, answers the question, "What is the role of the store moving forward in the age of ecommerce?" Depending on the brand's business objectives, answers vary, but they could center on needs as diverse as fulfillment, replenishment, experience or pushing the brand in new directions.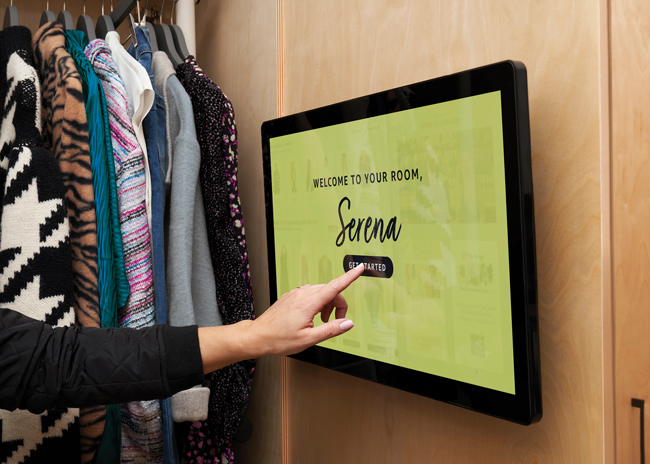 Images courtesy of Amazon Style
Experience Matters
While convenient, fulfillment-focused strategies are retail priorities today, many industry innovators are also pushing the envelope on experience. The big driver: giving consumers reasons to venture back into stores when, given endless-aisle, fast-ship digital options, they really may no longer need to.
The winners here will be brands that zero in on developing multi-faceted customer engagement strategies that connect in both the digital and physical spaces, according to WD Partners' Hyland. "We're thinking a lot about the experience of going to a store and what the purpose is," he says. "It's no longer just about buying product, but having an opportunity to engage with brands and to feel part of their culture. And it's about ensuring that the physical experience lines up with and is creatively integrated with the digital experience. We're seeing brands creating clubs, memberships, hosting in-store events, offering subscription services and customized products and services. Some stores are adding interactive experiences that help consumers make better buying decisions. You can try on that hoodie you like and climb a rock wall in it to test it out, for example, or step into a refrigerated room to get a feel for how warm and comfortable that parka is. It's about connecting the reasons why consumers shop and making stores come to life in many different and more engaging ways."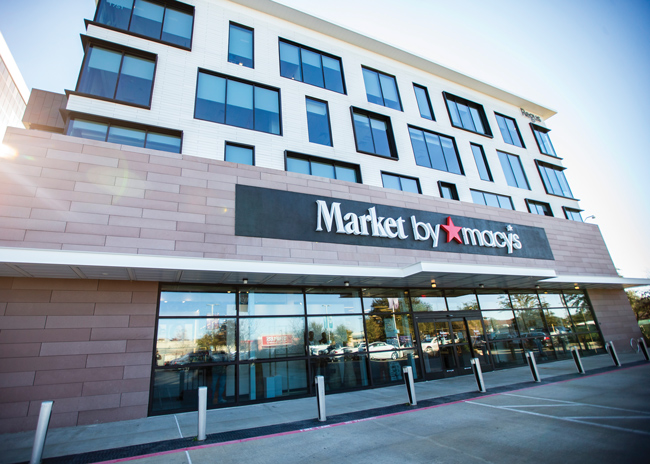 With demand waning for traditional large stores in old-school malls, Macy's recently launched its Market by Macy's concept touting smaller footprints, curated product assortments and easily accessible locations. Image courtesy of Macy's
Providing in-store services as well as products is part of that equation, Neyer adds. She points to UK-based sustainable beauty brand Lush as an example. The company's newly reimagined Oxford Street flagship store in London offers the traditional Lush experience found in mall retail shops around the globe, the hallmarks of which are in-store sinks and the opportunity to try products before buying, but Lush's new stores take the brand experience to a whole new level.
"In the Oxford store, they've added a spa-like space and a vegan coffee shop. They offer makeup, skincare, fragrance and haircare private evaluation areas. There's an in-store florist and a place where you can personalize gift packages," Neyer says. "All of these things give consumers reasons to visit the physical store versus just shop online."
For some brands, changing the in-store experience to better meet consumer demands means doubling down on technology. Tapping automation for back-end, fulfillment and/or replenishment functions, for instance, enables shifting labor resources to more front-end, customer-engagement activities that increase customer satisfaction and build loyalty. And introducing more front-end, customer-facing technologies, such as QR codes for instant product information and app-based wayfinding, are catching on fast as companies seek to integrate digital into their physical experiences.
One need look no further than ecommerce king Amazon, which has made numerous brick-and-mortar moves over the past few years, for insights into where that type of integration is headed. The company's Amazon Go c-store and grocery concept is a prime example, using "just-walk-out" technology to create a truly frictionless shopping journey — no lines, no cashiers, no checkout. The company has developed more than 20 Go stores in the U.S. and has said aggressive development is planned, in part via partnerships with other retailers, such as Whole Foods Markets.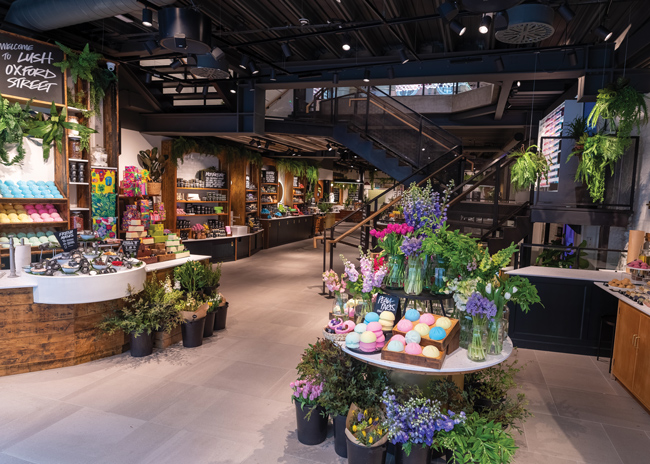 Sustainable beauty brand Lush unveiled a re-imagined store experience in London last year. It incorporates a spa, myriad personalized services, coffee shop and in-store florist — all designed to give consumers a reason to visit and engage with the brand. Image courtesy of Lush
Last fall, Amazon also joined forces with Starbucks in a co-branded Starbucks Pickup with Amazon Go location in New York City. It combines the order-ahead feature in the Starbucks app and full Starbucks menu with Amazon Go's just-walk-out technology and a curated assortment of salads, sandwiches, snacks and bakery items in the market. Customers can simply grab their beverage and/or food and be on their way or stay and enjoy them in the on-site lounge. Starbucks and Amazon Go reportedly plan to open two more stores in 2022.
Amazon is also now stepping into the physical, experiential fashion retailing arena with its Amazon Style concept, set to debut later this year in Los Angeles. The 30,000-square-foot store will display only one of each product (clothing, shoes, accessories) for sale, enabling more styles to be featured and letting customers avoid having to paw through racks or stacks to find the color, size and fit they want. Using the Amazon Shopping app, they can simply scan an item's QR code for information and tap the screen to have it sent to a counter for pick-up. If they want to try it on, it's sent directly to a fitting room where they can use a touchscreen to browse more options, rate items and request more sizes or styles. Additional items requested along with a few personalized recommendations based on what they've already scanned are delivered directly to their fitting room, which is accessed from behind by staff, whose roles are almost entirely customer service, according to the company.
Bringing automation and technology, as well as Amazon-style machine learning-based personalization, into the retail experience without losing a human, service-based aspect is critical moving forward, Neyer notes. It's as true for restaurants as it is for retailers — but it needs to be done thoughtfully and strategically.
"The focus really has to be on how we use digital to solve problems and enhance individual brand experiences versus simply jumping to a tech tactic because companies like Apple or Amazon are doing it," Neyer says. "Everybody wants convenience and frictionless customer journeys, but at what point does frictionless become experience-less? How do you balance that sense of convenience with delivering an impactful brand experience? Because if all of this just becomes frictionless and about how quickly the consumer can get something, then you've basically become a glorified vending machine. And who has ever said that they have a favorite vending machine?"