Chef and author John Folse discusses the approach to designing Restaurant R'evolution, a 9,000-square-foot restaurant that opened less than 2 years ago.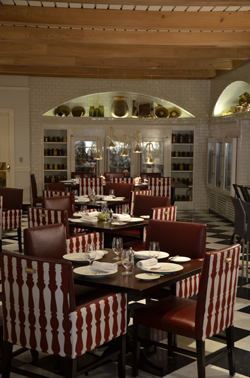 Market RoomSlightly less than two years ago, renowned chefs John Folse and Rick Tramanto partnered together to open Restaurant R'evolution in New Orleans' historic Royal Sonesta Hotel. In its first year of operation, the 9,000-square-foot, $5 million restaurant had revenues of nearly $8 million. Folse says R'evolution is on track to hit $9 million in sales in its second year. In a city crowded with iconic restaurants, its reception shows it's a welcome addition to the New Orleans dining scene as much for its unique ambiance as for its exceptional food and service. Folse recently shared some of the restaurant's design highlights with rd+d.
rd+d: Is Restaurant R'evolution a hotel restaurant, or a restaurant in a hotel?
JF: It's more a restaurant in a hotel. We completely gutted and rebuilt space that was originally a ballroom with a very large kitchen inside the Royal Sonesta. It's on the Bienville Street side of the hotel, which is significant because that means we don't tie directly to the hotel, which faces Bourbon Street. We're more of a standalone restaurant with its own entrance, yet we have all of the opportunity for marketing tied to the hotel, as well as hotel guests wanting to come and stay there just to eat at R'evolution.
Bienville Suite
rd+d: What makes R'evolution distinctive from a design standpoint?
JF: It's very historic in design, from the 60-seat bar with its old gas-style lanterns to the 7 different dining rooms, each themed to represent one of the 7 nations that contributed to early Creole food and culture and architecture. We have the elaborate Storyville Parlor in the center of the restaurant. It's plush and elegant with elaborate chandeliers and a beautiful mural painted to depict those seven nations – Native Americans, French, Spanish, Germans, Italians, English and Africans. The Bienville Suite is like a French Bistro, the Wine Room adjacent to the wine cellar is a private dining space with its own entrance. Diners there are surrounded by almost 12,000 bottles of wine from 1,500 different vintners. The Courtyard Room opens off the courtyard, where we have fountains and herbs and citrus trees growing. The Market Room depicts an Italian market with an expo kitchen and large salumi cases, and the 12-seat Chef's Dining Room overlooks the main kitchen. It's self-contained, with its own waitstaff and sommelier, even its own restrooms. Guests there can watch what's going on in the kitchen, but it's secluded with a one-way mirror so that diners can see out but the kitchen can't see in. So the dining spaces are all different, but collectively they tie together to make a unique and magnificent space that unfolds to tell the history of the peoples who founded New Orleans as well as the foods that they brought with them to create what we now know as Creole cooking.
Storyville Parlor
rd+d: Sounds like extensive research was needed to ensure authenticity.
JF: Absolutely. I've written 10 books, most of which are very historically oriented. One of the things I'm always searching for when writing a cookbook is the uniqueness of these cultures that came to New Orleans. What did they bring with them? How did they prepare their foods? What did their gardens look like? How were their kitchens set up and what sorts of pots and pans did they use? All of those types of things were also important as we looked at how to design our spaces. I drove our architect, Bill Johnson, crazy. I had him come to New Orleans and do things like sit down in old mansions here with a sketchpad and look around at architectural and design details — the types of molding used or the sliding pocket doors that were built in these great 200-year-old homes. Through a lot of historical research and these types of exercises, we picked up authentic architecture and design elements to incorporate.
Wine Room
rd+d: The kitchen is also an important part of the Restaurant R'evolution dining experience. How so?
JF: We want to make sure that all of the 300 or so diners who join us every night tour the kitchen. We invite them to walk through after their meal, to see the $1 million worth of equipment that's custom painted in our R'evolution red; to see the technology of the computer systems that the chefs work off; to see the granite counter tops, the brass and copper, and the glass-fronted refrigerators where fresh produce and other ingredients are neatly stored; to see the fresh fish on ice in file cabinets; to experience the expediters and runners at work; and to witness the 30 or so culinarians in crisp white hats and blue and white striped aprons working up and down the main 36-foot line. They also get to experience a magnificent, 2,500-square-foot showplace kitchen that's calm, quiet and comfortable. We worked closely with the engineers and mandated that the HVAC system had to be able to maintain a constant ambient temperature of 70 degrees in the kitchen, even if it's 98 degrees and humid outside — which in New Orleans it often is. If a diner decides not to take a tour of the kitchen, it hurts us as badly as if he said he doesn't care to see the desserts or isn't interested in side dishes. It's an integral part of the experience.