These trending new spots in the Capital City stay out of politics with their designs, meant to cater to a highly diverse, cocktail- and culinary-focused crowd.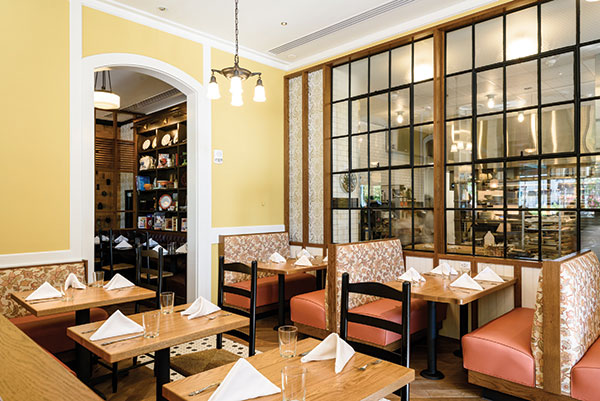 Successful D.C. restaurateur Jeff Black has reopened this popular restaurant that had previously operated from 1995 to 2013 in a bungalow-style building off the Rockville Pike.
As an homage to Black's grandmother Addie, the new 4,000-square-foot, 200-seat restaurant retains the intimate scale of the original space by taking design cues from an older-style home with various rooms for formal dining, living, reading and sitting. Designed to feel as welcoming as Grandma Addie's home, the entranceway, an airy foyer with accordion floor-to-ceiling windows that open to the sidewalk, receives guests before the "house" splits into intimate rooms, each with its own purpose and feel.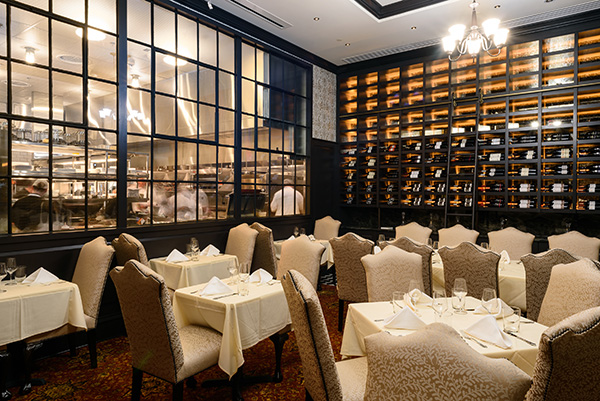 The dining room is the most formal of the spaces with crisp white tablecloths, thick cushioned chairs and plush carpeting. The neighboring family room provides a view of the kitchen through glass windows with antique panes and an enlarged photo along the back wall of Addie, in heels, fishing from a rowboat. Lined in bookshelves, the den is richer in materials and textures than the other rooms and is home to the 20-seat bar, complete with the modern convenience of electrical outlets at each seat. Continuing though the space, windows open up to the six-seat oyster bar and expansive patio, which faces a lush courtyard and bubbling fountain of Park Potomac.
Photos courtesy of Andy DelGiudice
Designed by Grizform Design Architects, this seafood-focused gem spans 3,495 square feet just steps away from Nationals Park on the Capital
Riverfront near the Anacostia River harbor.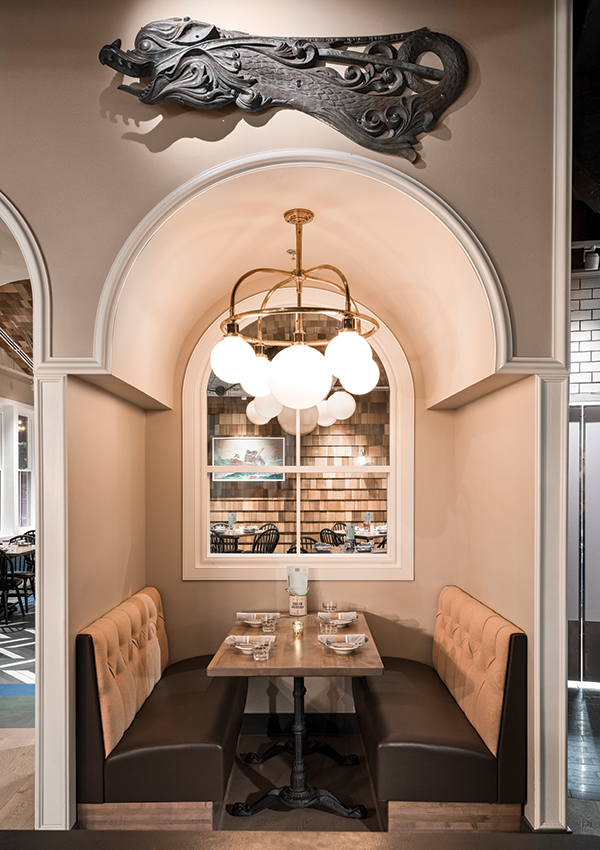 Modeled after a New England boathouse and a Chesapeake Bay-style oyster bar, the clean and airy restaurant — outfitted in minty greens mixed with polished metal accents and rope — features vignettes for lounge seating, traditional dining and even communal tables. A sleek horseshoe-shaped black bar is adorned with brass accents, custom light fixtures and an elaborate oyster display presenting the East Coast's best.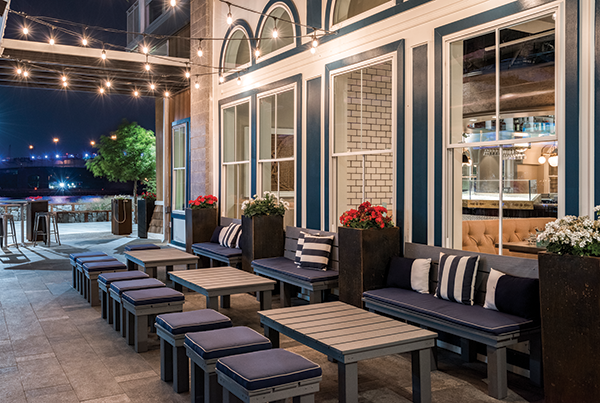 Cedar shingling on the private dining room walls and ceiling offsets the salvaged dory that hangs from the ceiling and ornately trimmed French doors, which lead to the private dining patio for a full indoor/outdoor dining and cocktail experience. Outside, cocktail tables offer flexible seating for game days, along with sheet metal accents reminiscent of seafood shanties along the coast of Maine.
Photos courtesy of The Salt Line Oyster & Ale
This cocktail-focused restaurant resembles the bright and colorful inside of a pinball machine with a giant neon sign, a light-up fish tank, and various pieces of Americana from all decades in the form of concert and movie posters-turned-wallpaper, vintage furniture, and branded glassware.
A long backlit bar made of pinball glass pairs with cocktail tables set up to look like pinball machine bumpers. A large round booth that seats 6 to 10 people can be closed off with beaded drapes for more private group dining. Other art-inspired pieces include a large backlit image of a woman dancing and a wall-mounted bull's head. Photos courtesy of Ken Wyner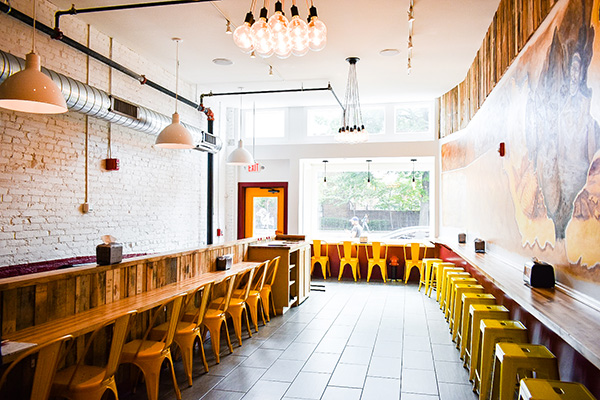 Opened just this year, this restaurant features a fast-casual chicken concept in the front and a beautiful whiskey bar in the back. It boasts skylights that let in plenty of natural light, a vinyl-only DJ booth, and a wall covered in '90s art and music posters. The overall design concept for the long and narrow 3,000-square-foot space centers on "vintage industrial" with nods to Venezuela and Peru set in a building built 127 years ago. In the front (32 seats), guests order and pick up food from the counter, while in the back (30 seats), guests can enjoy their whiskey-focused drinks with or without chicken.
A drink rail along one wall provides extra room to sit or stand. Earth tones like gold (symbolizing the colors of Peru) and clay pair with gray, white and red (like that of a Venezuelan soccer club) throughout the space. At the bar, a large butcher-block slab serves as the focal point, surrounded by drink rails, metal stools and bar chairs.
Photos courtesy of Celia Camacho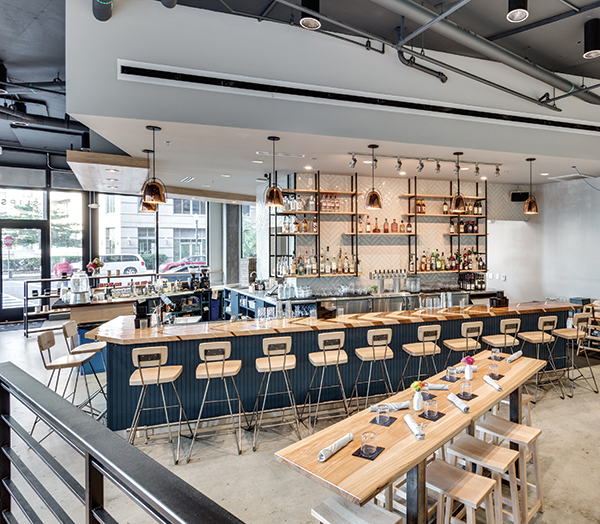 David Shove-Brown and Dave Tracz of the design firm //3877 looked to create a day-to-night (coffee-to-cocktails) environment for this restaurant in one of D.C.'s most up-and-coming neighborhoods, Logan Circle.
The 45-seat, 2,170-square-foot space features a breezy palette of light wood-paneled ceilings, a custom-built wooden bar, copper pendants, and azure-hued tiling and wallcoverings.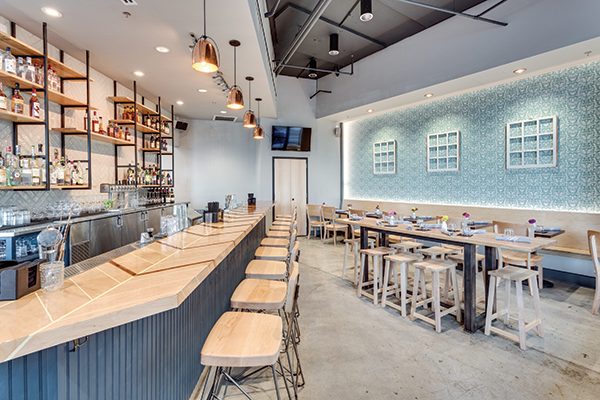 Two concise paths direct patrons to either the takeout or the dine-in area, connected by a sleek, wood-paneled ordering station for breakfast, brunch and lighter dinner fare like various toasts, bowls, sandwiches and salads. A light wooden communal table offers more social seating.
Photos courtesy of BTW Images