Connors Steak & Seafood recently opened its fourth location, this one in Franklin, Tenn.
Since the emergence of the fast-casual sector, many casual-dining operations have had a rough go of it. One path to success, though, may be the polished-casual route, with design elements and menu items (along with pricing) that's a step above standard casual but not quite fine dining.
That's the tact Connor Concepts is taking. Based in Knoxville, Tenn., this company owns The Chop House, a 12-unit casual dining chain. According to President and CEO Mike Connor, though, future growth will come from its other concept, Connors Steak & Seafood, a polished-casual operation that recently opened its fourth location, this one in Franklin, Tenn.
With sophisticated finishes and showstopping design elements, the restaurant is designed to be both comfortable and high energy. Guests can feel both as soon as they cross the threshold, where "a lot of your senses are worked on right away," Connor says.
To avoid the stuffy feel of some fine-dining operations, the restaurant is well lit, with plenty of windows providing natural light. The restaurant's palette features rich (but not dark) wood tones and lighter, almost pastel, tones.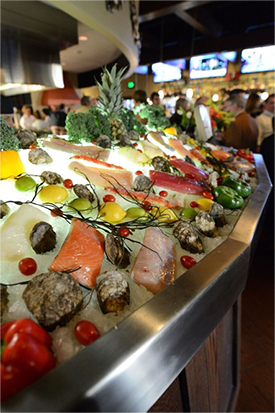 A display of fresh seafood greets diners at Connors Steak & Seafood. Photos by Tom Namey of Namey Design.

As diners enter, they'll find the greeter stand to the right but immediately in front of them is the first of several displays designed to get patrons excited about their meal. This first display is of fresh seafood served by the restaurant, including lobster, crab legs and halibut. It is an open display, with the items sitting on crushed ice in a trough that's bottom-lit with LEDs.
The seafood display acts as the endcap to the operation's display kitchen, which sits in the bar/lounge area just past the entryway. The first station on the kitchen's line (closest to the seafood) is for desserts and appetizers. The line is set up to showcase these items as they are finished and placed on the expo window.
According to Connor, this setup not only adds energy and excitement to the space, it also helps with sales. "There's no question about it. You see a seafood tower come out, a full one, which we charge $65 for, and it's very impressive."
Along one wall of the lounge, the designers placed an enclosed refrigerated display case, where raw steaks are held in full view. Like the seafood display, this piece builds guest anticipation. It's common, according to Connors, for customers to ask staff members about the different cuts of meat being displayed.
The bar is made of oak and pine with a quartz top. The bar itself seats about 20 on black upholstered barstools with backs. The bar is made of oak and pine with a quartz top. Flooring in the area and throughout the restaurant is solid oak. The space also offers some table seating on a first-come, first-serve basis, including one high-top communal table with room for about 12. With the seating, kitchen and display, it's a space that's "always hopping," Connors says.
Given all this activity, the designers needed some way to separate the bar from the dining room. In this restaurant, as in the two previous Connors locations, they used a water feature. The feature has a glass panel with the restaurant's logo and is lit by LEDs that can be set to different colors. According to Connor, it succeeds in providing a bit of calm to the dining room. "You go back in the restaurant, even though there's a lot of activity, if you're sitting at one of the booths you can have an intimate dinner," he says.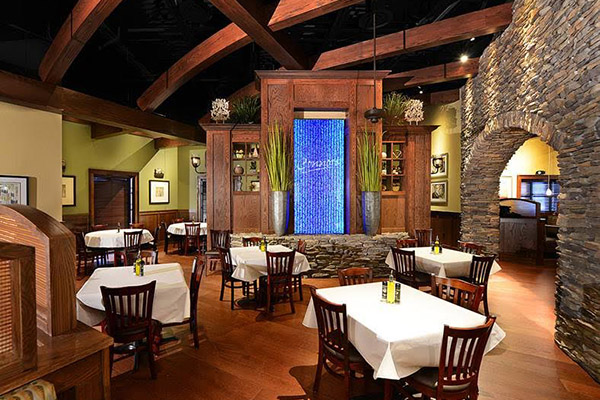 The ceiling is crisscrossed with arched wood beams, which add a feeling of richness to the space.
In keeping with the slightly calmer feel, the dining area doesn't have any showcase elements. Instead, it features several more subtle, sophisticated design touches. Some interior walls, for instance, are clad in stacked stone. The ceiling, like the bar, is crisscrossed with arched wood beams, which add a feeling of richness to the space while also bringing the building's high ceilings to scale. Booths made of pine and oak with a patterned fabric upholstery line the perimeter walls, while tables sit in the middle of the room.
Farther back, diners will find an enclosed patio with windows that can be opened when weather permits. The patio is also equipped with audio/visual capabilities, making it a fully functional banquette/event space when needed. The patio also has its own water feature, identical to the one that splits the bar from the dining room.
With this Connors location open since February, the company is now on to developing its next location, this one in Sarasota, Fla. From there, the plan is for controlled, steady growth of one to two stores per year — a decision driven by store economics, according to Connor.
"Connors Steak and Seafood does about one-and-a-half times the volume of a Chop House. They're typically high-volume operations," he explains.