Desmond Reilly, co-owner of Chicken + WhiskeyIn this Q&A with Desmond Reilly, co-owner of Chicken + Whiskey in Washington, D.C., we discovered what inspired the space.
What is Chicken + Whiskey?
DR: Chicken + Whiskey is a quick-serve restaurant in the front and a whiskey bar with counter seating and DJ booth at the back, separated by a freezer door. In the restaurant portion, diners can order Latin American-inspired rotisserie chicken and snacks. Executive/Consulting Chef Enrique Limardo comes from the fine-dining sector and his Baltimore restaurant Alma Cucina is critically acclaimed as such. Just this year, Chef Limardo was nominated for a James Beard Award and has appeared on multiple TV outlets, including Beat Bobby Flay and the Food Network's Chopped. Chicken +Whiskey has also been well regarded locally as well as on a national level.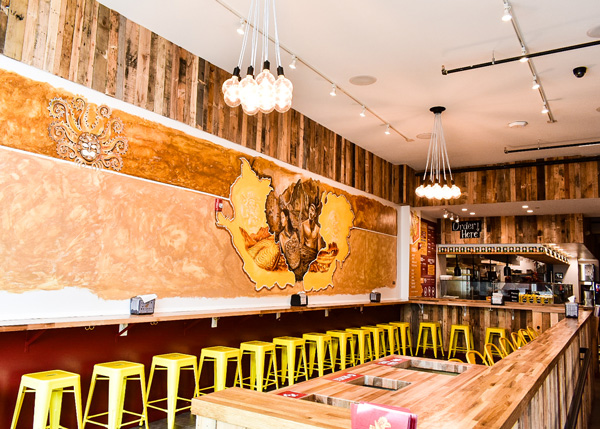 What is the overall design concept and the layout?
DR: We conceptualized a vintage industrial space with hints of architecture and details found in Venezuela and Peru. The building was originally built 127 years ago and has recently served as a pet shop and a gym. We worked closely with a preservation guide to ensure we upheld the integrity and history of the space. Like many row houses in D.C., Chicken + Whiskey occupies a long and narrow 3,000 square-foot space. At the front, casual dining area guests place their order and then pick up their food closer to the back. There's also a hand-washing station nearby for a quick cleanse after eating. The back bar is a 1200-square-foot space with a communal table, DJ booth and long bar. A drink rail along the wall provides extra room to sit or stand. There are 62 seats total, with 32 seats in Chicken and 30 seats in Whiskey.
What is the color scheme throughout the space?
DR: Earth tones like gold and clay with grey and white, all of which is accented with pallet board. The red we use is actually called Vino Tinto, which means "red wine" in Spanish. The gold symbolizes the ancient gold of Peru.
What is the rest of the space like? What furnishings did you choose?
DR: the space features a simple, cement floor with ceiling skylights meant to bring in a lot of natural light. Because of the narrow space, most of the seating in the front is counter seating along the wall with metal chairs painted gold. At the bar, a large butcher-block slab serves as the focal point, surrounded by drink rails, metal stools and bar chairs. By the DJ booth there is a wall covered in 1990s posters from concerts and DJ gigs around D.C. At the bar, a giant ice block sits on a flat, open freezer, where bartenders can chip away to create custom cubes. We even gave thought to the bathroom, which features wallpaper in an original design by Mark Denton from Project 607. It incorporates our signature Incan bird with classic colors of Venezuela.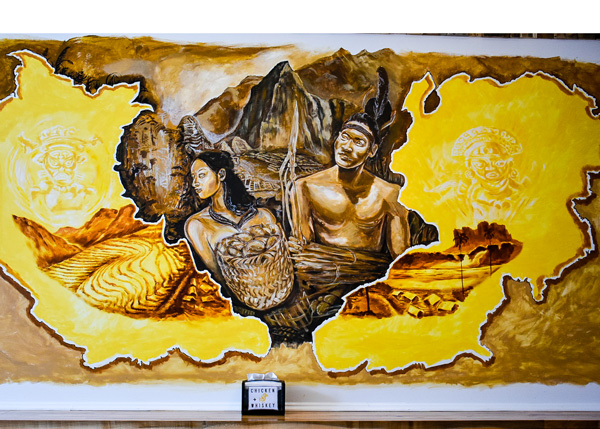 Where did the artwork come from?
DR: The mural in the front is an original piece from artist Jerry Dease. It depicts the countries of Venezuela and Peru. The images are ancient Peruvian Gods, specifically Inti, the Sun God. The ancient Peruvian people followed a system of social reciprocity in that those resources they had in abundance, they traded with their neighboring communities that had none. Famers with livestock helped carpenters and builders who had none. in exchange for their services to be reciprocated. The man and the woman in the center of the painting illustrate this.