Inspired by the heyday of the Kennedyesque leisure set, Somerset opened last month in the Viceroy Hotel on Chicago's Gold Coast.
The operation is a partnership between Chef Lee Wolen and Boka Restaurant Group. Interior design was performed by AvroKO, marking the fourth time that firm has worked with Boka. Goetsch Partners served as architects and Power Construction as general contractor.
All-told, Somerset measures more than 12,000 square feet, including the kitchen. The operation has multiple spaces, including bar, restaurant, terrace and private dining spaces, combining for a total of 366 seats.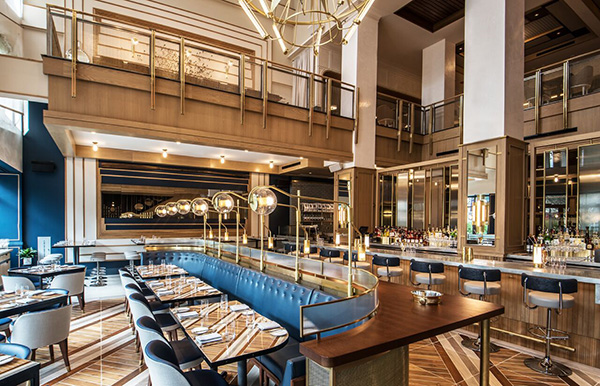 The restaurant is anchored by its large bar, which is meant to bring energy to the three-level space, including the restaurant and dining mezzanine above. The bar back is made of textured glass screens — a subtle sailing reference — that allows this energy to flow through the space more easily. The space's chairs and tufted banquettes, both in navy blue, are reminiscent of 1960s and 1970s designs.
The operation takes full advantage of the three-level space with its view down into the bar. Custom-grouted wood flooring mimics the wood decking on boats and blends with custom wood tabletops to create a striking view. This is just one of the restaurant's leisure set references. The space also includes a model boat wall; a medal wall showcasing awards for "unsung sports" like archery, fencing, and tug of war; and a dart wall with an array of darts thrown at a mythical hidden bullseye.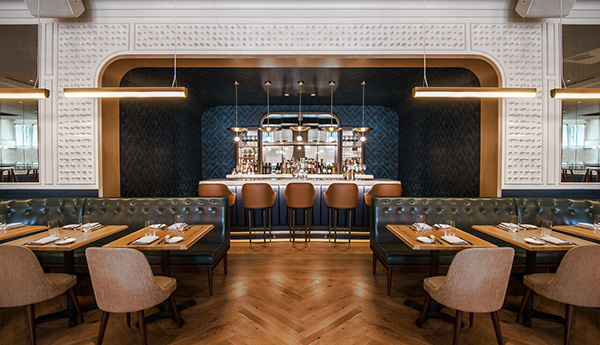 The second-floor dining area is a bit more sedate than the ground floor bar. Furnishings are still 1960s and 1970s inspired, but the flooring was swapped from the custom patterned wood to a more traditional hardwood. The space also has its own bar that holds pastries and juices during breakfast and acts as a service bar for other day parts. The area is surrounded by a white wall and wood frame, while the bar's walls themselves are covered in a patterned wallpaper.
Photos by Anthony Tahlier