Located inside the Hard Rock Hotel and Casino, MB Steak is a 7,800-square-foot fine-dining steakhouse that spans two levels.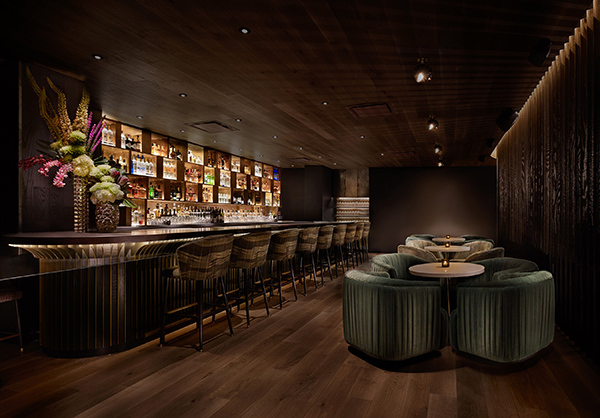 Founders and brothers David and Michael Morton, sons of famed steakhouse impresario Arnold J. Morton of Morton's Steakhouse, are no strangers to steaks for family businesses — MB stands for "My Brothers." Designer Karen Herold of Studio K Creative is well versed in designing luxe restaurants, including BLVD, GT Prime and others.
A 30-foot passageway transports guests into a world that is distinctively upscale. Guests arrive in the 40-seat intimate bar and lounge area that is outfitted with distressed mirrored walls and a leather bar. A 30-seat private bar room is tucked around the corner for smaller gatherings and for diners who desire privacy.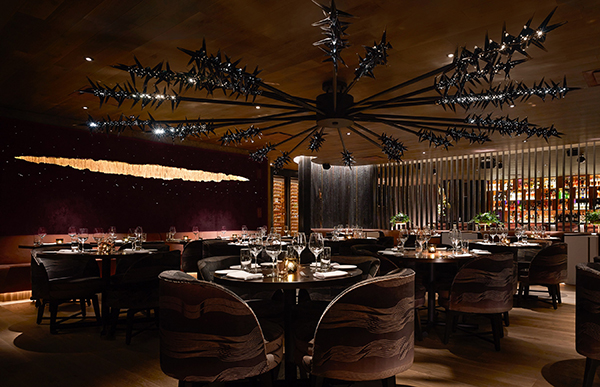 Inside, the main dining seats 100 guests with a mix of custom tables, booths and banquettes. It features 9-foot ceilings and dim lighting, providing feelings of both grandeur and intimacy. Custom millwork includes warm, fumed European Oak floors and burnt-charred wood walls with brass reveals. The focal point of the room, an 18-foot custom chandelier, spans the ceiling adorned with glowing LED lights and large spikes.
Upstairs, the second level's Garden Bar & Lounge features a 24-foot "living skylight" above the center bar filled with succulents and moss. Large, motorized windows open to allow for fresh breezes and views of the Las Vegas Strip. The second floor also features a private dining room. Together, the upstairs seats 110 guests with a mix of tables, bar seating and banquettes.