Forget the tepid stereotypes; they've become lively local hot spots.
It might seem like simple semantics, but "hotel restaurant" and "restaurant in a hotel" have come to signify very different things. That's true, at least, in the minds of hoteliers, concept developers and designers leading a charge to put old-school, humdrum hotel restaurants to rest. Their focus now is on developing exceptional, chef-driven, local, relevant, design-forward restaurants that happen to be in hotels.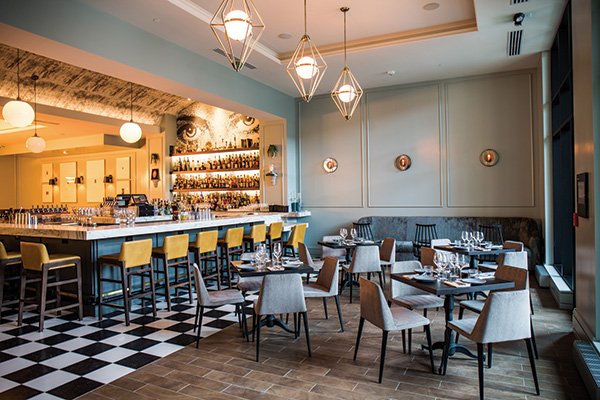 With design inspiration taken from the rooms of a mansion, Henley at the Kimpton Aertson Hotel in Nashville, Tenn., includes a stylish petite salon and bar area. Photo by Andrea Behrends
"For us, the term 'hotel restaurant' is almost a dirty word," says Danny Bortnick, vice president of restaurant concept development at Kimpton Hotels & Restaurants, a boutique hotels pioneer that in 2014 became part of the InterContinental Hotels Group. "That's because we work very hard to ensure that our operations aren't perceived as the hotel restaurant. Unlike many of the big-box chains, whose restaurants historically have been almost 100 percent an amenity for their guests, we want to be considered to be one of the best restaurants in the city. We know that our hotel guests want to go where the locals go."
Shifting the hotel-restaurant paradigm from one that's guest/traveler driven to one that's locally driven is liberating, Bortnick adds. "If your focus is primarily on catering to hotel guests, you're immediately handicapped: You pretty much have to have a burger, a turkey sandwich, a three-meal-a-day vanilla restaurant. But when your focus is on developing a locally relevant concept, you're freed up from those types of constraints because that's not what locals are looking for. And if they are, they're probably not going to a hotel to find them."
One of Kimpton's recent restaurant projects, Dirty Habit at the Monaco Hotel in Washington, D.C., illustrates the degree of liberation and creative license the company's development and design teams are taking with its new restaurant venues. Opened last fall, Dirty Habit's cuisine is globally influenced and geared to sharing. The vibe is high energy and social; the design edgy and stylishly dark.
It's the type of concept that erases just about any lingering stereotypes of hotel-affiliated dining being middle of the road. Says Bortnick, "Instead of a catch-as-many-demographics-as-possible approach, hoteliers are getting more specific with their concepts and their designs. It's being driven by consumer trends, by competition from restaurants outside — and frankly, it's just a lot of fun."
Another new Kimpton Hotel & Restaurant project, opened this summer, is the Aertson Hotel in Nashville, Tenn. Bortnick describes its signature restaurant, Henley, as modern American meets Nashville soul. Its menu, overseen by James Beard Award-winning chef R.J. Cooper, showcases local and regional ingredients in seasonal, Southern-inspired dishes designed for sharing.
The Pearl, which serves breakfast, lunch and dinner, has a dual focus on celebrating the city's coastal seafood-driven culinary vibe and on delighting travelers and locals alike with its sophisticated yet comfortable design. Photos by Shannon O'Hara"We had a lot of fun with the development of Henley," Bortnick says. "It has many layers, and we needed a chef with R.J.'s talents to be able to pull it off."
Those layers offer guests a variety of ways in which to experience the restaurant. Inspired by the rooms of a mansion, it progresses from a terrace dining area outside the front entrance to a petite salon (lounge), a bar, a grand salon (main dining room) and finally, an intimate, library-like space dubbed the Snooker Room, which doubles as a private dining room.
"As you go through the space, the design gets a little darker, a little moodier; the furniture gets a bit more leathery and brooding," Bortnick says. "From a menu programming standpoint, we're just adding a chef's fixed-priced tasting menu, which will be served only in the Snooker. It's served family-style, like a Sunday supper, and involves tableside carving from a rolling cart we found at a vintage shop in Nashville."
If such concepts are redefining the hotel dining experience, so, too, is an intense focus on local. As with the broader restaurant community, it's the overarching trend and it's being tapped at every turn by hotels large and small.
Dan Kwan, chief creative officer and regional managing director at Wilson Associates, a global design firm with an array of marquee hotel projects in its portfolio, says much of what's happening in the segment is Millennial driven. Unique, local, authentic: These are the key words driving development, and large hotel chains that once relied on cookie-cutter strategies are changing things up to compete for Millennials' business.
"My advice to hoteliers is that their brands will all cease to exist physically. Gone are the days when a Marriott in D.C. can look like a Marriott in Calcutta," Kwan says. "Hotels have become social hubs, and their buildings have become repositories of local culture. They're parts of the neighborhood, of the local landscape. Even big-brand hotel chains have started to develop smaller, more boutique properties and sub-brands that more easily play into this shift."
Kwan calls the philosophy that drives his team's hotel and hotel restaurant projects "urban camouflage." "Your hotel and its public areas should look like part of the neighborhood," he says. "That's now happening a lot with hotel design. If it's in Williamsburg, the public areas and the restaurant really look like they belong in Williamsburg. That has really affected the way we service the hotel guest. Especially in larger cities with lots of options right outside the door, it's important to bring elements of that neighborhood inside via local products, local flavors, local chefs, local concepts."
Mining Local Culture
The Marriott Marquis Houston's all-day dining concept, Walker Street Kitchen, was designed to portray a clean, coastal feeling with lots of natural light and artwork depicting Gulf region birds. Photo courtesy of Marriott Marquis HoustonJoshua Scott, director of restaurants at the Marriott Marquis Houston, which opened last December, agrees that localizing, even — or perhaps especially — on the part of big hotel brands, is important. It's a trend he says has been reshaping the hotel dining segment for several years and is gaining momentum.
Marriott is focused on creating local appeal in part by developing its own locally influenced concepts, such as the Houston property's Walker Street Kitchen. One of six diverse F&B venues within the hotel, it serves continuously throughout the day. Its menu and design play off of the hotel's Gulf Coast location. "It has a very clean, coastal feel with a lot of natural light," Scott says. "The featured artwork is of Gulf region birds, and subtle design touches throughout pick up on that regional feel."
Scott admits, however, that while Walker Street Kitchen's performance over its first few months in operation has been good, the hotel's most successful concepts are those that have even stronger and more personal local connections.
Biggio's, the Marriott Marquis' upscale sports bar/restaurant, is affiliated with beloved Houston Astros Hall of Famer Craig Biggio. And Xochi, an upscale, authentic Oaxacan restaurant helmed by James Beard Award-winning chef Hugo Ortega and his H-Town Restaurant Group are creating a big buzz.
In the case of Biggio's, Marriott struck a deal with the star baseball player for the rights to develop the concept around his name.
In the case of Xochi, the restaurant is 100 percent leased to Chef Ortega and his organization. "They developed the concept, did the design and renovation, the build-out; they handle all operations," Scott says.
As at Kimpton restaurants, where Bortnick estimates that less than 30 percent of volume comes from hotel guests, these locally affiliated concepts hit the mark in terms of bringing the local community into the hotel.
"We knew that being located downtown, we'd get some business-lunch traffic. Plus, we're connected to the convention center and are walking distance to Minute Maid Park, where the Astros play," Scott says. "We figured a sports bar with a local celebrity attached to it would draw a mixed crowd, but we were surprised by the response from locals. We thought they'd make up maybe 40 percent of Biggio's volume, but it's more like 80 or 90 percent local. And Xochi, which was named the city's best new restaurant by a Houston Chronicle reviewer in June, is the definition of a local hot spot."
Launched in 2010 with five properties, Marriot's Autograph Collection Hotels sub-brand has grown to more than 95 independently owned and operated boutique hotels around the world. Each is promoted as offering a strong sense of place and of being "exactly like no place else."
One such property is the new Watermark Hotel in Baton Rouge, La., home to The Gregory, which features upscale, inventive twists on Southern cuisine. Designed by Gensler, the hotel opened last fall in a stately 1920s building that was the city's first skyscraper and headquarters of the Louisiana National Bank and, in the 1960s, served as a state office building.
Doug Detiveaux, a Louisiana native who led Gensler's design and architecture team, says the bones of the building, existing interior features and its history provided inspiration for the concept and design.
Most notably, those features included eight 20-foot-wide bas-relief murals created for the bank in 1949 by famed Louisiana artist Angela Gregory, for whom the restaurant is named. They depict images important to the state's economy, including oil refineries, sugarcane and the Mississippi River, as well as the state seal and the seal of Louisiana National Bank. The murals were restored and serve as The Gregory's signature design feature.
The building's original sculpted marble entry staircase was incorporated as well, and the team recreated eight Greek revival fluted columns that were demolished in the 1960s. They now provide definition for The Gregory's 62-seat main dining area, which is flanked on one side by an open kitchen and on the other by the bar area. An adjacent overflow space, highlighted by brick-lined ceiling arches and a full wine wall, doubles as a private dining room with seating for 32.
Taking a direction that many contemporary hotels are now headed, the bar and restaurant are woven into the hotel's lobby experience. "The first floor of the building is pretty much one big public area that flows from lobby to bar to restaurant," Detiveaux says. "From the hotel's entry vestibule, you can see straight back through the entire space to the dramatic curtain that covers the back wall of the restaurant."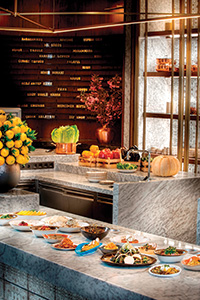 That type of open, integrated approach is growing in U.S. properties, according to Bortnick. "Hotels in our niche in Europe are going more toward engaging living and lobby spaces that are more F&B driven," he says. "You might have a very cool restaurant that just flows from the bar and lobby and check-in. It's all one and the same, but it's done in a very cool way that doesn't remotely resemble the old-school big box that plunks a lobby bar/American grill into the middle of a 10,000-square-foot atrium lobby. It's hip, there's a DJ, a little retail area with local artisan goods. It's about making the check-in process feel almost like a sidebar experience to the bar and dining-room atmosphere."
Creating Integrated Experiences
Older properties and physical limitations of some sites can make creating that type of integrated experience challenging, but creative design solutions can help to promote flow and openness between F&B concepts and other public areas.
Such was the case at the Sam Houston Hotel in Houston. It's part of Hilton's new Curio sub-brand, which the company describes as "a carefully selected, global collection of distinctive four- and five-star hotels that offer travelers local discovery and authentic experiences in key markets."
At the Sam Houston, the hotel's new owners brought in Candace Schiller and Craig Schuster of H3D Hospitality Design, a full-service concept development, branding, architecture and design firm in Houston, to create a concept that would break the hotel-restaurant stereotype and become a vibrant neighborhood draw.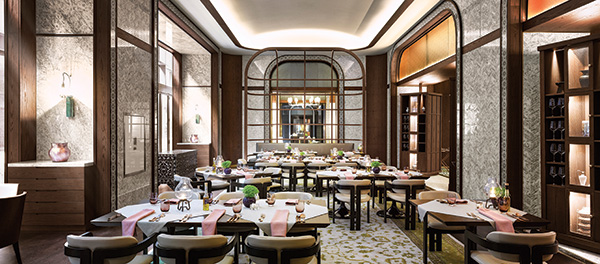 The Fairmont Quasar Istanbul's signature fine-dining restaurant, Aila, is flamboyant, curvilinear, and filled with Turkish patterns and textures. Photos courtesy of Fairmont Quasar IstanbulThe result: The Pearl, a restaurant, oyster bar and bar helmed by noted Houston chef Chris Loftis. The operation, which serves breakfast, lunch and dinner, has a dual focus on celebrating the city's coastal seafood-driven culinary vibe and on delighting travelers and locals alike with its sophisticated yet comfortable design.
As a historical property, however, spatial issues came into play. Namely, the restaurant and bar occupy separate spaces on either side of the hotel's wide entry hallway. Both those spaces were closed off from the hotel's lobby.
"The first goal from a design standpoint was to find a way to connect the restaurant both to the outside world and to the hotel," Schiller says. "We ended up removing the sheet rock walls that divided the restaurant from the hotel lobby and replaced them with industrial steel and glass storefronts. Doing so opened the view into the restaurant from the lobby, the bar and the street. We created a visual filter into the restaurant by installing a small, glass-enclosed wine room, but the whole effect creates a sense that the hotel is built around the restaurant."
Within the restaurant itself, polished Southern and laid-back coastal vibes come together through design features that include tabletops and paneling made from local woods, natural rolled steel structural columns, shutter-style blinds, and large, comfortable woven chairs. Sculptures of hammerhead sharks, common in the Texas Gulf Coast, adorn one section of the wall, while brick adds texture to another.
Kimpton Hotel Monaco D.C.'s new signature restaurant and bar, Dirty Habit, offers a high-energy vibe, a globally influenced small-plates menu, and an edgy, dark aesthetic. Photo by David PhelpsThe Pearl's large, L-shaped bar area features two large vintage oyster shell chandeliers, a comfortable bar clad in painted pressed tin tiles, brass light fixtures, a brick ceiling, and the same rolled steel and wood finishes that are used in the dining room.
"We were trying to create a rustic-modern combination of materials and a vibe that taps into Houston's laid-back Southern vibe but also plays to its polished, contemporary energy," Schiller says.
Repositioning "All-Day" Dining
While new chef-driven concepts and local appeal are changing the game, hotels still need to cater to a broad spectrum of travelers and provide options for guests throughout the day. That often means integrating an all-day dining venue — but even those are being packaged in more sophisticated ways.
In some respects, it's back to semantics: Hoteliers are dropping the terms "all-day dining" or "three-meal restaurant" as descriptors. Marriott's Scott says it's all about perception and positioning, with "all-day dining" often setting expectations for mediocracy. "We're trying to get away from the formula-concept three-meal-a-day restaurant," he says. "With the amount of families and business travelers we serve, there's still a need for those operations, but by getting more creative and strategic, we're steering clear of the negative connotations sometimes associated with them."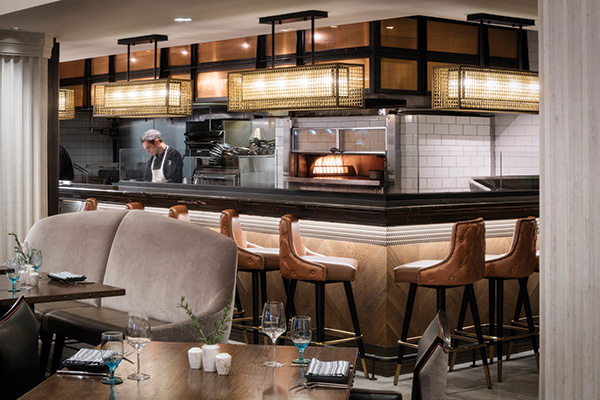 The first floor of The Watermark Hotel is one large public area that flows from lobby to bar to restaurant. From the entry vestibule, guests have sightlines through the entire space to a dramatic curtain lining the restaurant's back wall. Photo by Andrew BordwinAt the Fairmont Quasar Istanbul, which opened earlier this year, Kwan and his team created two distinct dining venues. One is an upscale specialty restaurant called Aila; he describes the design as "flamboyant, sexy, curvilinear, and layered with Turkish patterns and textures." Signature features include a spice library curated from Istanbul's famed Spice Bazaar (guests can purchase spices from the restaurant, too), a bar and a traditional Turkish grill. The other venue is Stations, an all-day buffet with an elevated design, multiple seating areas and an artisanal bent.
"Stations was a bit of a challenge because it's a buffet concept. Everyone hates buffet lines, but all of the food in this operation is very well curated and cooked in small batches, much of it at live cooking stations in front of guests," says Kwan. "Its menu celebrates Turkish and other international cuisines, and its aesthetic was inspired by the history of the building."
The Fairmont occupies a Robert Millet-Stevens-designed building that was one of the first liquor factories in Turkey. For Stations, the Wilson team blended Millet-Stevens' characteristic industrial and art deco influences with cues taken from prohibition. All the artwork in the restaurant, for example, depicts scenes of artisan liquor production and is thematically relevant to the type of authentic, craft cooking that Stations employs.
Kwan says the Stations concept, with its polished design, hyper-local influences and live cooking platforms, is reflective of where the industry is headed — namely, toward creating experiences that engage and excite guests in ways that most hotel restaurants historically have not.