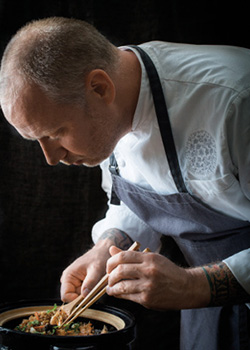 Kyle Connaughton, Chef-Owner, Single Thread, Healdsburg, Calif.Restaurants are finding great new ways to enhance the guest experience using technology. For some, that means more customer-facing tech tools; for others, it's all about behind-the-scenes solutions that facilitate exceptional, high-touch service. Such is the case at Single Thread.
This year's James Beard Outstanding Restaurant Design Award winner, Single Thread is a West-Coast-elegant $225-per-person restaurant that Eater San Francisco describes as being "wired like the CIA, all in the name of hospitality." Chef Kyle Connaughton, who, with his wife Katina, opened Single Thread restaurant, inn and organic farm last December, explains.
Single Thread is intimate and upscale. Why the big focus on technology?
KC: We seat 55, but our facility spans 5,000 square feet. There's the main-level dining room, guest rooms on the second floor and a rooftop garden, which is where guests enjoy their first course. We also have the farm, so there's a lot of movement of guests, staff and product. It takes a lot of coordination to operate seamlessly. Technology helps us do that, and it starts well before guests arrive.
How so?
KC: Rather than making a traditional reservation, arriving at the restaurant, ordering, dining, getting the bill and paying, we use a ticketed system. We have a set menu format, and everyone who comes to dine with us has a customized, 11-course experience. There's nothing to order, no decisions to make, no variable prices. Guests communicate all pertinent information and pay in advance. When they arrive, they can just enjoy the experience and leave when they're done — there's no transactional element.
What about the need to customize and personalize?
KC: Through our reservation platform, we get to know guests before they arrive. We communicate via email about dietary restrictions, aversions, allergies, preferences, etc., and we gather their profile picture from LinkedIn or other sites. We have cameras in the parking area and at the entry, so when they arrive, we can open the door and welcome them by name. They don't have to come up to a podium and feel like they're checking in.
And high-touch takes over from there?
KC: Yes, but technology plays an integral role. I have cameras throughout the property so that I can see what stage guests are at. If they're on the rooftop and ready to come downstairs, we want to have something ready for them. It's all hidden — they never feel like there are cameras watching them — but those images are shown behind the scenes so that we can anticipate their needs.
How else is technology in play behind the scenes?
KC: It's integrated at every turn, but I didn't want at any point for guests to see our team interacting with tech hardware. They don't see us interface with a POS system or use a tablet or handheld device. Everyone communicates on a platform that was designed to enable people to work and communicate in real time. By the time the guest comes down to the dining room, we already know what we need to know.
How does that type of real-time information appear in the kitchen?
KC: It comes to my phone and to monitors mounted on a section of the wall that isn't visible from the dining room. That's where I have all of the camera views and the feed from various channels. And there's an area in the back that's more like the communications hub. It all helps us to cut down on the need for verbal communication, which is important because our design is so open.
How does technology impact the restaurant's physical environment?
KC: Each table has a directional speaker in the ceiling that creates a sort of curtain of sound. Guests can hear the ambience of the dining room but not the conversations at nearby tables or the sound from the kitchen. And our lighting system is wired into an atomic clock. Every day, it knows what time sunset is and begins its program. The lighting changes seven times throughout the dinner service. As some lights go down, others go up very slowly to highlight different features of the dining room. Toward the end of the night, the lights raise slightly to give a little more energy. The technology ensures that it's subtle and seamless and lets us focus on providing great hospitality.