Page 3 of 6
Bellecour, Wayzata, Minnesota
Designer: Shea
Highlights: Glass wine room, service stations, larder shelf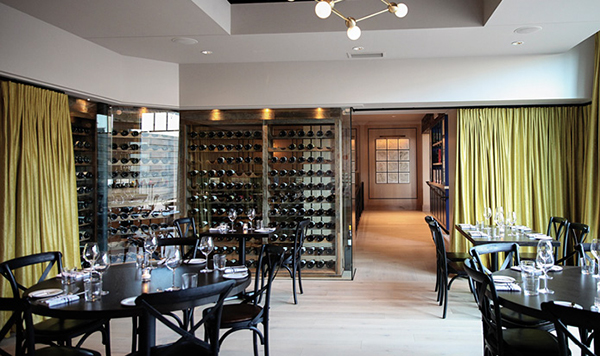 Bellecour Private Dining/Wine Room. Photo courtesy of Eliesa Johnson
Bellecour, a French-inspired bistro and bakery by Chef Gavin Kaysen and the team behind the James Beard Award-winning Spoon and Stable restaurant in Minneapolis, opened in March of this year. Taking over a location in suburban Wayzata that had housed the Blue Point restaurant for three decades, Kaysen worked with Shea to transform the 5,800-square-foot space into a versatile, all-day operation.
Wine Room: Challenged to provide ample wine storage and some separation between Bellecour's main dining area and an area designated for semi-private dining, Shea created a large glass wine room that accomplishes both objectives while at the same time providing a visually striking design element. "You could almost argue that it's a kind of service station as it's designed to be highly functional," Spaulding notes.
"Gavin wanted a wine visual, but we didn't have enough room to do a pretty wine display and also have sufficient storage behind closed doors," Spaulding explains. "We decided to create a larger wine room and use it as a functional part of the design. Wine rooms aren't a unique concept, but it's often difficult to get one right in the middle of the space. This solution created a feature that is very visual, gives them the separation that they needed, and is easy for servers and bartenders to access and find what they need."
Bellecour 23 Shea Credit Eliesa Johnson
Service Stations: Two custom-designed service stations created for the Bellecour project are not just popular with service staff — their positions at either end of the long, rectangular dining room saves them valuable steps — they're also a hit with guests. Spaulding says several have inquired about where they might get a similar piece for their homes. "They do have a residential furniture feel to them, which fits the overall brand and design of the restaurant," she says. "That's central to every service station we design. They look great, but they also give the staff easy access to whatever they need so they don't spend so much time walking back and forth for glasses, wine, water, etc."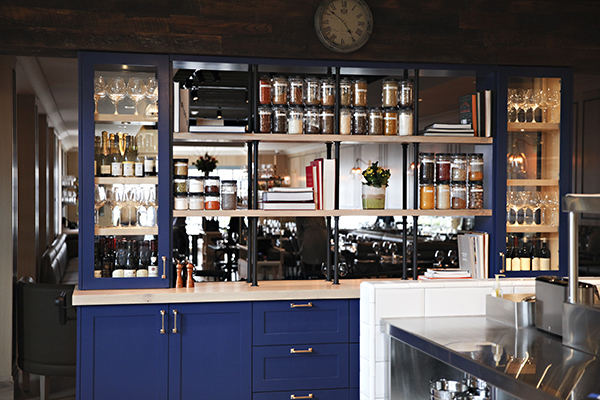 Bellecour Larder Shelf 2 Eliesa Johnson
Larder Shelf: Also in the residential design vein, Shea provided a sort of visual screen between the dining room and the open kitchen with a brightly painted larder shelf. "It almost feels like a sideboard in someone's home," Spaulding says. Stocked with a colorful selection of wines, spices and cookbooks by Kaysen's mentor chefs, friends and investors, including Daniel Boulud and Thomas Keller, the larder provides separation but also transparency. Guests get views into the kitchen, and the chefs can see into the dining room. A bonus feature: The unit's bottom cabinets provide additional and much-needed storage.