Housed in a 1906 building that originally served as a horse stable, Chef Gavin Kaysen's new Spoon and Stable restaurant in Minneapolis honors both the building's past and the chef's personal collection of spoons.
Kaysen, a James Beard Award-winning chef who was most recently at the helm in New York's renowned Cafe Boulud, moved back to his hometown of Minneapolis to create his own restaurant and opened the doors to Spoon and Stable in mid-November.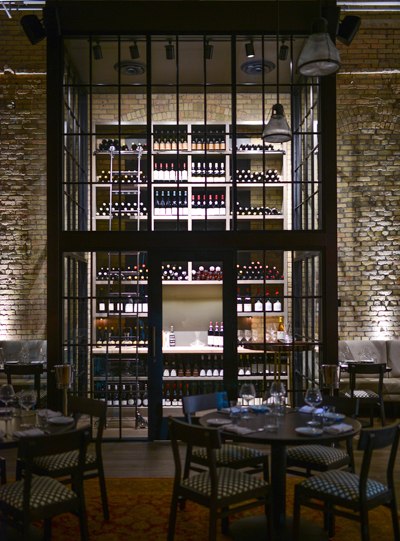 Designed by local marketing and design firm Shea, the roughly 6,000-square-foot restaurant occupies a long, narrow space that Shea principal Tanya Spaulding says was conceived to create a "culinary destination that offers a sort of gathering-in-the-kitchen type of hospitality experience."
The end result is a design that she characterizes as refined simplicity. The 100-seat space is anchored by three key design elements: a thrust-stage open kitchen; a temperature-controlled, display wine room enclosed in mullioned glass panels; and a vibrant bar with a highlighted back bar. "Those three elements are the anchors both visually and in terms of seating," she says. "There's lounge and bar seating, central seating that surrounds the wine room, and seating that surrounds the kitchen. No space is left floating and every seat in the house has great sight lines to all three of those elements."
Comprised of a single room with 25-foot-high ceilings and skylights, the restaurant maintains a sense of openness with additional use of mullioned glass partitions separating the bar area. The same material is used to provide a large, operable window into the kitchen from the restaurant's 40-seat private dining room, which occupies a non-contiguous space at the back of the restaurant.
The building, which was most recently office space and before that a retail store, came with some elements that the design team retained. Original exposed brick walls with what were once large arched windows embedded in them were cleaned and left natural. Columns that run throughout the building from its days as a horse stable remain. Old ladders discovered during demolition in Prohibition-era tunnels under the concrete slab were refinished and repurposed as art elements, as was an old metal sliding door. A garage door on the front of the building was incorporated into the design. In nice weather, it opens up to create an indoor-outdoor dining experience. When the door is closed, a counter fashioned from reclaimed black walnut provides seating with a view of the neighborhood outside. When it's opened, an exterior counter flips up to meet the interior portion, creating what Spaulding describes as a sort of indoor-outdoor communal table along the storefront.
Fabrics, materials and colors throughout the restaurant are subdued and booths and banquettes are tailored. In keeping with Chef Kaysen's return to his hometown roots, local vendors and craftsmen were used for custom lighting fixtures and the reclaimed black walnut that's used on the eight-seat chef's counter. All dining tables are topped in lightly finished dark walnut, as well.
The balance of the chef's counter is white marble, which is also used for the lounge cocktail tabletops. Market baskets filled with fresh breads, fruits and vegetables provide pops of color in the open kitchen.
Kaysen's brother, a woodworker, crafted a unique display for some of the spoons that he's collected — "souvenirs" from restaurants he's visited over the years — and from which the "spoon" in Spoon and Stable is drawn.