Ousia, a Greek-focused Mediterranean restaurant, opened in Manhattan in January. The 7,000-square-foot restaurant, designed by The Niemitz Design Group, is housed in an unusually underdeveloped spot in Midtown West inside a brand-new residential building, Via 57 WEST. The promising location presented both opportunities and challenges.
"We explored the option and decided to take the opportunity to open a new restaurant in a burgeoning neighborhood. Only a block from the West Side Highway with more than 14,000 new apartments being built, we saw a need for a new dining experience for the community and for those traveling into the city who need easy access to a more sophisticated dining scene," says Nick Livanos, proprietor of Livanos Restaurant Group, the owner of Ousia.
The new build meant there could be no working around current building codes, and the building's proximity to the river meant that there would be no basement.
"The kitchen plumbing needed to be above the cement slab, so the kitchen floor needed to be raised to the dining-room floor to give us the proper plumbing," Livanos explains. "With no basement space that most restaurants use for storage, a big challenge was coming up with support space. At the last moment, the landlord provided us with 1,000 square feet of storage on the opposite side of the building, where Ousia stores its wine collection and nonperishable goods."
With the storage problems solved, the restaurant could focus on its goals. "We wanted to create a restaurant that offers Greek cuisine but also be a neighborhood restaurant. Greek food is comfort food, so we wanted to create a very warm and casual environment for residents and visitors," says Johnny Livanos, general manager.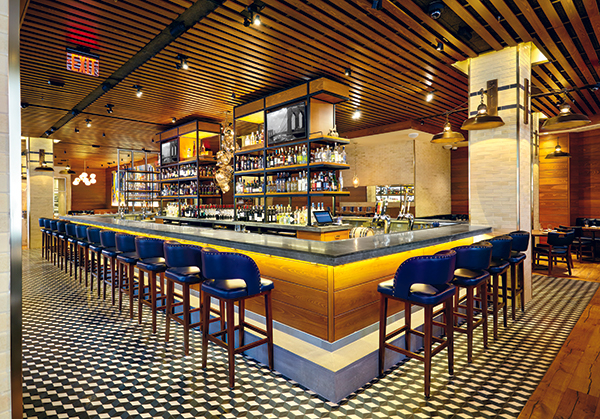 Photography by Paul Johnson