Schlotzsky's is testing a new prototype restaurant design it plans to roll out nationwide to its 376 locations spanning 35 states. Existing locations will be retrofit.
The restaurant chain plans to implement this design for newly developed locations, too. Schlotzsky's Cedar Park, Texas, location was the first to debut the changes since the last design overhaul seven years ago.
"We've been baking our own bread since our inception in 1971 and wanted to promote that we are a real bakery café – not just a sandwich shop – as part of the changes," says Nicholas Paruch, director of development for the brand. "That includes our current audience, but we also want to expand to new and potential customers."
The new design opens up the walls to expose the baking area so customers can see staff baking bread, cookies and other products. The brand has also updated its in-store and online branding, advertising and marketing campaigns to focus on the bakery-café message. Schlotzsky's features a menu of hot sandwiches using made-from-scratch sourdough buns as well as pizzas and flatbreads, oven-baked pastas, salads, soups and cinnamon rolls at locations that co-brand with its sister concept Cinnabon.
Many of the new design elements were developed with an eye toward environmental consciousness and energy efficiency in the form of updated lighting, equipment flooring, vehicles and more. "Instead of vinyl, which has to be replaced more frequently and is not very environmentally friendly, we have been testing polished concrete, which involves grinding down the existing concrete flooring in our restaurants and adding a stain and matte polish with a nice sheen," says Paruch, adding that he chose this type of flooring mainly because existing materials could be used but also because the polished concrete still has good slip resistance and is relatively low maintenance.
In addition, to cut down noise in parts of the dining room, Schlotzky's continues to test super durable and stain-resistant hospital-grade carpeting that's made from 90 percent recycled materials. While the brand's color base has centered on orange, green and red, the new carpeting and polished concrete feature circle patterns with natural and beige colors in a nod to the signature round Schlotzky's bun.
With respect to furniture, the design team looked to create a mixture of seating options, namely to appeal to the diverse customer base. The restaurant added 48-inch, high-back booths for extra privacy as well as communal tables, high-top seating, window seats, and a newly designed, round doughnut-like table with four ottomans that be set up separately or pushed together to create another communal seating option. "Last week I saw a group of 8- and 9-year-old girls from a soccer team push the chairs together to make a circle where they could eat lunch together," says Paruch.
Old florescent bulbs were converted to LED lighting for energy and cost savings and to eliminate maintenance issues.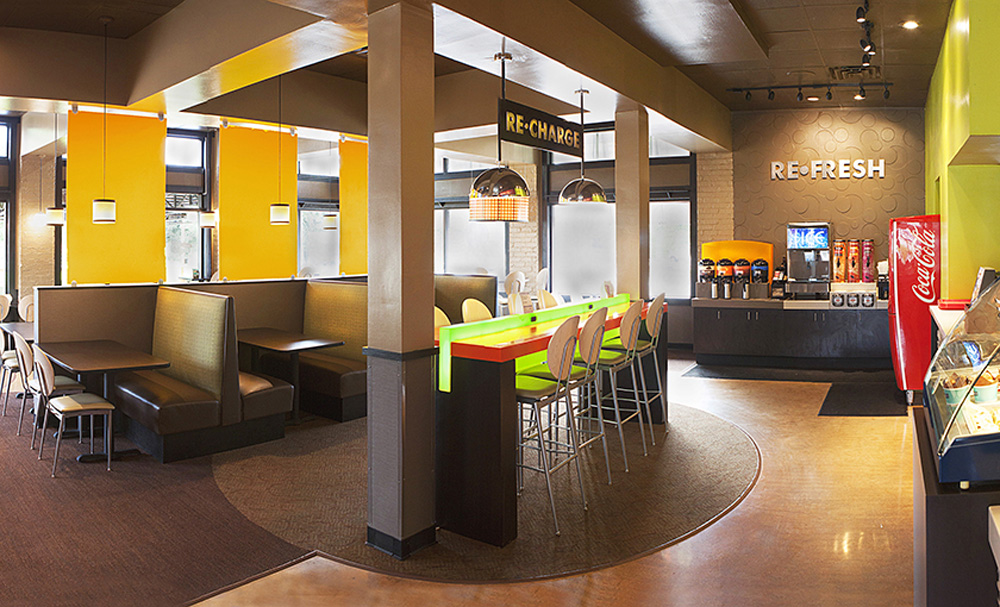 To engage the Millennial and Generation Z crowds, Paruch designed charging stations called the "Juice Bar" – a stool height table with USB plugs as well as a wireless platform for smartphones and tablets with that capability. The chain has also updated its music system to allow guests to choose their own music using an app and connect with the brand on social media via live-steaming feeds on in-store flat-screens. The digital screens can also be used to announce specials and other promotions.
"We want to be ahead of the curve and innovate with the guests," says Paruch.
In addition, the brand has leveraged technology in its testing of an online ordering system, thought it has made no changes to its current ordering platform, where customers place their order at a counter and food is brought to them tableside. Schlotzky's is also working with Postmates to offer third-party delivery. And it has continued its focus on catering, updating its vehicles with funky designs.
At the back of the house, the team has been researching more energy-efficient equipment for new locations and retrofits where applicable.