New Orleans' La Thai restaurant's redesign was led by Chef-Partner Diana Chauvin Gallé and interior designer Curtis Herring. Gallé took over the space in 2008 but made only modest changes. The redesign freshened the aesthetic and gave Gallé the opportunity to reconsider elements of the space.
"I wanted to introduce to our guests a few more authentic street food items and really wanted to feature them independently from our existing menu," says Gallé. "What better way to do this than in a separate lounge area where we could offer those dishes as small plates and do so in a cool, hip but cozy and inviting space?"
The renovation timeline spanned only eight weeks with a budget of slightly less than $200,000. The restaurant remained open for six of the eight weeks.
The new lounge sits across from the hostess station. "The bar at La Thai is 42 feet long and can comfortably seat 18, so I wanted to help Diana capitalize on the bar within the restaurant without diminishing from the Uptown neighborhood restaurant charm that La Thai was known for," says Herring. The main dining room is screened off from the kitchen and the lounge using room dividers made of Plyboo and topped with Cambria stone and pierced silver metallic Asian screens. Track lighting highlights the screens and casts patterns on the floors and walls.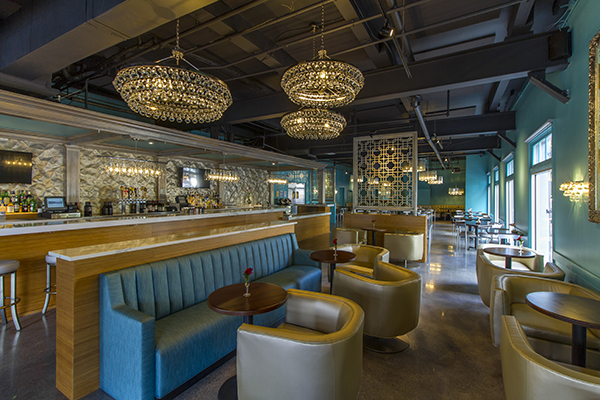 Existing chandeliers were repositioned, and new crystal sconces were added. A cluster of three crystal chandeliers hangs over the lounge to create a bit of glamour and serves as a focal point upon entrance from the street.
Peacock blue paint was dubbed "La Thai blue" by the project team. "The color is as calming and elegant as it is dynamic and upbeat," says Herring. "The paint color alone set the tone for the entire restaurant. I painted the front door the same color as a subtle introduction to patrons before entering the space." Acoustical panels were also discretely added to the ceiling to increase guest comfort. "Bad acoustics can ruin an otherwise fantastic restaurant," he adds.
Photos by Stephen J. Young