Gotham Market at The Ashland in Brooklyn, N.Y., is the second food hall from Gotham Organization, Inc. It builds on the success of the acclaimed Gotham West Market in the Hell's Kitchen neighborhood.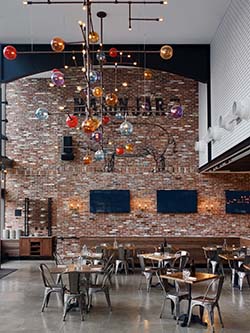 Designed by Jeffrey Beers International, the 16,000-square-foot Gotham Market at The Ashland offers eight distinct dining and drinking venues at the base of The Ashland, a luxury residential development.
The design pays tribute to Brooklyn's rich architectural tradition with an industrial-styled space and materials reminiscent of the borough's history. Floor to ceiling windows create a bright and cheery backdrop for the market's illuminated counters. Other design elements include exposed concrete, brick, white subway tiles and reclaimed wood.
A 26-foot entrance atrium features black steel pipe chandeliers with 180 hand-blown glass globes created by KEEP at the neighboring Urban Glass studios.
The culinary options include Apizza Regionale, serving locally sourced Italian lunch and dinner items, including brick-oven pizzas; Boqueria, a Spanish tapas restaurant; Bar Granger, the market's central bar; Egg at the Bird, offering breakfast and coffee items; Flip Bird, a rotisserie and fried chicken restaurant with vegetable-drive side dishes; Mason Jar, offering southern comfort food and wide-screen TVs for watching games and events; and MJ Station, which offers Mason Jar's signature dishes in a grab-and-go format. Finally, the eighth spot serves as a pop-up space for a rotating selection of local chefs and restaurateurs. First up is Crabby Shack, a Crown Heights neighborhood favorite known for crab rolls and crab grilled cheese.