Wing Zone is looking to remove people from its kitchens.
The Las Vegas-based brand has recently implemented a company-wide rebranding, which included overhauling its kitchen design, technology, and AI to improve both operations and the customer experience.
With a labor shortage that's leaving restaurants struggling and a pandemic that devastated the hospitality industry, restaurants are doing everything they can to design kitchens that are efficient and effective.
The pandemic and labor shortage have changed the dynamic in restaurant kitchens, says Steve Starr, president and chief at starrdesign in Charlotte, N.C. "We're looking at doing more volume with less people."
Bring in the Robots
Wing Zone is testing using robots, starting with its fryers. "Having someone run your fryer is not a high-skill job. It's hot and dangerous and greasy, so having a robot run it makes sense,' says David Bloom, chief development and operations officer. "We're developing a fully robotic fry system that cooks the fries, dumps them, shakes them and keeps them hot so employees can focus on taking care of guests."
Wing Zone is also testing the addition of cameras with integrated AI software. It has placed them over expediting stations to make sure the right food goes into the right packages. This is especially important, Bloom explains, "because so much is consumed off-premises, and if it's wrong, [customers] end up having a terrible consumer experience that's really hard to fix."
Cameras were also placed over the grills and the sandwich-making areas. The AI software understands the standard operating procedures, knows exactly how each food order should be made and what should be in every bag leaving the restaurants. "They know if there's an error," Bloom says. "They can flag or flash if something is wrong."
The cameras can also help with employee training. If something is made incorrectly, the software will point it out and the employee can be retrained.
"By ensuring we make all of our food correctly and package it correctly, we're able to avoid stopping the operation to go back and fix mistakes, which can be very disruptive and cause all types of backups and is very labor inefficient," says Bloom.
"This makes everyone's job easier and better," he adds. "And, the customer experience is better, too."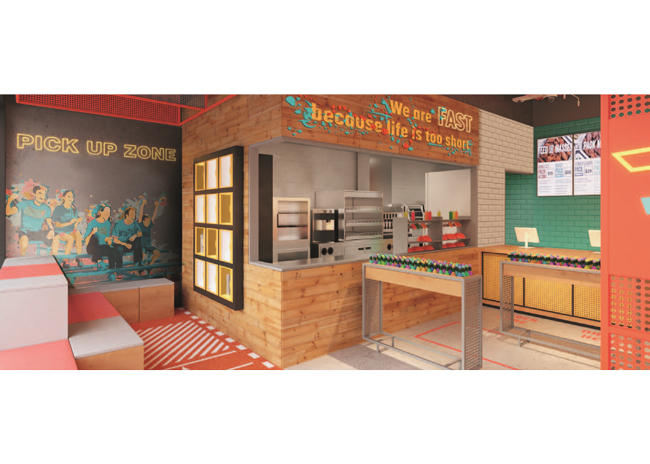 Wing Zone has undertaken a company-wide rebranding that included overhauling its kitchen design, technology and AI. Images courtesy of Wing Zone
Optimizing Equipment
The goal with a kitchen, says Starr, is to "maximize quality and maximize consistency with the minimum skilled labor possible." The more that can be automated, the fewer employees are needed.
Automated chain conveyor charbroilers, clamshell griddles, and convection ovens eliminate a lot of work — and guesswork — for employees, while also offering consistency and speed. "You're also handling more product in less time, so at peak volume, you're taking up less space on the cookline and one person can now make [the food] faster," Starr points out.
And, because the process is fully automated, Starr says, an employee can be doing other things, such as dressing a bun for a burger while it cooks, rather than seeing it through the cooking process.
But for the ultimate in an efficient kitchen, operators can look to a combi oven and blast chiller duo, which allows for batch cooking, says Joseph Schumaker, FCSI, founder and CEO, FoodSpace, Eagle, Idaho. "You can batch cook prep, blast chill it down to the proper temperature quickly, then cook it a la minute from an 80% cook state and the quality is as if you cooked it a la minute. That combination of equipment can really change the efficiency of an operation." Plus, he adds, these pieces of equipment are so easy to use, they can help reduce labor.
John Egnor, owner, JME Hospitality, based in The Woodlands, Texas, is a fan of impingement and induction ovens. "They're allowing us to reduce the size of kitchens for more production space," he says. You can consolidate your production time and produce more ingredients for final assembly, store them properly, assemble them in one location and create the finished product more efficiently."
Getting Bigger
These pieces of equipment can lead to efficiencies via making larger batches of food less often, says Starr, both in the prep process and during service, then holding and finishing them as needed. "If operators could go from prepping every single item four times a week to prepping those same items twice a week with the same quality but longer shelf life, they've literally cut their labor in half."
Starr is a fan of dry holding equipment, which can hold bigger batches of product for longer and with better quality than a steam well, allowing for a reduction in labor since fewer batches are prepared. The most important factor, he points out, is holding the food with no degradation to its quality, which can be done with the right equipment, such as a fry holding station or dry hot wells, he says.
Preparing food in larger batches allows you to be more efficient in the kitchen, which converts into a smaller space and fewer staff," Egnor points out. "You might take just one employee out of a six-person kitchen, but that's a 17% reduction. You can then have higher paid people."
Wing Zone's upgraded technology package included both customer-facing and BOH elements. The chain is even experimenting with overhead cameras that have AI integration to aid in employee training and customer satisfaction.
Size Matters
The size of your kitchen can have a dramatic effect on its efficiency. Too large and employees will be taking too many steps.
Michael Salvatore, senior director at Ruck-Shockey Associates, a foodservice and hospitality consulting firm in Truckee, Calif., suggests completely repurposing an area of an oversize kitchen. Add a mixer and turn it into a baking area, for example, but don't start using it to store product as that can lead to employees feeling compressed and exacerbate inefficiencies.
The nature of humans, if you have a big kitchen, is to fill it with things, notes Egnor. "And you wind up with people ordering more things than they need or having to clean more space. You don't realize the cost that comes with that over time. A smaller space makes you become more efficient," he says.
Smaller spaces force restaurateurs to be better operators, Egnor says, and to find better ways to work. "So, I'm always looking to make spaces smaller but also efficient. You have to first look at how often are you going to bring your food in? It might have to be every day, or you might have to have a three-day cycle."
However, there are work-arounds. Operators can make big spaces smaller by increasing storage space, housing something that needs a home or creating a delivery assembly area. Or, best of all, he says, give the space back to the dining room. Just two more seats translates to more revenue.
The best way to assess a large space you'd like to convert is to ask yourself if it's something that can be translated directly into revenue. "That's key," says Egnor, "to do something that could support your business."
Getting Smaller
Small kitchens also have their challenges, Salvatore says, and he suggests using vertical space when possible, especially for storage and support.
"You want to think of each station as the cockpit of a plane, with everything within reach of the employee," says Starr. Think up and down, he notes, and try to have tiers, so instead of having the station be 6 feet wide you can now put the exact same ingredients and mise en place in 4 feet of space. "The employees reach up or down but take very few steps. And then, as you throttle volume down at quiet times, they're only going two steps to go to the next station instead of five."
A combination of tactics in design and operation can lead to the most efficient kitchen possible. Robots and automation may be the way of the future but until they're more reliable and more widely used, teaching employees how to be efficient, and helping them be more efficient, is the best way forward.