Doc B's Fresh Kitchen is an emerging "fresh casual" dining chain that recently opened a location in Fort Lauderdale, Fla. The project was designed by DMCA Architecture, with RCC Associates serving as the contractor and The Ruzika Company handling lighting design.
Located on the bottom floor of a new building, the operation encompasses 5,000 square feet, inside and out. The structure features an indoor space with glass windows on three sides that allow open communication and creates a sense of community between that area and an outdoor terrace.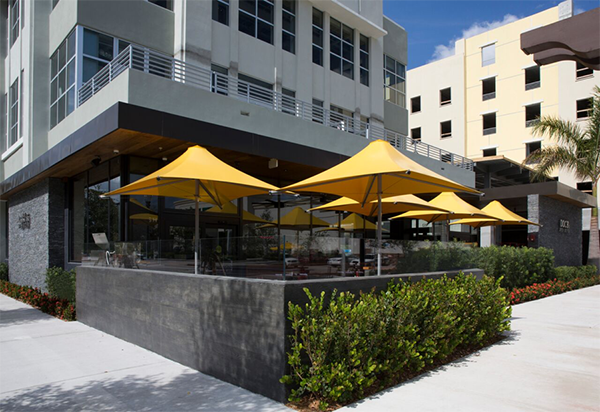 The outdoor terrace itself has seating for 80. This includes banquette seating for 20, as well as a community tables and standard two- and four-tops.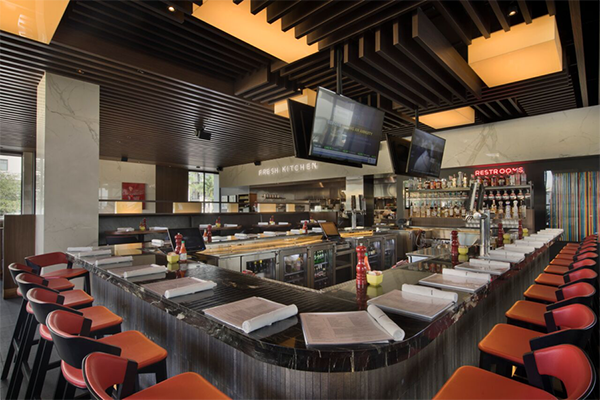 Doc B's interior features a large bar that serves as the center of the operation. The ceiling in the bar area includes walnut beams pointed in different directions that recall trellises found on South Florida beaches. They also help dampen sound and "activate" the bar area, while large drum lights cast a warm glow that give the bar a strong visual appeal from the outside.
An open kitchen provides energy and life to the restaurant, and is framed by white marble. Dining area seating is made of the same walnut used on the ceiling beams. Interior seating, including booth, banquette, bar and table, totals 131.