Page 1 of 2
Smashburger Founder's New Big Idea: 24/7 Casual Dining with an Urban, "Hipster Chic" Vibe
When Tom Ryan describes the menu at his newest restaurant venture, Tom's Urban 24, he talks about fun, comfortable, very familiar food dressed up with flavors and approaches that are novel for its basic architecture. Things like pizza with crispy duck and hoisin sauce, Pho with carnitas and sliced chiles, pot pie with filet mignon, macaroni and cheese with shrimp, and Caesar salad with Tuscan kale and grilled lemon. Built for 24/7 operations, the restaurant offers classic casual cuisine reinvented with urban culinary sensibilities.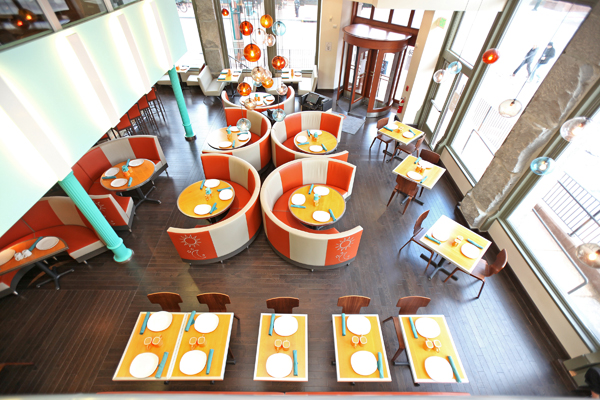 Toms Urban interior from above
Ryan, who is based in Denver and whose most recent hit prior to Tom's was co-founding the fast-growing Smashburger chain, is one of the industry's most prolific idea guys. He's behind innovations such as Pizza Hut's Stuffed Pizza and Lovers lines; McDonald's McGriddles, Big 'n Tasty, Dollar Menu and fruit and yogurt parfaits; and Quiznos' Sammies, among other now-iconic menu hits. Partly spurred on by the success of Smashburger, Ryan and his partners at private equity firm Consumer Capital Partners saw the opportunity coming out of the recession to create a fun, approachable, affordable concept in Denver's historic Larimer Square. Dominated by high-end restaurants, trendy clubs, coffee shops and boutiques, it's a single-block area promoted as having "one of the nation's most significant collections of regionally exclusive and chef-owned restaurants."
"We knew that post-recession there should be a plethora of new restaurants that basically offer people great tasting, familiar food at an affordable price. It had to be fun, comfortable and high quality, and play to people wanting to practice the craft of eating out but also wanting to be more practical about it," Ryan says. "We wanted to take a leadership position in that space and Tom's Urban 24 is the expression of that."
When another restaurant went dark in Larimer Square's historic Granite Building, Ryan knew he'd found the perfect home for his new concept. A four-story structure built in 1882, the building sits perched on the Square's busiest corner with large windows fronting both Larimer Street and 15th Street.
Toms Urban bar area
Ryan brought in Denver-based Semple Brown Design to do for the space what his culinary team was doing for the menu — take comfortable, accessible core elements and reinvent them with modern, urban, "chic hipster" twists. Sarah Semple Brown, principal designer, says that the 24-hour nature of the concept presented both
opportunities and challenges.
"The concept of a diner is what you kind of go to first when you're thinking of a 24-hour restaurant," Semple Brown says. "We were certainly using that sort of aesthetic as an underlying vibe for the space. But it needed to be more than a diner. It had to feel fresh, urban and have good energy. It needed a sense of fun and also to be grounded to the community rather than being a generic diner. The vision was for Tom's to feel unique to downtown Denver."