When principals at real estate development firm The Domain Companies went looking for a restaurant concept to anchor The Standard, a new 15-story, $80-million luxury condo project in New Orleans' mixed-use South Market District development, they cast a wide net. Hoping for a chef and concept with enough buzz to be a draw for residents and guests — and for something that would complement and enhance the area's eclectic, nontraditional mix of restaurants, retail and hospitality venues — they found what they were looking for in Brooklyn, New York.
Rising star Chef Ahktar Nawab and his business partner, Michael Wetherbee, a former GM of New York-based AvroKO-owned restaurants, had opened Alta Calidad in Brooklyn in 2017 in the vibrant Prospect Heights neighborhood. It's a small, multi-award-winning place where Nawab's smart, creative riffs on Mexican cuisine shine. It's also one of a growing collection of concepts created, owned and managed by the duo's company, Hospitality HQ.
Open to developing outside of their home market — they'd already expanded to Omaha, Neb., with Inner Rail Food Hall, and to Washington, D.C., with Prather's on the Alley — New Orleans and the vibrant, revitalized South Market District, in particular, seemed a great fit for a sibling restaurant to Alta Calidad. Honoring the original but giving its sibling its own identity, the team chose Otra Vez ("once again" in Spanish) as their new restaurant's name and tapped New Orleans-based Farouki Farouki to design the 3,400-square-foot space on The Standard's ground floor.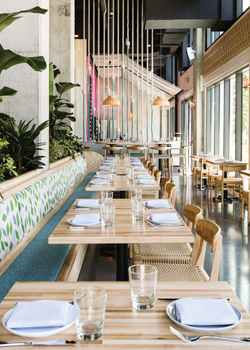 "In New York, as in most big cities, we're really limited on space," Wetherbee says. "Alta Calidad is in a former ramen shop, and it's very small. But our designer there did a great job of transforming it into a space that feels open and airy. And like Akhtar's cooking, it's not at all stereotypical, traditional Mexican in its aesthetic. He was born in Kentucky, is of Indian descent, and came into Mexican cooking after working with top chefs in both San Francisco and New York. His cuisine is really innovative. We wanted a more subtle design and felt that what we have at Alta Calidad, which looks like it could be a Greek or Mediterranean restaurant as much or more than Mexican one, was a good jumping-off point for Otra Vez. It needed to be open, airy, a place that people could be comfortable in at any time of day and that would really let the food stand out."
With The Standard still under construction when the lease was signed, Wetherbee and Nawab took over a cold, dark shell lined on three sides with tall window walls and crowned by 19-foot ceilings. While the space had been designated for a restaurant, infrastructure for one had not yet been installed.
In addition to getting the necessary mechanical and plumbing systems in place, the team's first task was to conceptually divide the long, rectangular space into the various components desired for Otra Vez. Besides a main dining room, these included a large bar and some lounge seating.
A design focal point, the bar runs along the back wall of the restaurant and seats 18 guests, while 2 small lounge seating areas flank the front entrance. "Especially in New Orleans, the bar needed to be a centerpiece," Wetherbee says. "It adds a lot of energy, and people in New Orleans just love bars. It also really helps to draw people in during what we call shoulder times — before and after dinner service."
Another must-have for Chef Akhtar was an open kitchen, a luxury not possible at Alta Calidad due to space constraints. "It's definitely an era in which people are into cooking; they want to see what's going on in the kitchen, and it adds a lot of energy," says Wetherbee. "From the minute you walk in the main entrance on Julia St., you see the big bar along the left side of the room and a large window into the kitchen at the far end of the dining room." Fronted by a high-top communal chef's table with seating for 10, the 950-square-foot kitchen serves the main full-service dining room and bar, as well as an adjacent fast-casual taco bar area.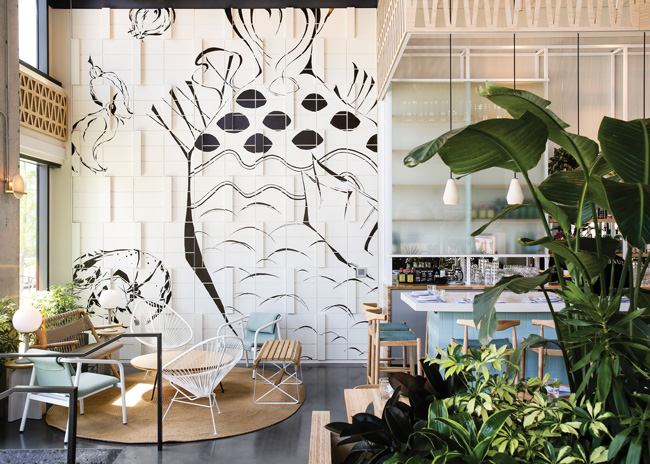 Early in the project, during design concepting, Farouki Farouki proposed integrating ACTQ (Alta Calidad Taqueria), a companion concept that Hospitality HQ operates in Brooklyn and is adding to its Omaha food hall lineup as well. "Our office is right nearby, and we know the neighborhood well," says Co-Founder Caroline Farouki. "There's a huge office lunch crowd and great potential for takeout. The Saints stadium is close by, so there's a lot of tailgating in the area. And there also are a lot of restaurants and hotels around, so the potential for late-night business from hospitality workers is strong."
Visible but set apart from the main dining room at the far end of the restaurant by a screened half wall and second communal table, the 250-square-foot ACTQ taco bar has a separate service window and exterior entrance. Its quick-casual menu features tacos, tortas, Mexican-style roti and tequila cocktails to go. A small bar seats six to eight people.
Cold Shell to Coastal Mexican
With the general layout determined, Farouki Farouki's task shifted to transforming the cold, dark shell into a bright and airy restaurant. The space's bones — ample windows and high ceilings — provided a great head start toward that end, Farouki says. Design-wise, the goal was to give nods to Alta Calidad but leverage opportunities inherent in a new city and in a new building with significantly greater scale to take Otra Vez to another level.
"The only definite carry-over that Michael and Akhtar wanted was a custom mural painted by Marysia Schultz," Farouki says. "That's a signature feature on a white-painted brick wall at Alta Calidad, and they wanted a similar version here. So going in, we had a bit of palette direction — it would be light, airy, the mural would be a prominent feature, and visual cues to Otra Vez's Mexican character would be subtle."
From there, Farouki says, the design team developed a design narrative around three main concepts: coastal Mexican architecture; the simplicity of modern Mexican paper art; and a blue-green color palette inspired collectively by vibrant ingredients in Akhtar's cooking, the ocean's hues and custom ceramic ware used at Alta Calidad.
A large, double-sided banquette "spine" defines the restaurant's two major spaces, the main dining room and bar. Two-top tables on both the bar side and the dining room side of the banquette help to maximize seating flexibility, and a built-in planter along the banquette's top provides natural color and screening.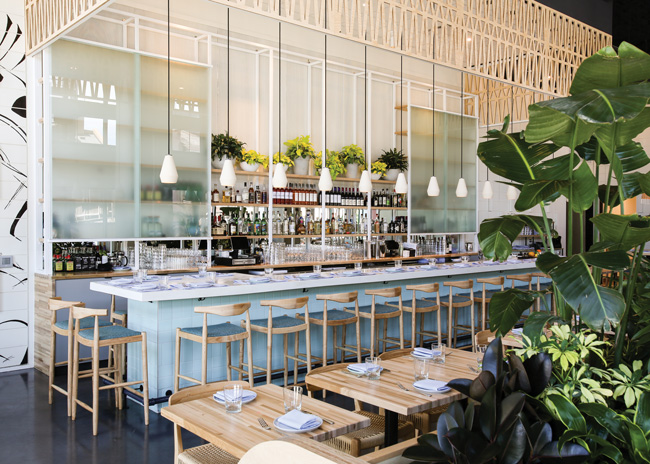 Inspired by the type of cinder-block and three-dimensional bricklaying seen in coastal Mexican architecture, the designers clad most of the restaurant's interior walls in milled 4-by-8-foot MDF (medium-density fiberboard) panels. "When we first started the project, we were actually looking for cinder blocks or bricks to mimic that traditional textural pattern," Farouki says. "But the depth of it wasn't working for us, and it was getting very expensive. We were on a very strict budget, so we ended up milling and layering MDF until we got the depth that we wanted. We painted it a warm white, and the artist painted the mural over it on a tall feature wall by the lounge area at the front of the restaurant. To give the taco bar in back its own distinct, more casual vibe, we covered the wall facing the street with that same material but painted it a vibrant pink."
Other wall coverings used at Otra Vez include plaster on the far wall of the taco bar and original raw concrete on architectural columns. Another type of milled, channel-cut MDF panels was used for the back bar, the server station and the half walls separating the communal tables from the kitchen and taco bar. The back bar was painted white, and the server station and half walls were painted light blue. Against the largely white backdrop of the main dining room, pops of color come from blue ceramic tile used on the bar face, aqua fabric on chair and banquette seats, and a playful blue-and-green patterned upholstery on the banquette backs. A dark, acid-stained, polished concrete floor provides visual solidity but also impacted furnishing and finish selections, according to Farouki. "We knew early on that Michael and Akhtar wanted a concrete floor," she says. "We also knew that if we were going to work with a concrete floor, we'd want to warm it up with a lot of wood and natural materials."
To that end, the team selected light ash tabletops and chairs with woven, rattan-style seats. Chandeliers above the communal tables evoke woven fish baskets. The banquette and decorative screen used above the bar are milled ash plywood. "We wanted a slightly grayer wood tone than normal oak. Ash seemed to fit better with our coastal Mexican aesthetic," Farouki says. "To create the wooden screens, we used a tribal-inspired pattern that we found in images of modern Mexican crafts. It's also used in a wooden border above the dining room windows."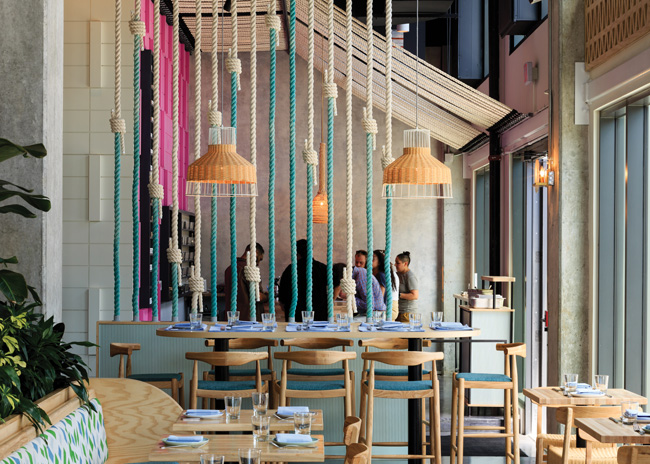 Modern Mexican crafts also inspired the team's approach to separating the main dining room from the taco bar area. Thick ropes that hang from the ceiling
add color and a subtle coastal vibe, while a second rope installation over the taco bar warms that area and brings its scale down.
Farouki's team sourced the ropes online and hand-dyed and hand-tied them for the vertical installation before securing them to the ceiling and the wall. A screw that runs through the length of the ropes helped to ensure a safe and stable installation. To help keep the ropes over the taco bar area secure, turnbuckles were added where they attach to the wall to make future adjustments easy.
"It seems that in every project, there are one or two elements that the GC just doesn't want to do," Farouki says. "If we want it done, we have to do it ourselves, and at Otra Vez, it was the ropes. We really liked the concept as a play on Mexican weaving and simple, handcrafted art, taking minimal materials like rope or folded paper and manipulating them to create something that's really visually interesting. We were inspired by that, so we figured it out." +
Project Team
Owners: Michael Wetherbee, Chef Akhtar Nawab
Design: Farouki Farouki
Muralist: Marysia Schultz
General contractor: Perrier Esquerre Contractors
Real estate developer: The Domain Companies
Snapshot
Concept: Innovative Mexican
Location: New Orleans
Real estate: Luxury condo building in mixed-use development
Opened: April 2019
Size: 3,400 square feet
Seats: 100, including bar and lounge areas
Project type: New build
Build-out: 6 months, design through construction
Design highlights: Custom mural, banquette planter/screening wall, light woods, coastal colors, open kitchen, large bar, tribal-patterned wood screens, hand-tied/-dyed rope screen, 3-D cinder-block-inspired wall
coverings, pink feature wall
Floor Plan
*Click on floor plan to view detailed image