Restaurateur Robert Song transformed Detroit's Federal Reserve Building into Maru, a modern sushi and Japanese restaurant.
The 3,400-square-foot, 150-seat space designed by Song and Detroit-based architecture firm Rosetti sought to maintain some of the building's original features and elements, including the speckled terrazzo floor, the 27-foot-high ceilings, the clay-fired block walls, a 4,000-pound bank vault and a revolving door that has been turned into a semi-private leather banquette for four.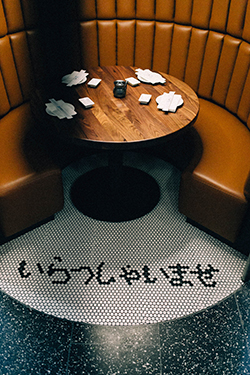 Inspired by fishermen casting their nets, Rosetti installed metal netting throughout the space as dividers and design accents, flanked by new subway tiling and white lightbulbs attached to the walls by black steel beams. Natural walnut chairs with curvy, "cow horn" shaped edges offer warmth to the industrial, semi-minimalist space.
"This was meant to be our interpretation of the former beauty of the Federal Reserve Building transformed into a more modern, unique and functional space," Song says. "We wanted to leave the space as is without wrapping it all up with too many unnecessary materials." The building was designed by Minoru Yamasaki, best known for designing the original World Trade Center.