Amada at Brookfield Place in the Battery Park neighborhood of New York City is the latest offering from James Beard Award-winning Chef Jose Garces.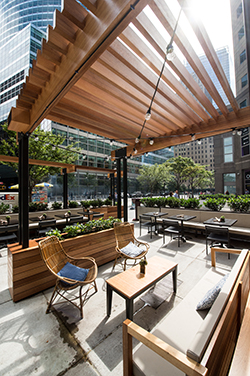 Outdoor dining at Amada NYC

Designed by AvroKo with construction management services from Shawmut Design and Construction, the 7,000-square-foot space has a custom storefront, an outdoor dining area, two bars, multiple private dining areas, and an expansive open kitchen with chef's table.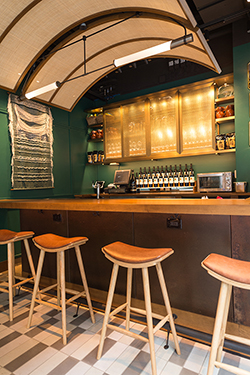 Amadita is a co-located café and wine bar adjacent to Amada NYC.
Amada is open for lunch and dinner. But, hitting on a hot trend, Garces added a completely separate venue within the space, Amadita, a 20-seat café and wine bar, that offers breakfast and lunch service.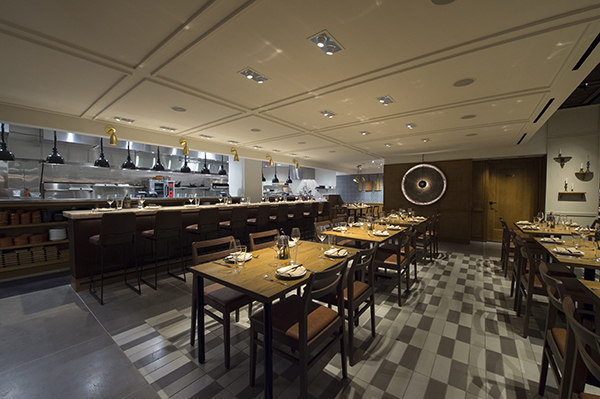 The Chef's Table at Amada NYC
The project was a culmination of hard work and strong communication.
"Logistically, from a construction standpoint, a lot of the things we do in construction is the 'easy' part," says Erik Gardner, project executive for Shawmut. "But communication was key to the success of the project. Very regular, open communication was very important. We were all working on the same page toward the same goal."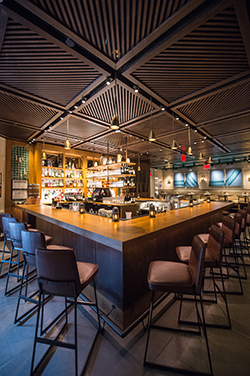 One of two bars at Amada NYC
Amada's finishing touches include custom millwork throughout as well as custom light fixtures, imported Spanish-style tile, intimate banquettes and specialized display and wine cases.
Garces' original Amada restaurant in Philadelphia is still going after more than a decade. The new location offers some Philly staples but also has dishes unique to NYC. The menu features whole roasted suckling pig, Andalusian-style tapas, an extensive list of Spanish wines and handcraft gin and tonics.
Project Team
Owner: Garces Group
Architect: Caseworks Architect
Interior Designer: AvroKO
Kitchen Designer: Feustel Service Design
General Contractor: Shawmut Design and Construction