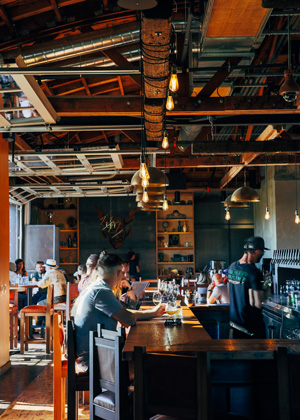 Headquartered in Escondido, Calif., Stone Brewing Company was created to provide people with a true beer experience, with drinks promising big character and intense flavors.
About 10 years ago, the company moved into the restaurant sector with the opening of its Stone Brewery & World Gardens location. Like Stone Brewery's beer, the restaurant offers a genuine experience in a world full of distraction, says Co-founder and Executive Chairman Greg Koch.
"These are places to gather with friends, family and co-workers to escape from the normal world that is shouting at you in a variety of ways, whether it be from screens or billboards...We use a more understated approach, where you feel comfortable, not be distracted and instead focus on the best things life has to offer, which is great food, great beer and great interaction with our fellow human beings."
Earlier this year, the company opened a Stone Brewing World Bistro & Gardens location in a 19th-century stone warehouse on the river in Napa, Calif., that carries on this approach.
Like all World Bistro & Gardens, this location allows guests to really enjoy their visit by minimizing distractions: The restaurant doesn't have any screens and doesn't even play music with English lyrics. "I don't want to stick any silly pop songs into people's brains or even take the language center away from your conversation," says Koch.
What it does offer is an open environment filled with warm, natural tones and materials.
Guests can find these throughout the restaurant's second floor, where the bulk of its seating is located.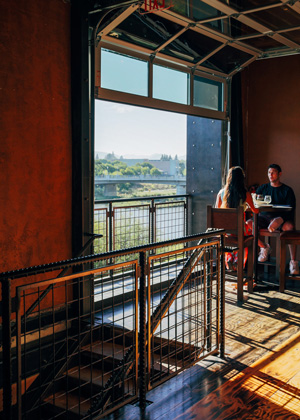 As part of the redesign, the company removed an old wooden drop ceiling, exposing the building's bow trusses. These, says Koch, make the space feel both open and cozy at the same time.
The company reclaimed the wood from the ceiling to create the second floor bar. For floors, it used plywood flooring that's been stained and flamed, creating contrast between the dark and light veins. "We use those two techniques to create a suggestion of some outlines and patterns, but nothing that anybody has to follow," says Koch.
While natural tones and materials are the base of the restaurant's look, Stone Brewing also considers the outdoors a big part of its color scheme. To bring more of the outdoors in, the restaurant added large garage-style doors to the second floor. Facing west, these doors provide a view of the Napa river and the California sunset.
The restaurant's second floor also features a lounge with upholstered chairs and couches and a wine barrel-base table — a nod to the restaurant's location in the heart of California wine country. There's also a fireplace, which comes in handy past sundown for much of the year.
"It's a cozy nook to either relax and wait as your friends come to join you for dinner or maybe that's just where you're hanging out for the evening," says Koch.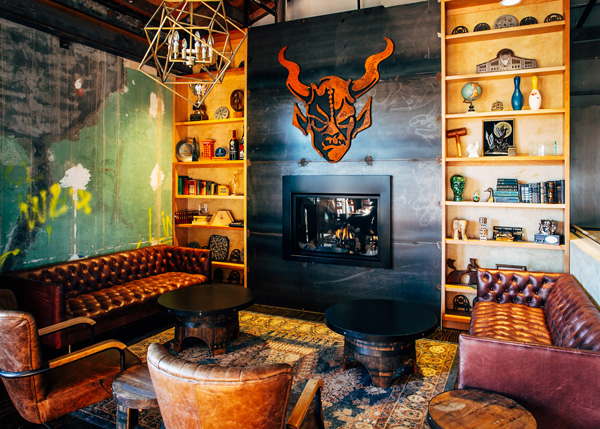 This space's design also features several nods to Stone Brewing, including knickknacks from the company's past and one of image of a gargoyle head, a symbol of the company's approach to beer, says Koch. "Gargoyles are protectors. They symbolize our approach to beer, protecting it from chemical preservatives, cheap ingredients and pasteurization."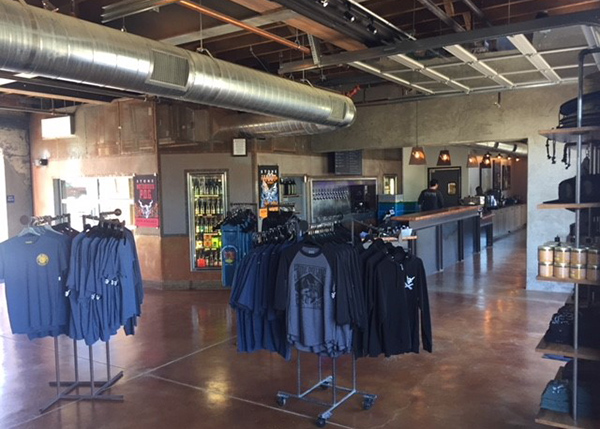 While the restaurant's upstairs features seating, the ground floor is more dedicated to operations, including the kitchen, a retail space and keg cooler. Guests, though, can't miss the place's beer focus. When they enter, they'll see the brewery operation to the right, behind glass walls and downstairs bar to the right.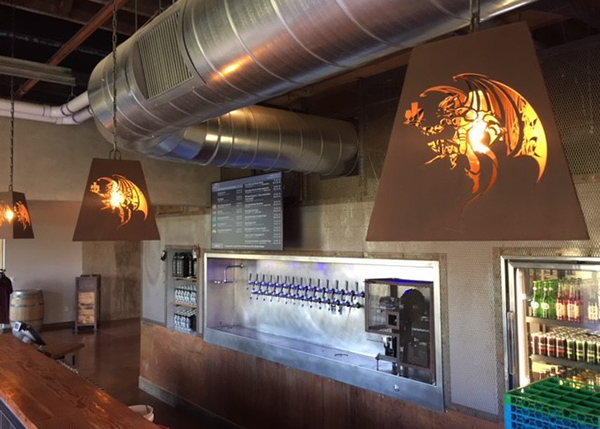 As a more functional space, the downstairs has stained concrete flooring instead of wood. The bar does have some on-brand elements, though, including a top made from the reclaimed ceiling wood and Gargoyle-themed light fixtures.
One thing the ground floor doesn't have, though, is indoor seating, simply because the space footprint is used up by the operational areas. Instead it offers an outdoor patio. With its commitment to comfort, the restaurant didn't specify disposable outdoor furniture. Instead Stone Brewing uses wooden furniture, including Adirondack chairs made from wine and whiskey barrel wood and more tables made from reclaimed barrels.