Michael Zislis, owner of The Zislis Group, a restaurant and hospitality group, opened Sea Level Restaurant & Lounge in the new Shade Hotel Redondo Beach in Redondo Beach, Calif.
The waterfront dining destination, part of the Redondo Beach Waterfront Revitalization Project, spans part of the hotel's standalone, three-level, 9,034-square-foot culinary building.
Executive Chef Aaron Robbins (with input from esteemed Executive Chef Greg Hozinsky of the award-winning The Strand House in Manhattan Beach) have developed a menu of California coastal cuisine with a twist.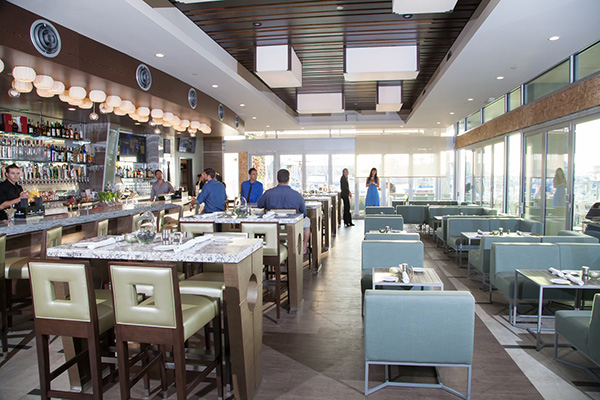 "Yacht shway" is how Zislis describes the 125-seat restaurant, replete with marina motif and an indoor-outdoor layout using foldaway doors to the patio overlooking the many boats beyond. Over the bar, a curved wood beam with circular vents resembles the characteristic, 16-degree diagonal, or transom (curved stern) of a sailing vessel. Just below, a series of custom-molded fixtures that resemble sea urchins span the bar overhead.
Throughout the space, Zislis installed Spanish porcelain tile floor and used wooden planks for the ceiling in a flip-flop of tradition. Small "fireplaces" behind the bar add more warmth to the space.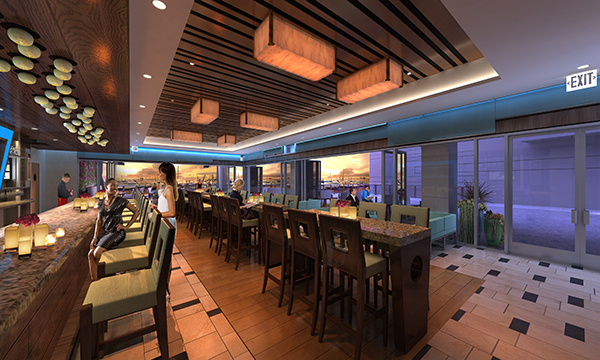 The Jade-colored leather chairs, green pebble tiles and shoji doors were inspired by Zislis travels to Japanese breweries. The bar is a mix of custom-manufactured American Cambria stone high-top tables and more traditional, low-slung tables paired with comfortable leather chairs.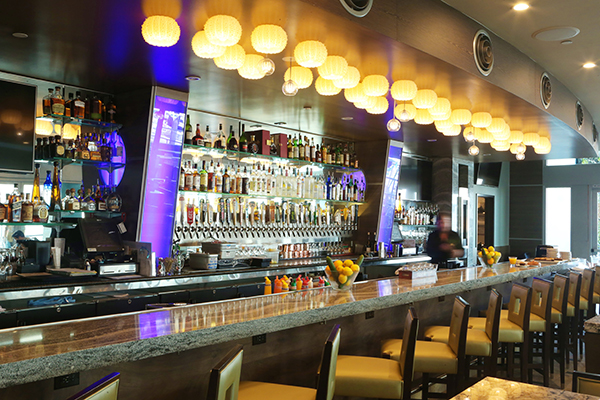 Three kitchens support the space, including an especially large one on the ground floor and a third-floor Kosher-certified kitchen setup to handle special diets and events.
Photos courtesy of Shade Hotel Redondo Beach