We live in an increasingly connected world. From Internet of Things (IoT) devices in our homes to connected Point of Sale platforms in retail, smart technology is helping people become more efficient and empowering businesses to stand out. In food & beverage service in particular, technology trends are converging to address a universal need for greater visibility and control that improves the bottom line.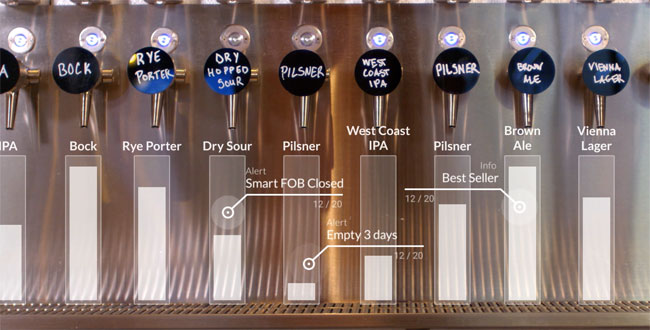 Smart Dispensing builds a connected food & beverage ecosystem on one, cloud-based platform.
Why Connected Solutions are Taking Hold
Streamline Operations
Multiple food and beverage technology systems are beginning to emerge that collect data. But bringing individual service elements online is just the beginning. The right system needs to combine information that would otherwise be siloed - such as Point of Sale, inventory, and dispensing data - and analyze it to create a full picture of operations.
Sestra's Smart Dispensing™ platform creates a centralized hub and uses the combined streams of data to analyze and automate controls over dispensing, access, ordering, and more. Features such as real-time monitoring and automated text alerts eliminate any need to manually check product volumes or system status. With Sestra installed, scarce labor resources can be reallocated away from inventory and audits and over to creating a better experience for guests.
Increase Revenue and Profits
Food and beverages services often suffer from loss, both on the inventory and sales side. Technological advancements have begun to change that. Replacing manual practices - such as measuring services, marking cups, or counting bottles and kegs by hand - with IoT-connected devices eliminates multiple forms of loss - from theft to overpouring.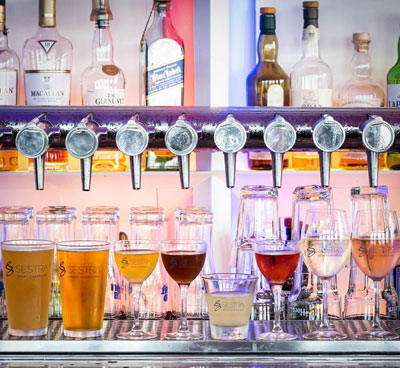 TapWise is the ultimate multi-beverage Smart Dispensing solution - wine, beer cocktails, and more.
Sestra's TapWise™ solution for beverage dispensing uses their patented Pour Control System to electronically control every aspect of dispensing. Sophisticated technology throughout the line protects product quality and service conditions while hands-free dispensing increases speed of service and real-time alerts prevent costly service interruptions. A wealth of data insights are available to inform business decisions, such as just-in-time ordering or menu changes based on what's truly selling. Venues can increase their yield, selling more while purchasing less inventory.
Enhance the Guest Experience
The average consumer today is now more interested in experiences than products. While a connected solution like Sestra's Smart Dispensing™ platform streamlines operations and increases yield, it also creates consistently better service for guests. By dispensing virtually hands-free, Sestra frees up servers to concentrate on their guests instead of their measuring cups or taps. They can look up, engage, and create a special flourish that the customers are sure to remember. Faster service also helps venues to better manage queues which, in a post-COVID world, make guests feel more comfortable.
Top venues are embracing the idea that systems they use on-premise are an integral part of the brand-presence they're building. Installing Sestra's Smart Dispensing™ solution allows them to link food and beverage dispensing directly to tailored apps, loyalty programs, promotions, and more, creating a unified experience for guests.
Bringing Technology Into Food & Beverage Dispensing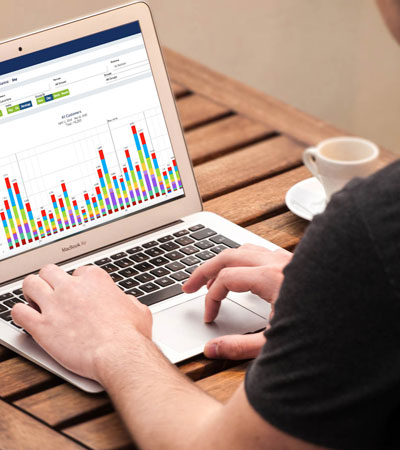 Sestra's Smart Dispensing platform enables data-backed business decisions around product-mix, labor, promotions, and inventory.
"We are a software-driven company focused on solving problems in food and beverage dispensing that traditional hardware companies can't address," explained Sestra's CEO, Lev Volftsun. "The future is connected and the features in our platform give our customers more intelligence and control than ever seen before in the industry."
Any Product, Any Container, Any Dispenser
Sestra's solution is the most versatile in the industry, addressing the needs of an entire venue and through a single, multi-beverage dispensing platform. Their technology can be integrated with any dispenser and pour any product – from wine in kegs and liquor in handles to coffee in boxes and condiments in bags. The more of a service is connected, the more data and control benefits multiply.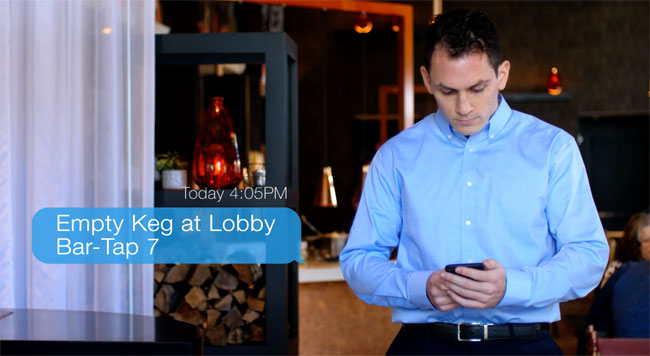 IoT-connected Smart Dispensing provides background monitoring and real-time alerts to keep service running smoothly.
New Opportunities for Service
Foodservice today is seeing a shift to self-serve with standalone kiosks, in-app ordering, and Bring Your Own Device services. Sestra's connected solution makes it easy to create additional points of service or set up seasonal service without undergoing costly renovations, committing to permanent installations or requiring additional labor costs.
Dispensing as a Service
"Quality food and beverage service starts long before the product is dispensed and doesn't end at the sale," According to Anju Olson, VP of Channels and Partnerships. "Our platform and service model are built to address dispensing as part of an end-to-end solution. Our customers understand the value of a global, futureproof solution like ours." Sestra's solutions are supported by their Dispensing as a Service model and their team of industry experts offer program evaluations, design consultations, training certifications, and ROI evaluations.
Content Sponsored by Sestra