Q. Tell me about your background.
Tobin Ellis: I've clocked 27 years in hospitality operations in almost every FOH position – most importantly bartender – and have had a global hospitality consulting firm for most of that time. What started as helping owners with beverage menus and bartender training evolved into designing, redesigning and refreshing beverage design and operations. I realized that the bar engine design was the missing piece to enhance the beverage operations of my growing client portfolio. Most recently I collaborated with Perlick on a signature line of award-winning underbar equipment that you can find now in almost every sector of foodservice operations.
Q. How has equipment for the beverage industry evolved?
TE: Most of the equipment has not evolved much since the 1960s, which is why we have reimagined every aspect of it. My signature equipment line – engineered and manufactured by Perlick – solves problems created by the beverage industry's evolution, most notably the fresh and craft cocktail movements, while also addressing increased throughput and comfort for the high-volume bartender. This is about improving basic work flows behind any bar when it comes to ergonomics, efficiencies and throughput.
Q. What are aspects of bar design that are often overlooked?
TE: True efficiency, holistic work flows, realistic bartender movement, bloom temperatures – it's a long list. The focus should be on how to enhance workflows to increase throughput, but also how to elevate service and hospitality without increasing labor cost or torturing the bar staff. Every smart operator knows profit comes from the bar, so much more emphasis and greater resources should be allocated to its design.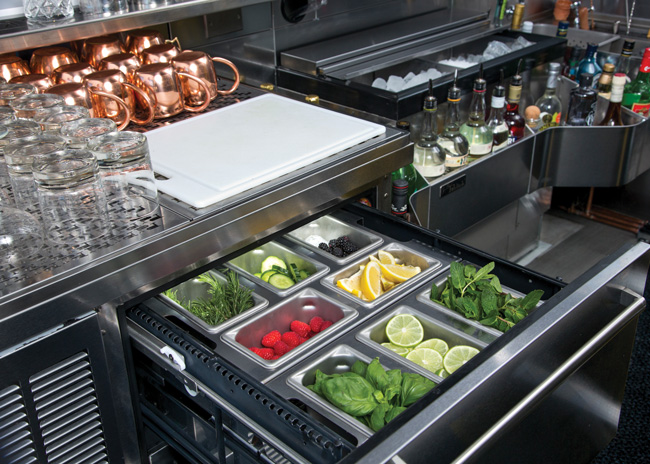 The collaborative effort of Tobin Ellis and Perlick spawned the Tobin Ellis Signature Cocktail Station, which is described as "the tricked-out station that every serious bartender has dreamt about and every savvy operator has hoped for."
Q. Discuss your partnership with Perlick.
TE: I had been specifying and designing bars for eight years before joining forces with Perlick. At that time in North America, no equipment was being designed by a bartender. Bars were painful to work behind and wildly inefficient. The layouts create wasted motion and missing key components. Bartenders come home with bruised shins, sore backs, cuts and other injuries due to inefficient design and inadequate equipment. Perlick and I set out to change that.
Q. What did these changes focus on?
TE: It was all about balancing the bartenders' and operators' points of view. We focused on creating the most ergonomic bartending station. That resulted in a cockpit design that surrounds bartenders with the necessary tools and product. This minimizes wasted motion, is inclusive of men and women of all heights and reduces workplace injury from bending and reaching. We also added unique functionality, such as insulated health compliant separated jockey boxes for fresh juices, speed rails for all size bottles, visco-elastic dampening pads on the bottom of speed rails and ice bins to dull noise and vibration, sink foot pedals and self-washing tool caddies. Bartenders and owners also want the freedom to customize their equipment to the available space, budgets and needs, so we made equipment components that can be combined in millions of configurations. We leveraged the best of my expertise in bartender mechanics with beverage operations and Perlick's expertise at engineering and manufacturing to build the most intelligent and comfortable bartender station ever produced.