Bringing life to a once dive-bar-only strip of New Orleans' lower French Quarter is Trinity, a bustling, multilevel restaurant.
Trinity gave a $1 million makeover to the space that previously housed a restaurant named Maximo's. The 6,000-square-foot restaurant boasts an open-air kitchen, a craft cocktail program and a menu by Chef Michael Isolani that draws from the multiple cultural influences that define New Orleans cuisine.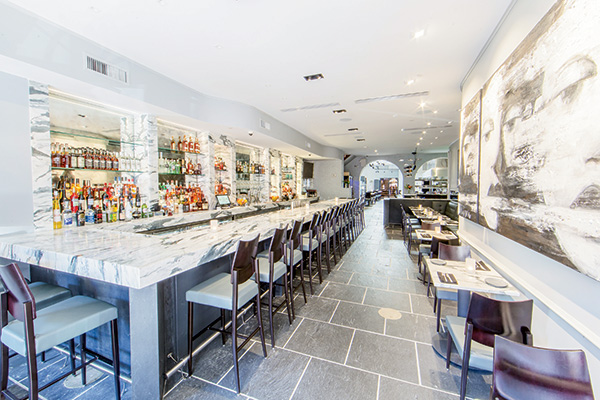 Interior of Trinity. Photo by Joshua Brasted.
Owner Hugh Uhalt, who designed Trinity with local architect William Sonner, describes the space as "sleek and contemporary meets old New Orleans." Trinity's color scheme combines dark woods with slate floors, minimal white accents, painted original brick walls and black Brazilian marble.
"The building was originally built by nuns in the 1800s and was converted to the Maximo's restaurant space in the late 1980s," says Uhalt. "Pretty much everything in the space needed to be changed with the exception of the hood vent in the back open-air kitchen. We had to put in all new wiring, plumbing, roofing, flooring, new bar, etc. This is the most work that has been done on a restaurant in this part of the city. And I'm proud to say we have 70 tons of air conditioning, which is pretty great being in New Orleans!"
Upon entering, an expansive marble bar flanked by gray leather and wood stools greet the guests. Farther back sits a wraparound food bar that seats 17. Flanking the food bar is an elevated area with gray tufted leather banquettes and polished marble tables overlooking the half-open kitchen. The main-level dining area seats 100, while the second level and balcony overlooking Decatur Street seats 40.
"This area of the city is where time forgets," says Uhalt. "You can show up down here for lunch at noon and find all sorts of fun to keep you here until noon the next day. Trinity adds a new level of fun down here — you can come in for great cocktails and great food in a cool, upscale atmosphere but with a very relaxed vibe."