Gone are the communal commissaries or simple shared kitchens of years past. They have been replaced by fully integrated, meticulously designed kitchen incubators. In these spaces, small food businesses and professionals can work side by side with kitchen ownership, sharing best practices, sparking new ideas, pooling resources and knowledge as well as supplies, marketing and more. These incubators continue to become more prominent as the number of smaller-scale, artisan producers in the country continues to grow.
As a result, these days, incubator owners take a more hands-on approach, bringing to the table their skill sets in entrepreneurship, food making and marketing to share with others, and vice versa. Essentially, they serve as consultants. And, as more artisans go niche, delving into the gluten-free, vegan and even natural pet food communities, some work with restaurant chefs branching out of their territories to become artisan food makers themselves.
---
Laws vary when it comes to food makers requiring commercial kitchen space. In Illinois, recent legislation allows artisans not producing meat-based products and earning less than $25,000 per year to skip the commercial kitchen requirement. The law was enacted mainly so smaller producers selling at farmer's markets on a noncommercial scale could still prepare foods out of their kitchens.
---
UNION KITCHEN, Washington, D.C.
"We are a vertically integrated business dedicated to creating a food system that is both profitable and sustainable," says Jonas Singer, who co-founded Washington, D.C.-based Union Kitchen with Cullen Gilchrist. Union Kitchen has 80 members and 50 associates providing external support.
"A lot of kitchen incubators might provide kitchen space but not help grow businesses," Singer says. By helping artisans with their businesses, the collective can build a scalable local, sustainable food system, he explains.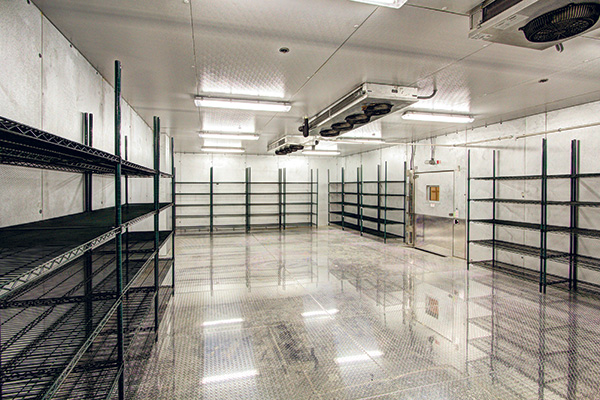 Singer and Gilchrist know firsthand the struggles small food makers and retailers face. After opening The Blind Dog Café in 2012 and selling award-winning chocolate chip cookies, the pair quickly outgrew their small kitchen and went in search of a larger production space.
But soon after moving into the 7,500-square-foot warehouse, Singer and Gilchrist had a different problem: too much space. Realizing the strong possibility there were other food companies with the same needs as theirs, they opened up Union Kitchen as a shared space.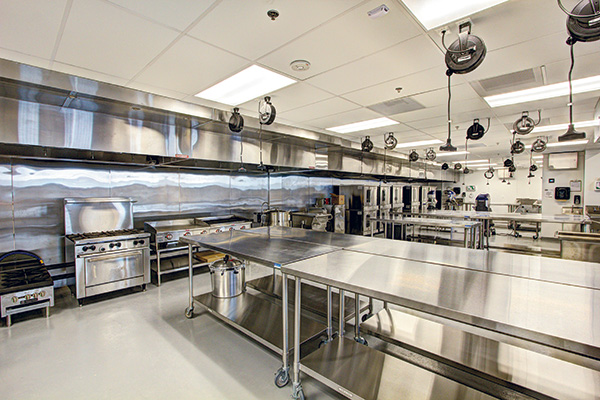 What started as more of a shared commissary evolved into a multi-tiered operation that has allowed Singer and Gilchrist to not only boost other businesses but also boost their profits beyond mere hourly rental fees.
Now, Union Kitchen, with the assistance of its full-time staff and many outside vendors, offers a wide range of services for its members. This includes assistance with operations, distribution, catering, retail visibility, grocery licensing and other partnerships that will allow members to grow their businesses on a wider scale.
Union Kitchen now has a second location in Washington, D.C., and even partners with a Baltimore incubator to help small food businesses there. More than 30 businesses have opened storefronts of their own, and the incubator has seen dozens of other businesses grow in scale.
"Last year, we were able to give $1.5 million worth in cash back to our members," says Singer. "Our focus is really on helping our businesses sell their products to customers and connect with people outside our walls. We're more than just a shared kitchen; we view ourselves as a food system."
He's got a point; the company has since expanded into catering, offering a full-service program out of an entirely separate building with dishes and even beer and custom cocktails curated by members for events of all types.
This year, Union Kitchen's distribution arm — for members and outside vendors — is expected to generate $2 million in revenues. In fact, Union Kitchen Distribution expanded its reach to more than 75 local and national outlets, bringing hundreds of member products to store shelves, and in January 2015, it became Whole Foods' first new distributor in the Mid Atlantic region since 1996.
The incubator also has its own grocery store, Union Kitchen Grocery, at a separate location in D.C.'s Capitol Hill, which guarantees high-traffic retail space for all members. This is in addition to the assistance Union Kitchen offers with outside grocery store partnerships.
Union Kitchen also offers a wide range of consulting services, including financial, digital, social media, legal, technical and real estate help, thanks to far-reaching connections. Singer's staff communicates with members through internal newsletters, LISTSERVs and a member-facing, online dashboard.
Members must apply to be a part of the incubator and go through a somewhat strict vetting process, including phone and in-person interviews with management. Once accepted, a month-long orientation follows, including introductions to the kitchen equipment, space rules and various services.
"We are looking for a little hustle; someone who shows up, works hard and is willing to grind it out every day," Singer says. "We focus on three main areas: the product, the process and the person. Our long-term goal is for everyone to make money, and together we can create a new food system."
UNITED KITCHEN, La Grange, Ill.
Food incubators like United Kitchen help smaller operators pool their resources to grow their businesses together.Founded five years ago, United Kitchen started with just a few food makers but has since grown to house 20 food producers of all types. When Northwestern University Kellogg School of Management graduate Bridget Conlan purchased the company in October 2015, she quickly set about transitioning the 200,000-square-foot shared kitchen space into more of an integrated incubator with different services, including a focus on gluten-free and other specialty food production.
"We have a lot of new vendors interested in special diets, so we created a dedicated gluten-free, vegan and allergen-free prep area with separate utensils and equipment," Conlan says. To further avoid cross-contamination, Conlan stays rigid with scheduling, opting to have gluten-free bakers come earlier in the week and traditional bakers later in the week so she can make sure to get in a deep cleaning between each.
Conlan has since earned certification with the National Celiac Foundation's GREAT program, which earmarks businesses and facilities as safely gluten free. "As part of the certification, I have to wait 24 hours after flour is used to allow gluten-free production because flour is still in the air," says Conlan, who also maintains a separate freezer and bakery case in the on-site retail section for gluten-free products.
By no coincidence, Conlan got into the shared kitchen business after starting her own gluten-free, dairy-free, low-calorie line of baked goods like carrot cakes and pumpkin bars. "I needed a rental kitchen, and it just happened the previous owner was looking to sell the space," she says. "Now I'm around people doing the same thing I'm trying to do, so we're able to help each other."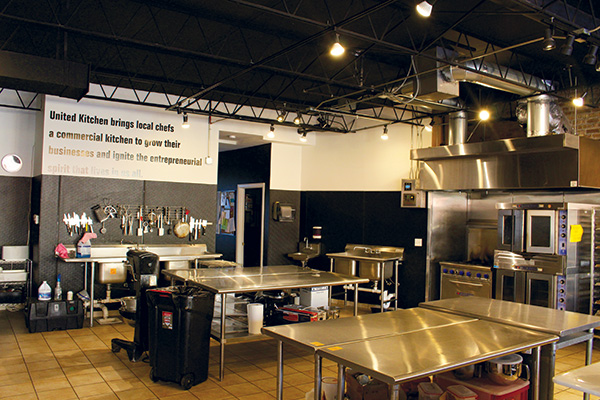 Most recently, Conlan has held regular meet and greets for the various renters so they can connect, network and share ideas, whether that's how to boost social media presence or break into farmer's markets. "Twenty heads are always better than one," she says. "But everyone has mutual respect for one another, and they are not competitive, even though they could technically compete."
Conlan often jumps in to help out where she can with gluten-free advice, connections and partnerships with outside sources like grocery chains and website developers. "I could make this a landlord situation, but that's not what everyone needs or wants, and we have created a nice culture as a result."
Food incubators like United Kitchen help smaller operators pool their resources to grow their businesses together.
Designing a Kitchen Incubator
To help build Union Kitchen's second location in the Ivy City area of Northeastern Washington, D.C., co-founders Jonas Singer and Cullen Gilchrist contacted Rob Mescolotto, founder and president of Hospitality Construction Services.
Mescolotto's mission? Develop a concept that enhances the appearance and function of the space while staying within a reasonable budget. Housed in a 14,500-square-foot warehouse that was formerly another commissary, Mescolotto focused on outfitting the 24-7 operating space with durable, heavy-duty equipment. Each of the 25 separate working bays has 12 feet of hood space, ample storage for smallwares and supplies, and a variety of connectors, allowing operators to swap out various pieces of equipment. There's also a separate packaging area with larger worktables, scales, heat-sealing equipment and extra storage.
Food trucks primarily occupy the first level because of access to loading docks, while other companies work upstairs. There is also a USDA-approved room for processing prime beef and kosher products.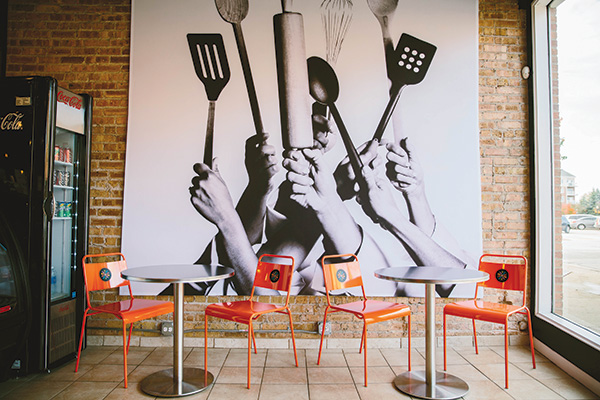 Mescolotto took key factors beyond equipment into consideration. In anticipation that the floors and walls would need hosing down on a daily basis, the construction team built a four-to-five-inch concrete curb underneath them. This allows for regular cleanings that will not wear away the concrete and epoxy flooring. To further allow for ease of cleaning, all the worktables and equipment were specified with clean lines and surfaces so they could be wiped down quickly between shifts.
Additional functionality elements include roll-up doors for food trucks to load and unload, grease interceptors built below the floor, and massive walk-in freezers and refrigerators. The company also worked with a lighting supplier to provide LEDs throughout the space that would save on energy costs over time.
The Gravy Lady: An Incubator Success Story
When Deborah "Dee Dee" Saracco's children were in grammar school, she'd bake huge lunches for teacher appreciation days and other fund raisers, even cooking at auction winners' homes for hundreds of people at a time. All the while, friends would encourage her to try to somehow sell her famous Italian meatballs and gravy. When her kids got older, she tested the food retail waters, selling her food at farmer's markets and small fruit stands in the Chicago suburbs.
Then, four years ago, she ventured just a mile and a half down the street and rented some space at United Kitchen in La Grange, Ill., when it had a different owner, and sold some frozen meals, soups and sauces out of a refrigerator and freezer in the kitchen's retail store.
Word caught on fast, and soon enough, Saracco was expanding kitchen and fridge space as well as her product variety, offering everything from turkey chili to her ever-popular sausage-stuffed bread and a variety of cakes, sweet rolls and cannoli, which sell out during major holidays. One of her main selling points is the use of all-natural, clean ingredients with no preservatives or additives.
"Every month, I tried out a new soup, sauce or other product," Saracco says. "It was a lot of trial and error in the beginning just to see what worked and what didn't."
Now, Saracco has been able to step up her game, delving into the gluten-free specialty category, connecting with major grocery and natural food stores, and even building a new website, social media platform and marketing campaign, thanks in large part to United Kitchen's newest owner, Bridget Conlan, a relatively recent graduate of Northwestern University's Kellogg School of Management who has fresh, next-generation ideas. Most recently, Conlan has helped Saracco complete nutritionals for grocery labels and test out various formulas for potentially partnering with a co-packer so she "doesn't have to make gravy every day."
Aside from the consulting and marketing assistance Conlan offers, what Saracco likes best about working at United Kitchen is the camaraderie. "Of course using a shared kitchen helps save money because you don't have to put up the cash for rent and equipment," she says. "But what's really great is working with other people in the kitchen who have so much knowledge and can help you out and give advice in a nice, not competitive way. We're able to bounce ideas off each other."
Saracco has rubbed elbows with pastry, private and corporate chefs building their own businesses, from homemade tea cookies to toffee to gluten-free goodies, vegan specialties and more. Just being able to share retail space with these products in United Kitchen's storefront shop also helps boost her marketing potential.