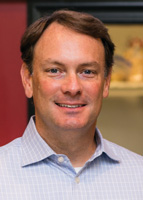 Founded in Auburn, Ala., in 2008, Chicken Salad Chick serves a dozen kinds of chicken salad across four flavor profiles — traditional, spicy, savory and fruity/nutty — as well as soups and other healthful dishes. Today, the fast-growing fast casual has 105 restaurants across 13 states and is in the midst of a push to rapidly expand throughout the Southeast and across the country. The chain serves two dayparts — lunch and dinner — and is closed on Sundays.
On the day of rd+d's interview with CEO Scott Deviney, the chain had just opened its 100th restaurant. Here, he reflects on what it took to get there and where he and the team at Chicken Salad Chick plan to go next.
You joined Chicken Salad Chick in 2015. What brought you there?
SD: I was a banker for about 15 years after college. I spent a good bit of time in food and beverage, too. In 2008, I bought 19 Wendy's franchised restaurants and then I bought 5 more, and I had 24 Wendy's that I ran for about 6 years. I sold that business in 2014, and then I met, through a mutual friend, the founders of Chicken Salad Chick, and they were looking for an exit. I partnered with an equity group I knew, and we bought the company in May 2015.
What appealed to you about the concept?
SD: One, it's a freshly made product in every restaurant every day. I think that has a high appeal to customers right now. We don't have fryers. We don't have grills. We have a high-protein product that's good for you. Two, we appeal very heavily to women, and so we have a very female-centric customer base. That really was part of the appeal. Also, with chicken salad, you can add flavors and change the taste profile; it's no different than a burger or a pizza in that way. Chicken salad is just a different medium to offer flavor varieties.
Getting to 100 restaurants is a big landmark. Was that the big vision when you took over as CEO?
SD: If you look at the International Franchise Association, one of their statistics is that just one in five — or only 20 percent — of chains ever make it to 100 units when they start to franchise. So that was the first goal. The day we took over, there were 32 restaurants open. We knew 100 would be a big milestone, to hit that proof of concept in multiple cities in multiple states and prove the model works — and also just [to prove we can] scale it.
What infrastructure did you have to put in place to get to 100 units?
SD: When I took over, we had a limited team — which is very typical for companies like this, of this size. We had one vice president-level employee who wore 20 different hats. We had a VP of marketing, and she was great at keeping up with the pace, but I knew we needed some functional department heads, so I hired four VPs: a VP of real estate, a VP of marketing, a VP of IT and a CFO. And then we filled in some other levels, like the VP of company store operations. Because we're a franchise — 80 percent of our business is franchise but 20 percent of our businesses we run — we needed a seasoned professional to run the company stores and a franchise development director.
So, we started filling [those positions] out right away. That's a pretty big spend for a company like ours that didn't have a huge base of stores. But we knew that we required that spend in order to facilitate the growth and to have profitable growth. We knew it was what we wanted to do.
In terms of prototype, have you made any major changes during this period of growth?
SD: We really have, from a guest-facing point of view, one prototype. We have one standard look in our decor package. It's clean, and it's very friendly. We have tablecloths, for example, and not many restaurants have tablecloths these days, but it gives that home feel, which is what we're going for. We want guests to feel very much at home. We get rave reviews from our guests on the decor package, and it's something we haven't messed with it so far because of that.
Behind the wall, where it's not guest facing, there was a kitchen design that, when we took over, we started tinkering with in order to make it more efficient, which we've done. I'd say the last 40 restaurants have been built under this new kitchen design, and it's improved productivity. We started tinkering even further with additional outside help to see if we can get it even more productive. We just opened a restaurant last week with that design, and we'll see how that works.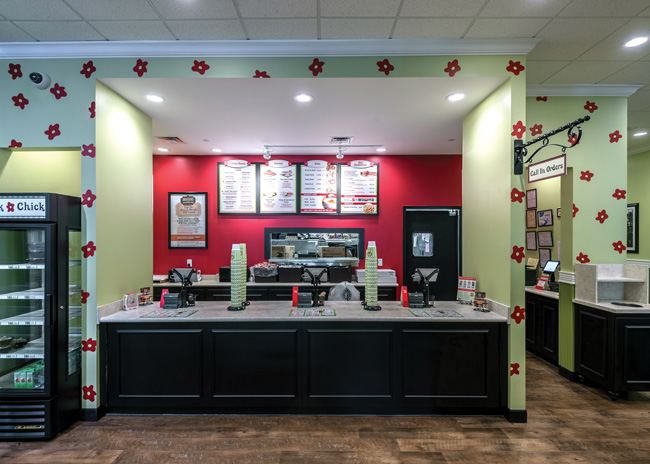 The decor package at Chicken Salad Chick gets rave reviews from its largely female customer base, according to CEO Scott Deviney. Image courtesy of Chicken Salad Chick
What are your preferred formats and unit types?
SD: So, the perfect space for us is 2,800 square feet, and if we can get an endcap with a drive-thru, that is great. And if you throw a patio on it, that's the perfect place for us. If you can't get a drive-thru, but [it's] in a high-traffic area and an endcap, [that works, too]. We have very successful restaurants inline, too. We have a handful of freestanding locations but, by and large, we're [putting restaurants] in a strip center. We do have one on-campus location at Auburn University, and that was a test for us. It does very well. And in my strategic planning [for the next couple of years], we're experimenting with more nontraditional brand drivers like kiosks in hospitals or in buildings. That is how we're looking at nontraditional today. In 2020 and 2021, I think we can attack more of what I'd call pure nontraditional like airports, universities, satellite offices and things like that. Today it's more focused on the kiosk idea.
Now that you've hit 100 restaurants, what's next for Chicken Salad Chick?
SD: We already have about 40 restaurants on the board to open in 2019, and then we'll have about 50 a year after that. We've got the infrastructure built to support that growth, and we see that going through 2021. We see us sitting at another 200 to 250 restaurants [with this team and infrastructure]. The rest of the hires for us will be incremental, but the base foundation is in place. So, as we add x number of restaurants, we'll need to add a multi-unit manager or a franchise business consultant.
What is the biggest challenge you're facing right now?
The biggest challenge for us is finding great real estate. We've been fortunate to find great people to join our team and great franchise partners to partner with, but finding the right real estate in the right markets takes time. Our real estate team today is looking at sites that might not be available until 2020 or 2021, but they are starting to work on that now to build our pipeline.
What's the secret to Chicken Salad Chick's success?
We are a purpose-driven business. Our purpose as a company is to spread joy, enrich lives and serve others. So, you should get that feel from us when you walk in the doors. We're gonna love on our guests, we're gonna take care of them and we take care of people who take care of others. We have a nice contingency of nurses and first responders [as regular customers]. The second thing is our franchise owners. We have about 52 franchise owners right now in various stages of development, and they are bought in to our model 100 percent and into our culture, and they are the ones that are driving our business in local markets.