For the owners of Giraffas, Brazil's fourth-largest quick-service chain, the decision to expand internationally was an easy one. Anticipating changes to the company's rate of growth in Brazil, the executives set their sights on expanding into the United States. An easy jump, it would seem, from their South American headquarters.
So the team developed a plan to open a fast-casual version of the Giraffas concept in Miami, looking to learn from the experience and bring those lessons back to their Brazilian operation. It took the company five years to convert the idea from dream to reality, with members of the executive team traveling to and working in the United States to study consumer trends and the market.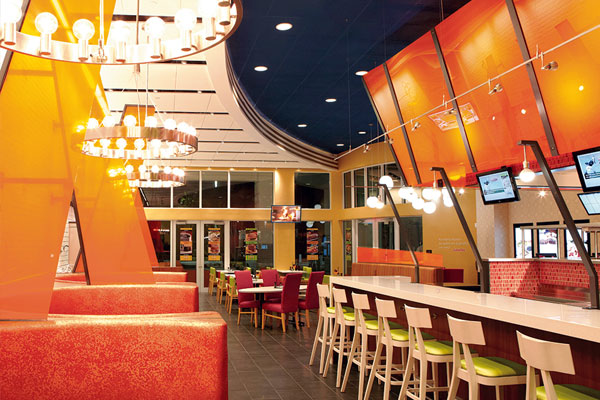 When exporting its brand to the U.S., the team at Brazil-based Giraffas modified the concept from its original quick-serve roots to more upscale fast casual in a move to fit with market trends and consumer expectations.
"The ad agency we use in Brazil belongs to a group that is really strong in the United States, and we used them to discuss brand positioning. We also used focus groups, the National Restaurant Association and franchise associations for research," says João Barbosa, Giraffas' founder and CEO. "We took nearly two years to deeply understand and become deeply involved in the market. This was critical."
For concepts looking to expand into the United States — of which there are many — understanding market trends and consumer behavior is the key to success.
Brazil is known for its quick-service and fine-dining restaurants, with little else in between, and food courts become the battleground for competitive differentiation, Barbosa says. However, restaurants in the United States run the gamut, with consumers today leaning more toward fast-casual operations than quick serve. This meant the Giraffas team had to upscale its operation for the U.S. market and give diners the type of atmosphere and experience they now demand.
"Three hundred of our 400 restaurants in Brazil are in food courts. Everything is served with real plates and trays, and in the U.S. it's all disposable. So we had to understand the U.S. market and the trends," Barbosa says. "Here we saw fast food declining and the niche of fast casual on the rise. So we started in this new sector and got deep into fast casual."
In order to succeed in Miami, the company also had to upgrade its food and the experience in an effort to successfully promote Brazilian flavors to its new market. Once there, Barbosa and his team took nearly two years to find the right U.S.-based vendors and to then teach them what the company needed. To make the transition a success, Barbosa and his team also spoke with operators of other Brazilian brands who had tried to expand into the U.S. and failed. The idea was to see where they had gone wrong and to make adjustments based on those experiences. Giraffas also chose to open company-owned U.S. locations rather than work with a franchise or operating partner.
"In Brazil, we are 100 percent franchised, and here in the United States, we decided we could not franchise a concept that we were still testing," Barbosa says. "The first restaurant we opened as corporate, and we spent $1.8 million to open it. Then we basically had people come from Brazil to the U.S. to run the business."
Giraffas now operates 11 Florida locations, and in 2015 the company will sign its first franchise agreement. Additionally, Giraffas plans to license six company-owned locations to franchisees.
"We still have things to learn, but we are pretty close to what we want here," Barbosa notes. "The idea is now to grow through franchising as we really believe the franchise model is best for us."
Test and Learn — Then Grow
Whether through franchising, joint partnerships or company-owned ventures, foreign-based concepts of all shapes and sizes continue to view U.S. expansion as part of their overall global strategy. And franchise experts definitely have their opinions as to the best ways these brands can move here successfully.
Giraffas' team took its time to understand the market and the consumer reaction by first opening company-operated stores. Once they found their formula for success, Giraffas signed on franchise partners willing to take over what the company had already established. This strategy, in the eyes of many, is the deciding factor between success and failure.
"A lot of the international companies parachute in franchisees and let them do their own thing. This leads to failure in a lot of situations," says Douglas Fisher, president of Canada-based FHG International Inc., a boutique consulting firm specializing in the foodservice, franchise and hospitality industries. "Those brands coming in should build their own stores first, see what the sensitivities are and modify their product accordingly. The franchisors should be the ones taking the risk in new markets."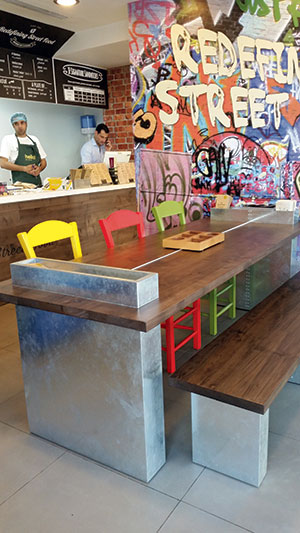 Abu Dhabi-based Just Falafel's brand essence is based on bringing the elements of a Middle Eastern marketplace to the fore through store design and a quick-casual menu of authentic street foods. This strategy is also echoed by the owners and developers of Just Falafel, a Mediterranean street food chain founded by Mohamad Bitar in Abu Dhabi. The company operates 35 locations throughout the United Arab Emirates, Saudi Arabia, Egypt, Jordan, Canada and the United States. It currently has three locations open here, with another five units slated to open soon. "The main reason that many international brands do not succeed in the U.S. is because they airlift their concepts to the U.S.," notes Shelley Rosen, founder of brand consultancy Airlift Ideas and global strategy officer for Just Falafel. "We decided to hold off on franchising in order to be a world-class company. We still honor our franchise agreements, but we decided to operate company-owned stores."
The company's original plan to scale Just Falafel globally was to franchise, and the company had developed a robust system for identifying franchisees around the world. At the time, the quick-service model had a lower investment cost and smaller footprint than it does today. Yet the founder soon decided real growth should come from the strong unit economics rather than rapid franchising, Rosen says.
"Secondly, he felt that building company-owned restaurants first, showing success and vetting the right go-to-market concept would be the best way to enter the U.S.A. and then subsequently attract the right franchisees when we are ready," Rosen notes.
Supporting this move is the notion that many chains from outside the U.S. should approach this market with a "test and learn" philosophy, says Rob Depp, vice president of FRCH Design Worldwide's retail design group.
"These international concepts typically come to the market with an established business and established assumptions that may or may not play out in the U.S.," Depp says. "They have to come at it with an open mind and an idea of being flexible and responsive to consumer needs in the U.S. It's not about taking what's in a brand's home country and doing it in the U.S. The business climate is different, the cost structure is different, the supply chain is different — and also how consumers receive them will be different."
FRCH worked on the branding and design of Giraffas and is helping to drive the U.S. launch of another Brazil-based concept, Spoleto, an Italian-inspired restaurant with 380 locations throughout Brazil, Mexico and Costa Rica. The company opened its first U.S. location in 2014 in Orlando, near the University of Central Florida's campus.
A Sense of Place, Modified
Both Giraffas and Spoleto meet consumer demand with food that combines unique tastes and flavors coupled with unique designs. "With Giraffas, part of the design was bringing the brand to life and also the Brazilian culture. There is lots of color and vibrancy in Brazil, so it was a question of, 'How do you take that Giraffas in Brazil and differentiate it for the U.S.?'" adds Tom Custer, vice president of marketing and client development at FRCH. "Miami is probably a close entrance for that culture and then, once established there, the concept can grow beyond South Florida."
Spoleto, another newcomer to the U.S. from Brazil, is built around its founders' Italian heritage. The concept pays homage to the village of Spoleto, host to one of the largest arts festivals in Italy, and aims to deliver an authentic, "my Italian kitchen" experience.Spoleto, while Brazilian-owned, draws from its founders' Italian heritage and pays homage to the village of Spoleto, host to one of the largest arts festivals in Italy. "They bring that idea of creativity and art and culture into the concept," Depp says. "It's more than just a typical Italian space. There's a real sense of place that has origins in its Italian heritage. It's all about 'my Italian kitchen' and the idea that guests can be part of the creative process through food and art and the whole brand experience."
For Just Falafel, the brand essence brings the elements of a Middle Eastern marketplace to the fore through store design. "The Middle East is very design friendly," says Rosen. "It's like nothing I've ever seen. It should almost feel like when you enter the restaurant that it's like entering a new world. Functionally, it will work like what Americans know . . . but we're making sure the experience comes alive in a [Middle Eastern] replicated way."
In addition to linking these concepts to their origins, overseas concepts looking to enter this market need to consider U.S. design trends they can easily incorporate into their overall scheme. That includes the use of dramatic lighting, authentic and textural materials, a variety of seating types and integrated technologies.
To that end, brands expanding here do well to bring the American design team in as early in the process as possible, advises Brent White, design director of environmental brands for Tesser. "Having a dialed-in positioning and a well-developed design strategy in place to drive the process will be critical to then understanding which, if any, elements should be tweaked or filtered to be more alluring to the U.S. market."
In partnership with design, uniqueness of menu items and the authenticity of food seem to be key entry points for international brands coming into the U.S., as seen by the success of South Africa's Nando's Peri-Peri chicken and Japan's Beard Papa's cream puffs, which have almost no U.S. domestic competitive counterpoints, says White.
"Their biggest draw is also their biggest challenge. Indoctrinating new customers into a new brand is always a complex hurdle, but with a foreign or unknown culture and/or unique cuisine there can be quite a bit of additional explaining," White says. "As a result, there's often a strong presence of story that accompanies the food to help explain its origins and perhaps the flavor profiles."
While Giraffas did not need a big explanation of its Brazilian-inspired fare, thanks in large part to the better-known Brazilian steakhouses, the company does infuse some American culinary traditions into its menu items. Meanwhile, Just Falafel may have to work a little harder to educate mainstream consumers about the history of falafel and shawarma (an Arabic meat preparation cooked on a vertical spit) and their place in history.
"The origin of falafel is that it started as the world's first street food and was considered poor man's food," Rosen says. Part of the company's brand promise, she says, is to "educate consumers on falafel and shawarma and have fun some with it. We want to do this almost in the same way that Howard Schultz created a whole culture of coffee aficionados. He literally transformed the way people buy a cup of coffee."
The Just Falafel menu story goes beyond guest education. Here in the U.S. the restaurant also offers meat, a step away from its traditional vegetarian-only fare. The chain also employs a fast-casual service model instead of its usual quick-serve approach. Those two decisions were part of three strategic moves to get the brand ready for U.S. expansion.
"What we want to do is open in a contiguous market," Rosen says, of the company's growth plans here. "We have a focus on the Northeast for the food supply and to build out the brand. This is because we have to focus on our ability to deliver on our brand promise."
Authenticity — sticking to what a brand knows and communicating that message clearly — is what American consumers are vying for, regardless of a concept's origins. "We're talking with a lot of brands about what do you stand for beyond product and price," says Depp. "It's not just about writing a check for a cause but connecting on a human level. Transparency and being open with who you are and what you stand for is important."
Land of Opportunity
"Overall, brands today are moving into a number of global markets and see the U.S. as being one step in the process," says Darren Tristano, executive vice president at Technomic, a foodservice market research firm. "There is the opportunity to be in many different countries, and the U.S. is one of the strategic places to grow given the marketplace."
One such chain is South Korea-based bb.q, Best of the Best Quality Chicken, a multibrand, fast-casual company with more than 3,800 locations worldwide. In February, the company announced its U.S. franchise plans in a bid to initiate an aggressive expansion strategy here.
The company's franchise system will first develop its Chicken Bistro concept, a quick-service restaurant, and then implement its two full-service concepts: bb.q Premium Chicken and bb.q Chicken & Beer.
"We are extremely excited about our U.S. expansion and know that the time is right," said bb.q USA President Tae Chun Kim, in the company's announcement. "We see endless opportunity for our Best of the Best Quality Chicken to make a tremendous and lasting impact on consumers. After the brand's success abroad, the United States is the next logical move, and with the right franchise operators by our side, we feel optimistic about our plans."
The concept anticipates opening corporate and franchise locations across the East Coast with target markets that include New York, Boston, Philadelphia, Atlanta, Miami and Chicago.
Urban centers remain at the top of the list for international chains coming into the U.S., with brands taking many different paths to get there. Proximity plays a part. Those coming from Australia and Asia often open on the West Coast. Meanwhile, concepts from Europe gravitate to the East Coast, and those from South America and Mexico often launch in Florida, Texas or Arizona.
Technomic data shows that four U.S. cities have proven to be the top markets where international concepts are having the most early success: Miami, Los Angeles, Washington, D.C., and New York.
The push for globalization among foreign chains right now, and their interest in the U.S., boils down to opportunism, Tristano adds. "It's part of an aggressive strategy to be global. The United States isn't necessarily viewed as a growth market, but it is one of the largest markets. Because of that it presents a great opportunity."
But not everyone who has launched in the U.S. with great expectations has made it here. A recent example: The U.S.-based operator of Spanish tapas chain 100 Montaditos filed for Chapter 11 bankruptcy in early 2015, which will likely curtail the chain's U.S. expansion plans. Overall, the brand operates more than 300 franchised restaurants in Spain, Mexico, Colombia, Chile, Portugal, Italy and the U.S., where it has grown to seven company-owned and 10 franchised units since launching in Florida in 2011.
Often, what happens in such instances is that the brands have some initial success and start to feel good about opening their first few units, but as they get larger they fail to adapt for critical mass, Tristano says. "It's about sustainable growth and sustainable competitiveness within the marketplace," he notes.
Achieving those goals — sustainable growth and competitiveness — is, of course, a challenge that all brands, domestic and international, face. For foreign brands hoping to tap into this market, however, it's especially tough. But as one of the largest markets in the world, with an estimated $1.9 billion in sales on a typical day, according to the National Restaurant Association, the potential payoff is worth the risk.