(Hint: It's all about the food!)
Suffering travel delays through Newark, N.J., is about to get a lot more enjoyable. Touting the largest collection of chef-driven restaurants anywhere in the country, United Airlines and OTM Management are transforming United's Terminal C at Newark Liberty International Airport into a reimagined, food- and technology-centric travel destination.
The $120 million project, funded by OTM, brings together a collaboration of chefs and designers, along with leading-edge electronic payment technology, to create an "unmatched travel experience."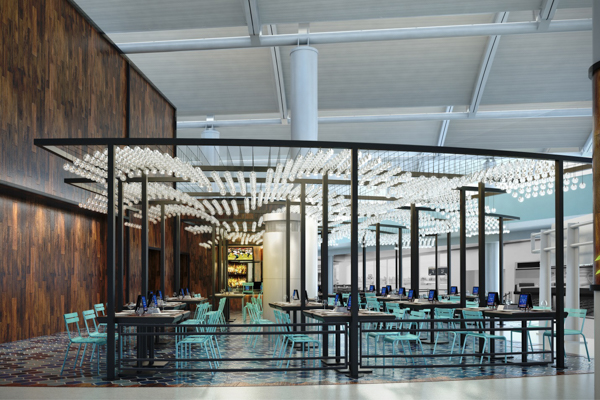 Chef Einat Admony's Mediterranean Flora Café will offer a menu of salads, falafel, shawarma sandwiches and entrees such as Moroccan fish. Renderings courtesy of Rockwell Group.
Acclaimed chefs, including four with Michelin stars, are developing signature restaurant concepts — 55 new dining venues in all. Among them are Saison, a classic French bistro by Alain Ducasse; Vesper Tavern, a gastropub-style tavern by Paul Liebrandt; Riviera, offering French country fare by Alex Guarnaschelli; a classic Italian steakhouse by Mario Carbone; and Josh Capon's SRF Bar, featuring a surf bar and sushi oasis with a fresh catch every day.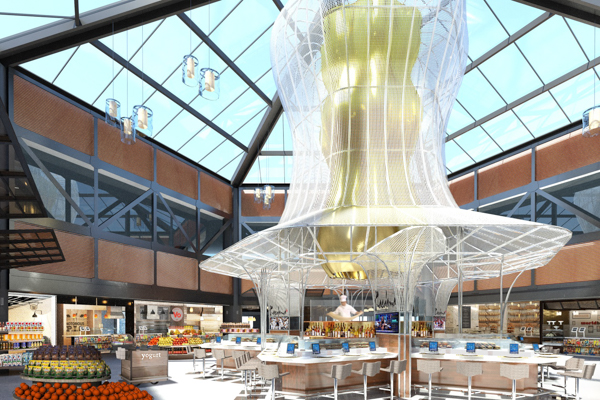 Chefs will be hand-pulling fresh noodles at Kaedama, part of the terminal's global culinary showcase.
Food halls are being reinvented as a global culinary bazaar, with stations featuring specialties from fresh, hand-pulled noodles to Mexican street fare to Italian meatballs and hand-crafted pastry treats. OTG owns and operates all of the venues, with chef partners driving restaurant concepts and menus.
A group of renowned architects and designers will reshape the terminal's dining and retail space into a setting that combines comfort with free-flowing spaces, seamlessly integrating technology, craftsmanship and design. Design partners include David Rockwell of the Rockwell Group; Jun Aizaki of Creme Designs; David Mexico of David Mexico Design Group; and Andrew Cohen and Jeremy Levitt of Parts and Labor Design.
Specialty beer, wine and whisky bars — all of which will serve food — are part of the plan, as well, and nearly 60 gate areas will be updated with custom seating and tables to create a lounge-like atmosphere. And, as in the restaurants, travelers can use iPads throughout the gate areas to track flights and order and pay for food, beverages and other amenities, with orders delivered to them within 15 minutes. Seating areas will feature more than 10,000 outlets and USB interfaces, along with complimentary Internet browsing on nearly 6,000 OTG iPads.
The first new restaurants are targeted to open in the summer of 2015, with the entire project to be completed in 2016.