When COVID-19 upended the way restaurants do business, many considered alternative ways to cater to their customers. Some added drive-thrus, others delivery, and a few added walk-up windows.
Here are some points to contemplate for walk-up windows.
1. Think beyond the window.
Walk-up windows are new for Shake Shack locations, and next month the New York City-based concept will open its first walk-up window in University Village, Seattle, a brand-new location for the chain. Shake Shack has plans to launch three to four more shortly thereafter, bringing them to both retrofits and brand-new locations.
Shake Shack's walk-up windows — knowns as Shack Track Pick-Up Windows internally — will accommodate just one guest or party at a time, and order queue will be clearly marked. In Seattle, the chain has added a bench so customers can sit or stand in line.
To prevent employees from having to man the windows at all times, Shake Shack is installing sensors, which notify staff when a guest is there, so the window can stay closed until needed.
Image courtesy of Shake Shack & Aria Group
2. Give the window priority placement.
Shake Shack's first walk-up window will be easy to spot, directly opposite the front entrance — and easy for the kitchen to access, so staff can double up their duties.
Gyro Shack has two restaurants with walk-up windows in Boise, Idaho. The walk-up windows are at the front of the stores, "with the food flowing in that direction," says Gyro Shack President Seth Brink.
"The biggest challenge is ensuring you have the space to stage food for the window," he adds. "It can't seem like an afterthought as your guests and staff won't use it if it's not convenient for them to do so." Each window has a dedicated POS station and all third-party delivery platform tablets are within a couple of feet.
Images courtesy of Gyro Shack
3. Consider pickup shelves.
Not all locations can accommodate a walk-up window, so Shake Shack is implementing a walk-up shelf for digital pickup orders. This will be placed inside, as close to the kitchen and an exterior door as possible, to maximize staff efficiency and minimize customer contact.
"Visual cues lead customers to the shelf," says Archit Sawhney, project designer, Aria Group architectural firm, Chicago, with one line for incoming patrons, and another for guests exiting with their food packages. The lines will be concurrent with customers coming into stores to order, with the shelf line designated as "express."
Shake Shack's shelf sizes will depend on each location's pickup needs, but will typically be 18 to 24 inches deep, which can fit two bags or one large catering bag, and 5 to 6 feet long.
4. No window? How about a door?
Great Harvest Bakery Cafe in Bellingham, Wash., didn't have a window that worked, so has opened a walk-up door, where employees take orders for walk-up, bike-up and drive-thru customers. "Once we decided to do window-only service, we created a system of displaying our available offerings in the first window, updating it as things came out of the oven, and removing it as we sold out. Customers then pull forward to the next window where we take their order and pass them their items," says franchisee Scott Molyneaux.
This really helps, he says, because the biggest challenge has been the inability to see what's for sale. At another Great Harvest location, in Katy, Texas, the company erected a temporary tent for walk-up orders.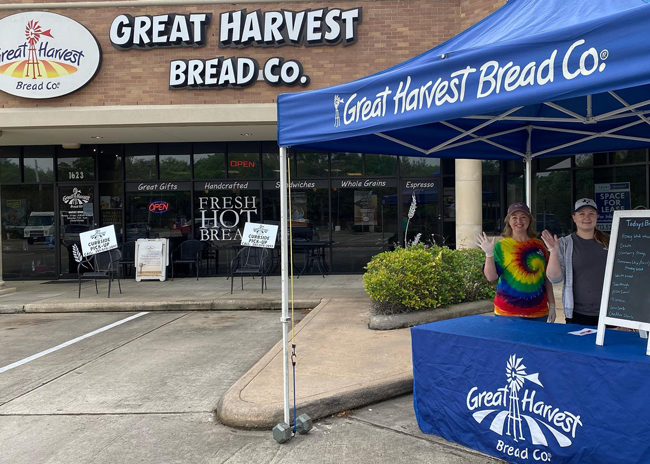 Image courtesy of Great Harvest
5. Make signage prominent.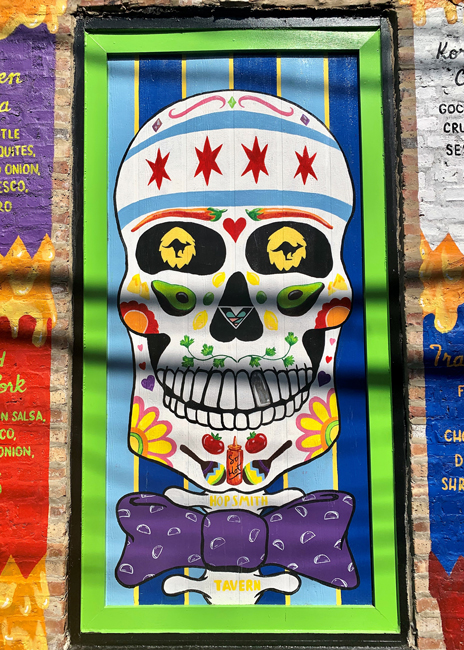 Image courtesy of HopsmithWhere possible, Shake Shack is putting an awning over its walk-up window that will feature signage. In some locations, Sawhney says, "we have to get creative." Some restaurants will feature the Shack Track Pick-Up name just above the window with no awning, or vertically on the side of the window. If all else fails, Sawhney says, he can add the sign on the inside of the window, facing out.
Making the walk-up window feel like a part of the location is the biggest challenge, he points out. "It needs to feel part of the design, like it belongs to the site, and that's particularly difficult in retrofits and older buildings."
To help direct guests, Great Harvest has placed signage in its Bellingham parking lot to direct customers to the walk-up door.
Another example, Hopsmith in Chicago, has opened Taco Alley, a specially-designated walk-up window, and commissioned an exterior mural to lead customers there to order/pickup.
6. Retrofit for walk-up.
For retrofit locations, Shake Shack has, so far, had to build in new windows, though existing ones "would certainly be considered," Sawhney says. "The consideration to have for existing windows would be the height of the sill/bottom of window," he says.
"For accessibility purposes, the ADA requires the surface of transaction — the bottom of window — to be within reach, 36 to 48 inches above ground. If the existing windows are taller or lower than that, then it may need to be modified. Moreover, certain health departments limit the opening size of the windows so the existing window openings would need to comply as well."