Amy and Clodagh Lawless, from the family behind Chicago's successful The Gage restaurant, have opened The Dearborn, a massive, urban American tavern spanning 8,000 square feet, at Block 37, a multiuse building in Chicago's Loop.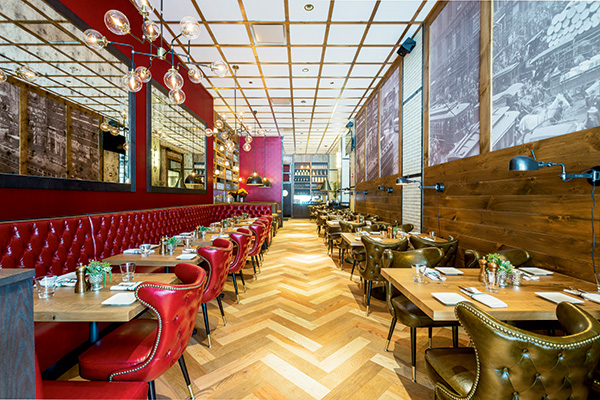 Seating nearly 250 guests, The Dearborn showcases industrial and modern elements that hearken back to Chicago's rich urban history. Floor-to-ceiling windows line the front dining room and offer guests a front-row seat to the bustling downtown area. With plush booth seating and tabletop options both high and low, the design supports a unique collection of sleek and raw materials, including high beams that emulate the Chicago L tracks, dropped lighting fixtures and custom murals that pay homage to Chicago's past.
Just beyond the main dining area sits a massive 40-foot-long bar. Towering, sky-high shelves that showcase a grand selection of the restaurant's wine and spirits serve as bookends to the bar.
The Dearborn also includes a 300-square-foot private dining room space. Known as The Rialto Room, this space seats up to 27 people. Cascading from the vaulted ceiling, crystal chandeliers shroud the room in light.
Chef Aaron Cuschieri, a former Bravo "Top Chef" contestant, presents a menu that includes a full raw bar with different types of caviar and other seafood. He also serves playful takes on classic fare, like the Pork "Chicago" Dog, prepared with giardiniera, celery salt, pickle and mustard, and the Midwest Fried Chicken with maple mustard glaze and hot sauce.
An in-house dry aging program, referred to as Butcher Block 37, features a choice of meats, from duck breast to rack of lamb, that have aged in a humidity- and temperature-controlled cooler.