Senior Vice President of Franchise Development for Which Wich and Paciugo Gelato Caffe
Sinelli Concepts International, parent company of fast-casual sandwich shop Which Wich and Paciugo Gelato Caffe is going into 2020 with a new area of focus by introducing co-branded units.
Sinelli Concepts acquired the gelato brand four years ago and spent the intervening time getting a deeper understanding of the brand and, in 2018, developing a co-branded design. Three co-branded locations opened in 2019, one in Tennessee and two in Texas.
Which Wich offers custom crafted sandwiches, wraps and salads. Paciugo's offerings include gelato, gelato pops, ice cream sandwiches, macarons, smoothies, shakes, coffee and pastries.
Jeff Vickers, senior vice president of franchise development for Which Wich and Paciugo, talks about the company's plans.
What are your development plans for the two concepts, together and apart?
JV: We have just over 350 Which Wich stores and just over 30 Paciugo Gelato Caffes. This year we'll open another 25 Which Wich and 5 to 10 Paciugo locations, most of which will be co-branded with Which Wich. The gelato stores opening this year will be predominantly in Texas, though one is in development in Danville, Va., which will open by the summer, and we're currently in site development in Tampa, Fla., as well.
After this year, I see them accelerating together. When you look at consumer habits today, convenience is everything. If we can give guests the full experience, especially with the Paciugo brand and that family atmosphere, it becomes a destination.
How do the brands complement each other?
JV: Each brand complements the traffic pattern. Paciugo has a coffee or cafe component, so it can hit that morning customer. Which Wich is lunchtime and trickles into the afternoon, then Paciugo is the dessert and evening business, so we can capture all those dayparts. Currently, we're testing alcohol at two stores, and we certainly take into account the demographics and the type of location prior to launching the test.
Did you make any changes to the brands in developing co-branded locations?
JV: Yes, we did a bit of redesigning of each brand from an aesthetic standpoint. Both brands have such strong personalities, and it's important to keep those personalities, brand culture and guest experience, yet create cohesion between them. One specific design element is the primary color each brand utilizes. Which Wich colors are yellow and black, while Paciugo's primary color is a deep blue. We added specific wallpaper and tile, so they flowed together.
Last, a design element to be considerate, of course, is the menu. The menu and ordering process were designed so it was intuitive and easy on our guests along with being efficient for our operators.
What about the interior design of the co-branded locations?
JV: We have redesigned the stores from the customer experience. Each has its own POS, so you can order from one brand or the other, or from both brands from the same POS. A lot of customers cross over. You have a lot of customers, especially in Dallas, who are familiar with both brands, and you have fanatics of each brand, but they may not have known about the other, so it's opened up our customer base from a brand perspective. It's giving brand awareness to each brand and they're actually coming back. It helps customers who only knew one brand previously to trust the other one, because they're under the same roof.
What's the most important thing for a co-brand?
JV: Most important is the exterior signage and making sure each brand has equal billing as it relates to exterior signage. And, at the front of the store, making sure as we weigh both brands out, each has its own identity. Exterior signage is one of the greatest marketing tools we have and, of course, it lets customers know where we're at.
The drive-thru is all about how the menu lays out and about making it easy for the customer to understand. The design of the menu is vital because it's all about giving each brand equal billing and capitalizing on each brand's strength. It's all got to be intuitive so you can easily find what you want, so it's easy on customers so they know what to order without being inundated with items.
Will the co-brands all be franchised?
JV: Yes. We are looking to have multi-unit franchisees. We've found the best model is to have a small number of individuals that can grow within a territory. It really depends on the individual and market. We need to be strategic in the way we grow. It's responsible growth and each market is unique, so we're very careful how we're developing the co-brand and each brand. We have to make sure we can capture the number of core customers that fit the profile within that certain region. We also have to make sure each brand has individual locations, too, so we're not diluting either brand.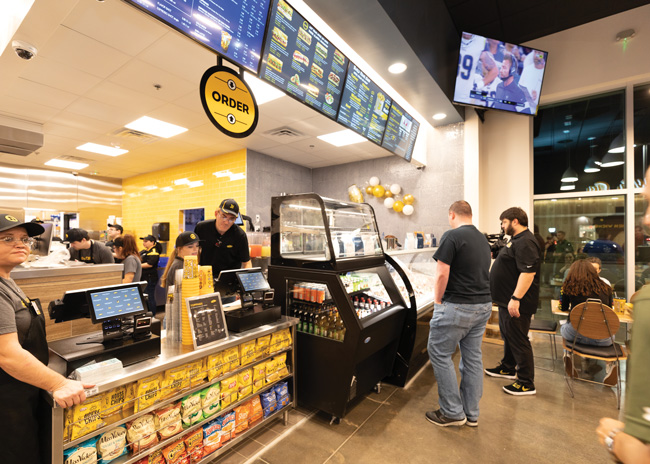 Image courtesy of Which Wich
What differences does a co-branded location have?
JV: We need more space. For each individual brand we have quite a lot of flexibility. We need around 1,500 square feet, typically for Which Wich; for Paciugo we need around 1,200. A co-branded location needs 2,000 square feet minimum. We can manage with that, because the two concepts share kitchen space even though each has its own equipment. And we take shakes off the Which Wich menu for co-brands since they're also on the Paciugo menu.
We also have to ensure the brands retain their own identities so we've created seating areas for each, though, of course, customers can cross over. We want each brand to have its own experience though it depends on the layout of the space so you're not creating confusion for the guest. But you've also got to create a comfortable environment and we have to keep that top of mind.
What efficiencies do you have in the construction stage when creating a co-branded location?
JV: You have efficiencies in the buildout and back-of-house dry storage, refrigeration and freezer. You also only need to go through one permitting process instead of two. And then there are all the little things that add up: How we design the POS system and the space layout, and the construction is all done once instead of once for each brand.
What are the challenges with a co-brand?
JV: The difficulties are mostly on the operational side. We cross-train employees, because nowadays it's all about making sure you give that great experience so each brand has its own culture.
Last year you renovated the corporate Dallas location of Paciugo for a next generation version of the brand. What did you change and why?
JV: Our strategy since we acquired the Paciugo brand has been to maintain and elevate the authentic Italian experience for the brand. In Italy, going to a gelato store is very relaxed, low-key and happy. We changed the logo, decor package, paint scheme and product offerings to achieve that elevated goal while still maintaining costs and keeping our franchisee profitability top
of mind.
What have you learned about co-branding through this experience?
JV: Key learnings include that it certainly takes pati ence to find the right real estate and that we need to have creativity for design; all this, while maintaining operational efficiency and enhancing the guest experience.
Image courtesy of Which Wich