Tom & Chee, a fast-casual restaurant chain with nine locations that specializes in grilled cheese and tomato soup, has unveiled a new prototype, &-Crafted, which is significantly smaller than its previous design. The smaller size reduces buildout and occupancy costs, coming in at 1,400 to 1,800 square feet vs. the earlier design's 2,500-square-foot footprint.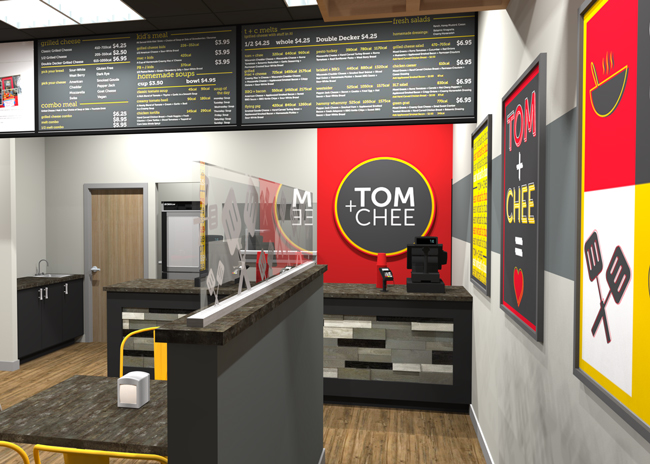 Tom & Chee
One restaurant is open so far with this design, in Cincinnati, and three more will get the new look in 2020, with plans to roll it out to all future stores going forward. "It has standard elements that will be used for all future stores. We optimized floor plan blocks that can be dropped into future locations that help standardize the design process," says Vice President of Development Tom LeCalzi. Here, he shares insights on the new design.
What did you lose by moving to a smaller prototype?
TL: We chose to lose the space in our previously large dining rooms. We optimized the dining room and seating package to provide a comfortable atmosphere with new seating options for guests that want to dine in. We wanted to ensure we optimized the kitchen layout for efficiency but not to reduce the size to a point that would prohibit growth or create operational difficulties with storing food and paper products.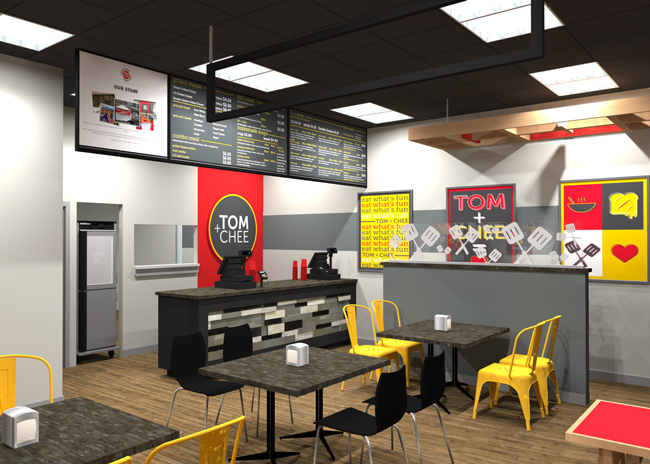 Tom & Chee
How have you elevated the decor?
TLC: The decor was elevated through a warmer color palette of grays accented with brand colors, wood flooring and a new seating package. The interior graphics transitioned into wood-framed posters that highlight the crafted flavors that make Tom & Chee's menu unique and fun.
How has the design of the catering/delivery area changed?
TLC: Off-premises dining has grown significantly, and projections show it will continue to grow, so our team worked to ensure we could provide the highest-quality food for guests choosing this option. The new &-Crafted store model includes a dedicated area for online ordering or catering pickup that allows guests to skip the line. This features improved packaging and holding cabinets that maintain a higher quality product off-premise.
You ran an ergonomic study on the new prototype; what did you learn from that?
TLC: The ergonomic study helped our team take a deep dive into each major menu item group and optimize the workstations needed to create those dishes. This allowed us to engineer the kitchen flow to ensure we had proper staffing plans for both peak sales periods and large crews to ensure timely service as well as the ability to reduce staffing and still operate stations efficiently during off-peak times.
Where do franchisees save money?
TLC: We focused our initial energy on saving on rent and build-out construction costs. Reducing the square footage down by 700 to 1,100 square feet frees up operating cash flow on a monthly basis by reducing rent, common area maintenance fees and utilities. The reduction in square footage, along with new construction details and designs, reduces the initial investment which, in turn, reduces the monthly bank payment on the initial build-out debt. The ergonomic studies created new workstations that are easier to operate with equipment that reduces labor and produces a higher-quality repeat product. We optimized product storage at the station, so assembly materials are within easy reach and ensure movement and steps to completion are minimized.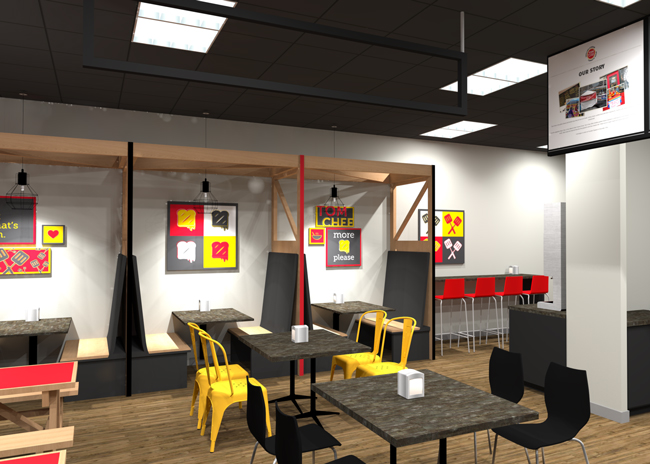 Tom & Chee
What's some of the new technology the design features?
TLC: We implemented new digital menu boards that will help new guests navigate the menu easier but also help our loyal guests to try new menu items. We also implemented new high-speed ovens that reduce labor while simultaneously producing a higher quality product.
You used virtual reality (VR) to design these restaurants; what did you learn through that?
TLC: We've found [virtual reality] is irreplaceable to work through design issues before construction begins. VR helps us experience the space and make quick modifications that can be difficult to understand though conventional 2D construction drawings.
What changes did using VR lead to in the design?
TLC: Our first VR model showed us that the floor plan allowed too much visibility into the kitchen. As we reduced size, we optimized workstations and utilized available kitchen wall space for storage. We want our guests to experience the show of Tom & Chee melt masters creating their meal, but without guests seeing the necessary storage and support equipment that's required in a kitchen.
Did using VR speed up the design process?
TLC: VR helps speed up the design process by bringing together operations, marketing and construction teams that all see a space through different lenses, based on their individual expertise. This speeds up collaboration and makes decision making easier.