Defunct since 1991, The Playboy Club is staging another comeback.
Merchants Hospitality and Playboy Enterprises have partnered to open The Playboy Club New York, located steps north of Hudson Yards.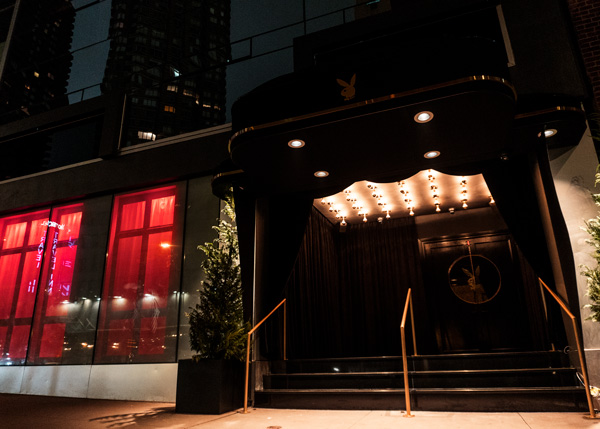 Images courtesy of Steven Gomillion
Designed by the boutique design studio, Cenk Fikri, Playboy Club New York features four distinct environments in one. Guests arrive through an ornate entrance into the Playboy Gallery, where never-before-seen Playboy images line the walls, before stepping into the Playboy Bar. An opulent oval bar serves as the room's focal point. An array of spirits surrounds the bar and glows under a collection of artwork from the Playboy archives that spans more than 65 years. Lighting is low and moody, and black wooden panels with gold accents serve as the backdrop. A gold, embroidered wall draws eyes toward an elaborate DJ booth surrounded by lounge seating, featuring tables, plush sofas and velvet seating.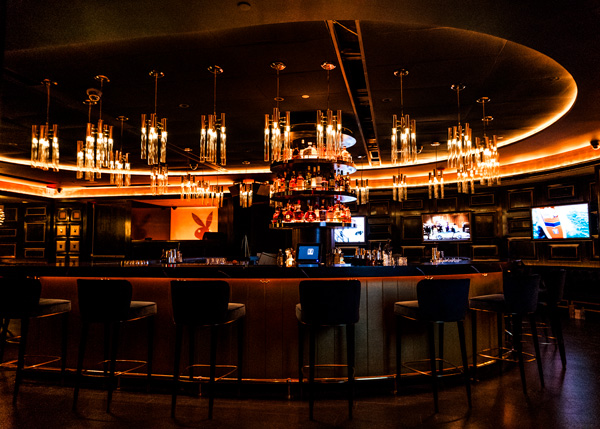 From there, guests pass a glass champagne display case before venturing further into the club to discover the Playboy Lounge, inspired by the Playboy Mansion. Nothing here is minimal, with four distinct lounges, aptly named the Mansion Lounge, Grotto Lounge, Bunny Lounge and Royal Salute Lounge, that all harken back to the Mansion's quintessential design elements. Baroque ceilings, large leather couches and Playboy artwork fills the room, enhanced by luxurious textiles, bold colors and subtle patterns.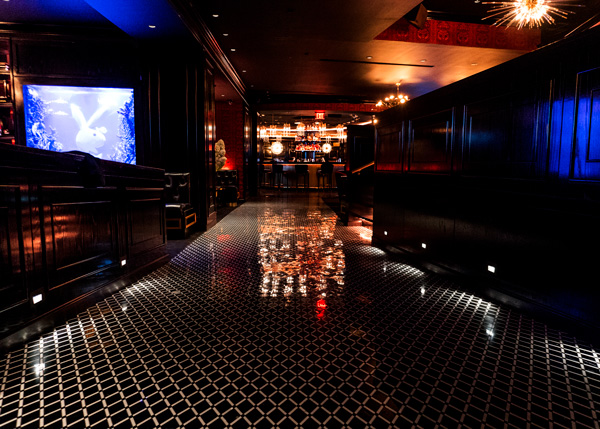 Playboy Lounge Credit Steven Gomillion
Guests will find a curated collection of books that pays homage to past Playboy magazine writers as well as a custom built 600-gallon exotic aquarium boasting a hand-sculpted, bunny head reef at the tank's center. A one-of-a-kind backgammon table is installed in one of the lounges for Playboy's monthly member tournaments.
At the center of the Playboy Club experience is the staff — women outfitted in the familiar Playboy Bunny costume with accessories designed by Roberto Cavalli.
A limited number of guests will be able to continue deeper into the Playboy Black Box, by following the bottom lit marble runway, into a vast space that will host Playboy-themed events, carrying on the traditions of the parties once thrown at the Playboy Mansion.
Finally, the Rabbit Hole is a speakeasy lounge, accessible only to select VIP Playboy Club Members. A secret leather-tufted door slides open to a hidden walkway surrounded by alternating walls of pearl-covered gold and black beveled glass, leading to three subterranean levels. Throughout the three levels, guests will find multiple secluded tables.