Mexican QSR chain Taco John's boasts a system of nearly 400 stores located primarily in the upper Midwest and mountain states. The company is looking to expand its footprint into the Mid-Atlantic and beyond, with a goal of joining Taco Bell and becoming one of the two clear national leaders in the Mexican QSR space.
This move into new markets has spurred the chain to introduce a QSR-plus option for franchisees, says Vice President for Franchise Development Van Ingram. "As we start to take Taco John's into a more progressive city like a Nashville or Lexington, Kentucky, we see the opportunity to plus-up their first real experience of Taco John's."
The first of these stores opened recently in Westminster, Colo.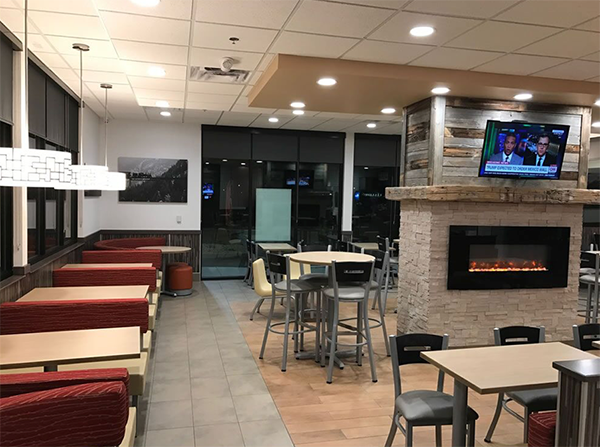 Fireplaces are clearly a "plussed-up" element, but they're common to Taco John's standard QSR model. That's at least partially due to the chain's heavy presence in cold weather cities. The QSR-plus design enhances the fireplace by surrounding it with a wood-style tile. The fireplace was also given a stone façade on the bottom half and reclaimed wood on the top. Other key upgraded elements include pendant lighting with a geometric pattern and upholstered booths with red backs and greenish-yellow seats.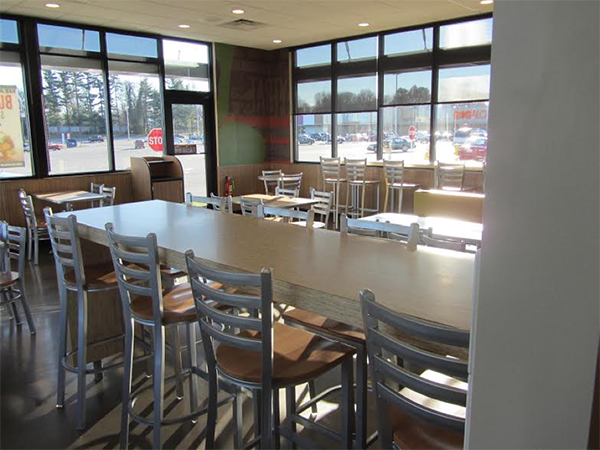 As the chain expands into new markets, not every QSR-plus store will be required to have a fireplace. One possible replacement is communal seating (seen above). This feature not only appeals to Millennials, according to Ingram, but it complements the multiple TV screens its stores are required to have. Groups of guests who don't want a sports bar experience have been known to come to Taco Johns to watch a game in a community setting, Ingram says.

The chain's QSR-plus model can include several new seating options, all of which help "break up the line of vision" in the store, notes Ingram. In addition to upgraded booths and communal tables, the chain also rolled out high-top tables, lounge-style seating, banquette seating and even counter-height seats that look out the window — perfect for solo diners. "Sixty-three percent of our business goes through the drive-thru window. That's a bit lower than the rest of the fast food industry. Our customers over the years have liked the ability to go in and sit down in a nice dining room. The ones that are coming in now are looking for those kinds of elements, like a fireplace, like comfortable seating," says Ingram.
Other new seating option include high-top booths and a round corner booth, complete with standard height, upholstered stools. These seating features, particularly the high-top booths, are more closely associated with casual dining than QSR. "Booths have traditionally been a big part of the QSR side of the world. Having something that's a step above is something we've continually worked on," says Ingram.
Taco John's QSR-plus model also includes upgraded restrooms. With higher-end fixtures and glass-tiled walls, this investment contributes to an overall better experience for Taco John's customers, says Ingram. "Having a nice restroom will be a major differentiatorn forpeople coming into the restaurant."