Jesse Jacobs opened his first Samovar Tea Lounge in San Francisco 14 years ago, sensing that the time was right to introduce a tea-focused concept in the wake of the specialty coffee boom. He now operates two locations.
The original, 2,000-square-foot unit in the downtown Yerba Buena Gardens neighborhood offers a full tea and cafe menu in a comfortable space. A sister concept, Samovar Tea Bar, opened in 2014 in the Mission district. That 500-square-foot unit provides a much more streamlined tea menu, limited food options and an experience that, while elevated, is geared to takeout sales.
Samovar's full-service Tea Lounge features abundant natural light, muted tones, soft lighting, natural materials, and subtle Asian, Scandinavian and industrial design influences. Photo courtesy of Samovartea.com
A third unit, a full-service, 5,000-square-foot Samovar Tea Lounge, is slated to open in February in the international terminal at San Francisco International Airport, and additional units, likely through licensing agreements, are being considered for New York, Tokyo and Los Angeles. Jacobs also recently launched a wholesale foodservice program, wherein Samovar supplies premium tea products to other cafes and restaurants.
"The whole third-wave coffee thing had taken the country by storm, but tea drinkers were — and, in most places, still are — treated like second-class citizens. I wanted to test a concept that would provide for tea drinkers what great coffee places provide for coffee drinkers," Jacobs says.
Doing so presented challenges. Top among them, Jacobs says, was to approach tea in a fresh way, consistent with the needs of urban consumers. That meant creating a focused, approachable menu built on a carefully curated, expertly prepared selection of premium teas; providing complementary fresh and healthful foods; and ensuring that customers could get in and out quickly.
"The opportunity was to look at the problems with tea and fix them," Jacobs says. "One of those problems has been too much choice. A typical teahouse has 100 varieties of tea. Nobody wants that; it just creates stress."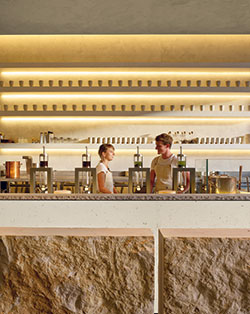 The smaller, takeout-oriented Samovar Tea Bar combines salvaged wood, stone, plaster, metal and glass to create what founder Jesse Jacobs calls a "future craft" aesthetic and a beautiful backdrop for tea. Photo courtesy of Cesar RubioA second challenge was to convey an image of tea in a unique way, not evoking dated notions of grandmothers and doilies and also not depending heavily on the traditional ritualized Asian tea ceremony. "We wanted our concept to present tea as an accessible beverage, like coffee, that's delicious, hydrating, energizing, healthful and affordable. That was our challenge and our opportunity. Both of our models work, and the demand for quality tea is growing quickly," Jacobs says.
From a design perspective, Samovar seeks to create a relaxed, stress-free oasis that's unique to tea. The original Tea Lounge offers table service in a simple, warmly contemporary atmosphere, while the newer Tea Bar has a more modern aesthetic, stripped down to simple, authentic materials.
"We don't put art on the walls, or postcards or bulletin boards," Jacobs says. "We were inspired by the Japanese aesthetic called shinrin-yoku, which translates as 'forest or nature bathing.' There's a lot of science supporting the idea that being in nature lowers stress, so we wanted to create a physical space that allows for a similar experience, of taking this moment and connecting with nature. Our tea is sourced in small batches from family farms all over the world. It's a raw, natural material that once you see it, you connect to it."
The challenge, Jacobs notes, was following that philosophy without creating spaces that are cold and barren. "There's a fine balance between being empty and full of potential," he says. "We've tried to create an experience that is very tactile and craft-oriented but also as progressive and efficient as possible. At one end of the spectrum, we have our chai, which we cook in a copper pot with fresh cardamom, pepper, spices, and tea with milk and sugar. We ladle it out, and the aromas waft down the street. We also have more high-tech brewing devices, like the crucibles, which bring the theatrics of tea front and center. They convey the beauty of the raw materials; you can see the tea expanding and infusing the water and smell the aromas."
Abundant natural light, muted tones, soft lighting, natural materials, and subtle Asian, Scandinavian and industrial design influences combine to create the desired look and feel at the Tea Lounge. The smaller Tea Bar concept takes Samovar to another level. Designed in partnership with San Francisco-based Arcanum Architecture, the airy, modern space features what Jacobs calls a "future craft" aesthetic. Principal materials are salvaged wood, stone, plaster, metal and glass. The line of crucibles behind the bar, a softly lit back wall display of custom-designed ceramic mugs, and a row of 4-foot-high natural limestone dividers in front of the counter are design highlights.
"Each of those dividers weighs 3,000 pounds," Jacobs says. "They're about 4 feet high, but each one also goes 4 feet down below the foundation. It was a massive engineering effort to make sure that they would be magnificent and tactile design elements but that they'd also be safe and wouldn't fall over in an earthquake. Ultimately, they work together with the rest of the materials to create a beautiful backdrop for tea that doesn't get in the way but that also, if you look a little deeper, has a lot of substance."