In the first in a series, rd+d takes a deep dive into beverage-focused concepts.
It used to be so simple. Coffee was coffee, steaming hot and typically enjoyed in the morning or maybe after dinner with dessert. Tea was tea, usually mass-produced black tea in bags and, except for iced tea in the South, not top of mind with the majority of American consumers.
Oh, how things have changed. Coffee and tea today are anything but simple, and consumers — especially Millennials and their younger Gen Z siblings — have a coffee- and tea-fueled buzz going that demands anywhere, any time access to diverse, premium and customizable options.
Led by so-called second-wave trailblazers such as Peet's Coffee & Tea and Starbucks, coffee has evolved dramatically from a simple, cheap and homey beverage to a culinary and cultural phenomenon. That evolution is impacting how virtually every foodservice operation, from fine dining to fast food, develops and markets its coffee program. Given specialty coffee's profitability and its proven ability to boost traffic and appeal to a younger demographic, even concepts far removed from the coffee-culture kings are tapping the vein. (For more key data points on coffee and tea, see page 8.)
McDonald's McCafé program kicked off the so-called coffee war as the burger chain set out to lure consumers who'd gotten used to spending more for premium coffee drinks. Dunkin' Donuts, too, launched a specialty coffee program. And both chains have debuted more contemporary, comfortable store designs that, like Starbucks, invite customers to linger over their lattes.
Indeed, the floodgates have opened, and brands of all stripes are getting on board with at least minimal specialty coffee programs. Among them:
Chick-fil-A swapped out its old ho-hum coffee for a new farmer-direct, specialty-grade blend. Staff was trained to brew smaller quantities more often, and a cold-brewed iced coffee was added. An extensive section of the chain's website is dedicated to telling its specialty coffee story.
Burger King upped its game with Smooth Roast, which it describes the way a sommelier might describe a wine: "Our Smooth Roast Coffee is a 100 percent Latin American Arabica blend characterized by sweet, nutty and chocolaty notes that delivers a balanced mild flavor and pairs perfectly with both sweet and savory menu items." The chain offers regular coffee, plain and vanilla iced coffee, and coffee frappés.
Dairy Queen recently announced its "biggest beverage launch ever," led by new flavored iced coffees, as well as frappés and fruit smoothies. Available all day at regular prices, the chain touts "happy hour" specials, during which small flavored coffees sell for just $1.
While QSRs may have an uphill climb to get consumers to think of them first when a craving for a no-whip, double-shot, extra-hot mocha hits, they're moving the needle. Data from market research firm Statista shows that the McCafé program generated nearly $1.5 billion in revenue in 2015 for McDonald's. Since introducing specialty coffee in 2006, Dunkin' Donuts now claims to sell 1.7 billion cups of hot and iced coffee globally each year.
As beneficiaries of the demand created by specialty chains, QSRs clearly see the economic benefits of adding higher-end coffee to their broader menu platforms. But it continues to be the specialty coffee chains and, increasingly, specialty tea concepts that drive the segment in terms of innovation, traffic and the coffee-and-tea-as-a-lifestyle ethos.
Boutique players like Blue Bottle Coffee in Oakland, Calif., and Equator Coffee & Tea in Santa Rosa, Calif., take micro specialization and coffee theater to new heights, effectively serving as the "anti-Starbucks" for the urban gourmet coffee cognoscenti. There, you'll find a limited range of meticulously prepared coffees and espresso drinks, including some priced upwards of $16 a cup — in part because they're "celestial," according to Blue Bottle founder and CEO Michael Freeman, and in part to help support the small, single-origin farms from which the beans hail.
Festering anti-Starbucks sentiment or not, Starbucks clearly remains untouchable. The 25,000-plus-unit, Seattle-based behemoth's annual sales crossed the $20 billion mark in 2016, and its multifaceted development plans indicate strong growth ahead. The company continues to diversify its portfolio to provide a range of experiences, from its new ultra-artisanal Reserve Roastery & Tasting Room concept — debuted as a 15,000-square-foot "coffee theater" in Seattle and now headed to Shanghai, Tokyo and New York — to its upscale Starbucks Reserve stores, named for its premium coffee line. The high-end efforts represent strategic growth initiatives now guided directly by the company's longtime chairman and CEO, Howard Schultz, who recently announced that he will relinquish his current roles to focus on the design and development of Starbucks Reserve stores around the world.
Twice the size of regular units, Reserve stores are designed to have a stylish but comfortably worn-in ambience. A unit in New York is described by the company as being a "welcoming space anchored by vintage rugs" with furniture sourced from local secondhand shops. A custom 3-D abstract map of New York City is etched into panels in front of the coffee bar.
Select existing units are being retrofitted as Reserve bars that showcase super-premium, micro-batch coffees and a range of specialized brewing methods, including pour-over, siphon and the company's proprietary espresso brewing technology.
While such moves are seen as keeping the brand relevant among next-gen coffee connoisseurs, Starbucks is also adding more suburban drive-thru units and more small-footprint express stores in select city centers.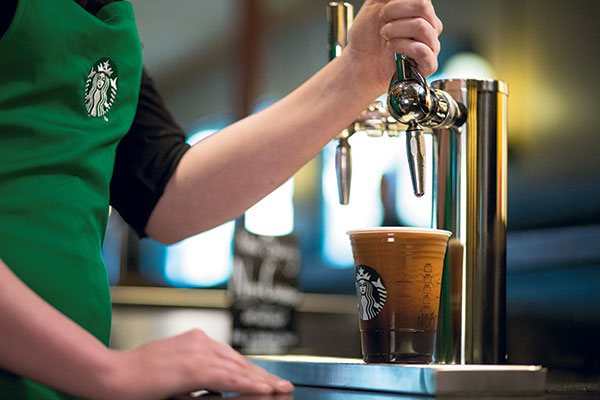 Launched last summer, Starbucks now has Nitro Cold Brew on tap at 500 U.S. locations. Photo courtesy of Starbucks Corp.
And it has stepped out to lead in a buzzy new menu category, cold-brewed coffee. Introduced system wide in 2015, the program was expanded last summer with the addition of cold-brewed coffee on tap, marketed as Nitro Cold Brew. Starbucks claims to be the largest retailer to offer Nitro Cold Brew, with more than 500 of its U.S. stores now offering it.
Mobile ordering and payment, as well as recent tests of delivery in certain markets, further promise to keep Starbucks on the leading edge of relevancy and growth.
So, too, does tea. Since acquiring Teavana just over three years ago, Starbucks has given Teavana teas a strong presence on its menus. It is incorporating Teavana kiosks in its Reserve units and operates some 350 Teavana specialty retail stores. In its last fiscal year, Teavana-branded tea beverages generated nearly $1 billion in sales through U.S. Starbucks stores, up 12 percent over the previous year. The company says the tea category in its U.S. and Canada Starbucks stores has grown consistently at a double-digit pace and is on track to exceed $3 billion over the next five years. Starbucks understands the importance of tea, which it pegs as a $125 billion global category, to its future development plans.
Tea is gaining favor with other power players in the coffee segment as well. JAB Holdings Company, which has amassed an impressive portfolio of top specialty coffee brands, this fall added Chicago-based retailer and cafe operator Argo Tea to its mix through a licensing agreement. The parent company of Caribou Coffee, Einstein Noah Restaurant Group and Peet's Coffee & Tea, JAB also has acquired, under the Peet's umbrella, premium wholesale tea brand Mighty Leaf Tea; Intelligentsia Coffee, a roaster and retailer with coffee bars in Chicago, Los Angeles and New York; and Stumptown Coffee Roasters, a roaster and retailer with cafes in New York, Seattle, Los Angeles, New Orleans and Portland, Ore.
It all bodes well for consumers, who can count on having even broader access to increasingly higher-quality coffee and tea served in increasingly pleasant surroundings — as long as they're willing to pay increasingly higher prices for them.
Our dive into coffee and tea bars continues here:
Case Study: Samovar Tea
Development Focus: Vitality Bowls Adds Coffee Bars
Cold-Brew Insights: A Q&A with Mr. Espresso's Luigi Di Ruocco