Page 1 of 2
A disjointed, subterranean space in a Harvard Square parking garage is transformed into a classic, comfortable neighborhood hot spot.
When Patrick Lee and his partners at Boston's multiconcept Grafton Group decided that Redline, their nightclub/bar venue, had run its course, they set out to replace it with their vision of the perfect neighborhood restaurant and bar. More in line with their other, more dining-oriented operations, the menu would offer fresh, inventive twists on classic New American comfort foods and cocktails. The atmosphere would be classy yet comfortable, contemporary but with a patina that fit into the historic Harvard Square neighborhood.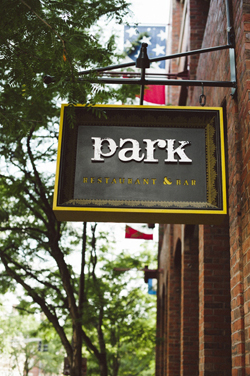 Their vision for what would ultimately become PARK Restaurant & Bar was clear. But getting from Redline — a below-grade space situated at the bottom of a large brick and concrete parking garage — to PARK required a hefty dose of design ingenuity. In addition to the limitations inherent in the original Redline space, comprised of a low-ceilinged front bar/dining area and a separate back room, designers faced the challenge of annexing two adjacent retail spaces that became available just as the project got underway. The four distinct spaces, which together total some 4,400 square feet, had to remain largely separate but be knit together to achieve both design consistency and smooth operational flow.
The project required almost completely gutting the existing spaces. "We started from ground zero," Lee says. "To a certain extent, because we were changing the concept we liked the fact that there was going to be some separation. It took about eight months to complete, so when we reopened, it was perceived of as a completely new space."
Peter Niemitz, president of Boston-based Niemitz Design Group, was brought in to lead the redesign. "Grafton Group runs some fairly sophisticated places in the Square and around the Harvard University area and felt it was time to create something more interesting and viable for the community there," says Niemitz, who also designed the group's Russell House Tavern, Grafton Street Pub & Grill and Temple Bar properties.
"They didn't want to get too highbrow with it, but did want to capture a different crowd. While we were talking about this whole transformation, a space next door became available and then ultimately the space next to that became available as well. So we were faced with significantly expanding the size of the venue and also grappling with the challenges of strange ceiling heights in the different areas. Overall it's a very awkward, angular grouping of spaces because it's in a parking garage, plus it is semisubterranean and has difficult ingress and egress and not a strong street presence."
The overall approach that Niemitz and Lee quickly settled upon for the space was to embrace its quirkiness and create a series of rooms, each with its own distinct character and each, in its own way, reflecting the culture of Harvard Square. Lee says that approach fit well with what Grafton Group set out to accomplish at PARK, which was to create a neighborhood venue that would draw people and keep them coming back for a variety of reasons and dining occasions.
PARK's four distinct eating and socializing areas are: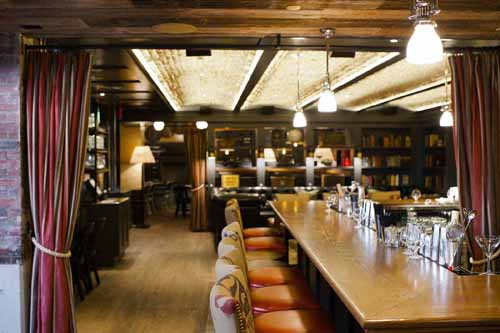 Main Dining Room and Bar. Just inside the restaurant's front door, high-top communal tables loosely divide this roughly 1,500-square-foot space. An oak, horseshoe-shaped bar seats 30 and is a focal point of the space. "The bar is a significant area that creates great energy in the front room," Lee says. "But you can also retreat from that environment to the dining side of the room for more relaxed dining."
Both the communal tables and private tables have rough-hewn wooden tops, and the room's seating features an eclectic mix of galvanized steel chairs, wooden chairs painted black, and red leather booths and banquettes. Together, the main dining room and bar area seat up to 80 guests.
Black iron ductwork snakes along the ceiling, which is covered in rustic, reclaimed wood, and vintage photos and maps decorate the walls.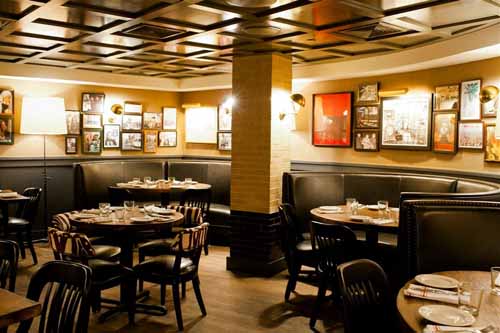 The Back Room. A separate room off the back end of the main dining room and bar area, the back room sports a retro supper club look and feel and offers seating for another 35 guests. Designed to accommodate larger parties and private events, it features circular black booths that seat up to 10 people and a round wood table with zebra-print chairs. Fabric-covered walls sport framed counter-culture art from the '60s and '70s.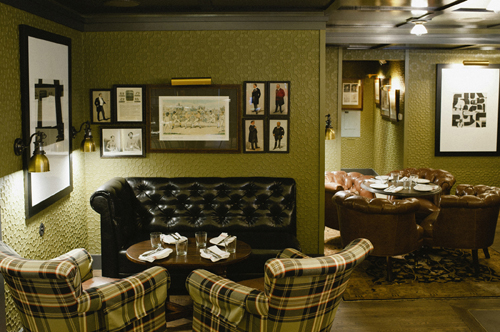 The Den. This area occupies one of the two additional retail spaces annexed for the project. The den seats 22 and is a residentially inspired cocktail lounge where guests can enjoy drinks and small plates. Key design features include a vaulted brick ceiling, olive-painted embossed tin walls and bookshelves filled with vintage books and period antiques. Seating includes plush leather chairs in rich caramel colors and an L-shaped black leather sofa. Oriental rugs cover the wood-plank floors and help to both soften and define the space.