Mexico City has earned a reputation for being a food lover's mecca. So it's no wonder that the city's restaurant design has taken an innovative and artistic turn. Fueled by a Mexican cooking renaissance thanks to menu globalization, diners have become privy to creative menu items served in intoxicating environments. These two restaurant designs are as architecturally inspiring as the food they serve.
Morimoto Mexico City
Photo by Schoos DesignWhen designer Thomas Schoos, founder of the Schoos Group design firm, first laid eyes on the space that is now home to Morimoto Mexico City, he knew he had to capture the energy of the sapce. He took design cues from nature and created a restaurant as vibrant as its city. Schoos used white oak, mirrors and brass and incorporated 160 candlesticks as well as his own artwork to create one cohesive setting. A glass ceiling brings the outside elements in while interlocking spaces create several separate yet connected dining areas. During the day, the restaurant appeals to a bustling lunch crowd with its bright space and warm decor, and the restaurant's sexy, soft and cozy glow draws in evening diners.
Tori Tori Restaurant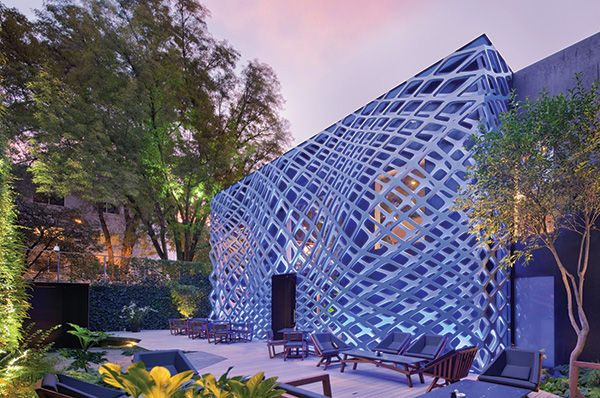 Japanese restaurant Tori Tori, known as one of Mexico City's best Japanese restaurants, is a feast for the eyes as much as it is for the palate. Designed by Rojkind Arquitectos + ESRAWE Studio, Tori Tori is located in the city's residential district of Polanco and was once a house. In renovating the circa 1920s dwelling, designers worked to strip the interior to create a completely new Japanese-inspired look and feel. This includes a range of open spaces and terraces in between interior lattice walls. The building's multidimensional steel lattice exterior was developed as an extension of the inside and is flanked by ivy-covered walls and a clean landscape.