Artist, builder and designer John Sofio founded his Los Angeles-based design/build firm Built, Inc., in 1995, performing primarily residential work. Having friends in the nightclub business, he was soon recruited for commercial projects and got hooked on hospitality.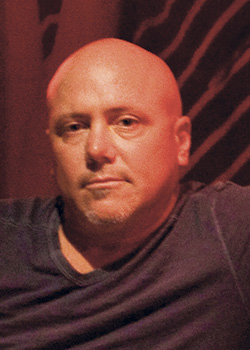 He has since built a reputation for creating some of the buzziest nightclub/bar and restaurant hybrids in Southern California, as well as in New York, Colorado and Florida. His portfolio of more than 400 projects includes LA's restaurants/lounges The Nice Guy, Bootsy Bellows, Blind Dragon and, most recently, the Ivory on Sunset restaurant at The Mondrian Los Angeles. He's also an operator, co-owning a five-unit artisan coffee café and roasting company called Cafecito Organico, for which he did the design and branding. Buzz? This guy's got it down.
rd+d: What's the biggest challenge when creating spaces that work well for both dining and clubbing?
JS: One of the biggest issues is durability. Restaurants are hard on everything, but clubs are much harder. The first club we did, we covered the booths in vinyl with a high-density foam backing. After the very first night, which was crazy busy, they were all ripped because of the stiletto heels and had to be completely replaced or repaired before opening the next night. The vinyl on the booths couldn't withstand the impact of the night. So durability is critical, and you figure out pretty quickly what's going to hold up in that environment. We created a solution to this impact by fabricating the booths to be "stiletto-proof." You also need to design and build furnishings with a more residential look and feel. You don't want a booth to look like a restaurant booth. And acoustics are critical for creating spaces with a great vibe, where people can have a conversation over a meal but also enjoy the music and DJ. We want the spaces we create to have a unique look with elegant lighting, beautiful furniture and great sound.
rd+d: To that end, you typically build versus shop for what you want?
JS: Yes. That's the build part of our design/build business. I'm an artist and a builder and like to create exactly what I envision for a project's design. It's part of our total process — taking something from concept to completion. We don't just design spaces; we also design and build the furniture, fixtures, lighting — whatever we need to make it work and support the brand. And, as a side note, the level of durability we need typically isn't there in existing products on the market, so we build our own.
rd+d: Besides the benefit of being able to get exactly what you want, what are the benefits for clients of going the design/build firm route versus the traditional owner, architect/designer, contractor route?
JS: It's not for everyone. The clients have to put a lot of trust in us, but it's also a much more streamlined process, and we're accountable for everything. We have full artistic freedom to refine the design as it's being built. And we're able to handle both the development process — things like permitting, for example — and the design process simultaneously, which can save a lot of time. They're also going to get something that's completely unique.