The 47-year-old pizza chain's new prototype follows the old pizzeria model.
Think of a fast-casual pizza place: Customers walk down a line to choose their toppings, see their meal put together right in front of their eyes and get their meal in well under five minutes.
Odds are, you envisioned the model made famous by Chipotle. It's an efficient, effective approach — and one that accounts for much of the restaurant industry's growth in recent years.
It's not the only model for fast-casual pizza, though. In fact, based on price point and food quality, the old-fashioned family pizzeria could be categorized as fast casual. That's the approach being taken by one recent entrant into the fast-casual pizza sector.
The company, though, isn't new. In fact, it's a 47-year-old brand that's going back to its roots by opening up a traditional family pizza restaurant. While the price point and quality make Mr. Gatti's fast casual, the whole operation is about history, tradition and authenticity.
Back to the Beginning
Mr. Gatti's was founded in 1969 in Stephenville, Texas. Over the years, it grew to be a strong regional chain, expanding its portfolio along the way to include a family entertainment concept dubbed GattiTown as well as buffet and carryout/delivery operations.
In summer 2015, the Gatti brands were acquired by Sovrano LLC, a Fort Worth, Texas-based private equity group. At that time, the new ownership decided to take Mr. Gatti's back to its roots as a straightforward pizza restaurant. It opened the first of these locations this summer in Richardson, Texas.
"We're not a hoity-toity brand. We're looking to be a family restaurant from a style perspective, a culture perspective," says Michael Poates, president and chief operating officer of Gatti's Pizza. "We're looking to be a place where Mom and Dad and the kids can come. Mom and Dad can have a beer or a glass of wine. There are menu items for each member of the family to enjoy and video games for the kids."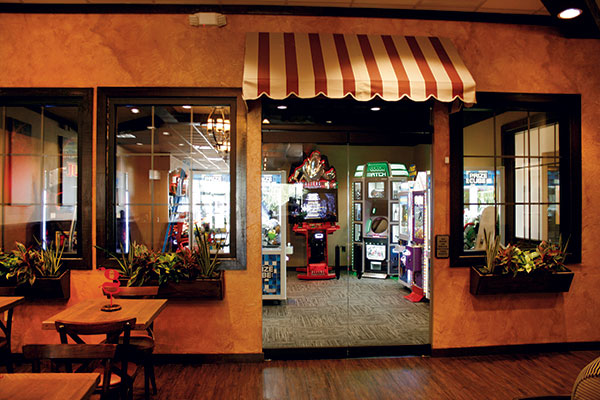 The game room is enclosed but has glass doors and several windows. This allows parents to monitor their children without having to listen to the noise of the arcade.
Taking Mr. Gatti's back to its roots has some pretty big development implications. Where the chain opens its doors is perhaps the biggest. As a family-focused operation, Poates intends to place Mr. Gatti's away from high-traffic, high-priced real estate to locations deeper in communities, where families actually live — think of the lone strip mall on the edge of a neighborhood.
Poates acknowledges that these locations do have some drawbacks. By being away from high-traffic areas, Mr. Gatti's is likely giving up some lunchtime traffic. Still, the numbers add up for the chain.
Locating its stores in neighborhoods, for instance, supports the operation's delivery service. As a family-focused restaurant, the chain has limited its delivery area to a three-mile radius.
Instead of relying on drivers to use their own cars, Mr. Gatti's uses its own fleet of ultra-compact cars decorated with the company logo for deliveries. "We're excited about those cars because they get 50 miles to the gallon and they're a driving advertisement," says Poates.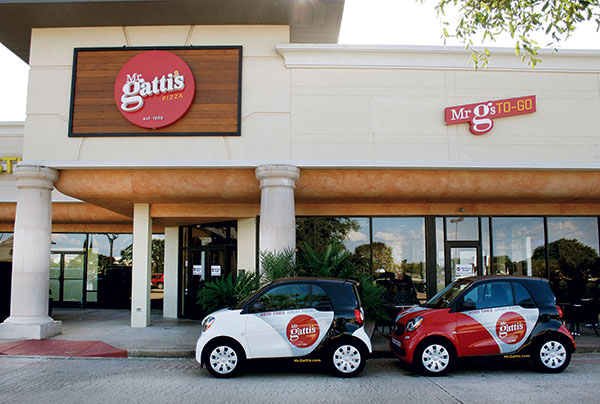 Mr. Gatti's turned structural beams into decorative columns that emphasize the chain's Italian offering. It uses its fleet of ultra-compact cars to deliver pizzas within a three-mile radius.
The biggest advantage of these locations, though, is the cheaper rent and what that means for menu pricing. Thanks to the lower overhead, Mr. Gatti's is able to keep its prices family friendly. Its most expensive entree is just $9, while pizzas range from $9 to $18. And since families are Mr. Gatti's target market, the concept's locations away from Main Street help "fireproof" the brand from having to increase its prices due to rising rents.
"This is a very humble food, and it's very inexpensive, and it needs to stay that way," Poates says. "So from our perspective, when we were seeing $25 to $30 pizzas with Neapolitan-style crusts and high-end toppings, we knew we could execute that effectively but at a price point that would really allow families to take advantage of this great product line."
The low prices, adds Poates, should also help the chain hold on to its existing customer base. While Mr. Gatti's is getting back to its roots as a family pizza restaurant, many people know the brand for its buffet-style operations, including GattiTown and some Gatti's Pizza stores. By going to a menu-based restaurant, the company risks turning off some loyal buffet customers. Affordable prices can offset that.
"That's one of the reasons we make sure our pricing is kept aggressively low and we have great meal bundles and meal packages for lunch: to still provide a great guest experience that is price-point sensitive," Poates says.
Classic Pizzeria
While many fast-casual places tend to favor modern or industrial looks, Mr. Gatti's has a more traditional design, along with touches and finishes that stress (both directly and indirectly) the chain's long history and its commitment to authenticity.
The color palette is built around natural wood tones and soft colors from floor to ceiling, while bottles of olive oil and canned tomatoes sit on shelves throughout the restaurant. Another design element that points to the chain's history is Mr. Gatti's "logo buttons," pieces of metal with the chain's name, logo and founding year (1969) etched into them.
Tufted benches and two-top tables provide flexible seating for larger parties.
Authenticity is also communicated through Mr. Gatti's flooring. The chain uses wood-style porcelain plank tiles. According to Poates, this is an upgrade from earlier plans. Initially, the designers explored an acid-stained sealed concrete floor. Moving to tile only cost a little more. Not only is it easy to clean, says Poates, but it also provides guests with a much better experience while improving their overall perception of the restaurant.
Walking into the operation, customers place their orders at the point-of-sale counter, which has sides covered with a wood veneer and a dark solid-surface top. Though Mr. Gatti's considers itself fast casual, it operates with the standard — some might say traditional — approach of having customers place their order at the register without involving them in the production or assembly process.
Just to the left of the registers is a refrigerated gelato cooler, a new addition to the Mr. Gatti's menu that is both authentically Italian and appealing to all ages. According to Poates, it is already an upselling success. "We have a large portion of guests that turn back around after they're done with dinner and get in line and order gelato," he explains. "It really wraps the package of authenticity up — the great Italian meal experience that we're trying to provide at a fair price."
Behind this counter, though, sits the restaurant's true centerpiece: a large semicircular pizza oven with rotating stone decks. The piece, visible from the restaurant's main dining areas, is covered in metallic red tiles and highlighted with accent lighting. This oven drives home the authenticity of the restaurant's pizza. It's also eye-catching. "You see different colors on the tiles depending on the angle you're at," says Scott Lay, president of Lay Construction, the design/build firm that handled this project. "The lighting and tile together give it a little more of a shimmer."
While customers don't interact with the pizza makers, they can see their pizzas being made. The pizza assembly area sits to the left of the oven. This allows customers to see the freshness of the chain's ingredients and sometimes even watch dough get tossed in the air.
This station is connected to the POS counter and has the same wood veneer front. Instead of using a fiber-reinforced polymer on the back wall, the operation went with white subway tile.
After placing their orders and getting their drinks, customers can head to the main dining room, which seats about 60. Furnishings in this space include two- and four-top tables with distressed wood tops and hardwood chairs with upholstered seats. It also has custom-made bench seating with tufted upholstery. This feature, Poates says, adds a touch of luxury to the space while also providing flexible seating for large groups, from Little League teams to big family gatherings.
The space also has a few extra eye-catching touches. Wooden beams cross the ceiling, adding some sophistication, while wooden wine barrels sawed in halves and quarters have been turned into an art piece sitting against one of the walls.
The dining room also features its "legacy wall," which is covered with pictures of the history of the local community along with images of Mr. Gatti's restaurants from years ago. These photos reinforce the chain's history and "show how the brand has been community involved and family based over the years," Poates says.
Adjacent to the dining room is the party/meeting room space, which seats 30. It has two and four-top tables along with bench seating along both sides. It also has two televisions. The back wall, meanwhile, sports an oversize logo button — a popular spot for guests to take photos. Where allowed by code, adds Lay, the room can be closed off with a sliding door, which allows space to be used more efficiently than hinged doors.
Offering this sort of private space is going a long way toward Mr. Gatti's integrating itself into the community, Poates says. "We've got homeowners associations that are using it," he says. "The Chamber of Commerce is using it."
Across from both the dining and meeting rooms is the third major section of the front of the house: the game room. According to Poates, this space was designed so parents could keep an eye on their kids at play while enjoying their meals. Glass entry doors and large windows keep sightlines into the game room clear while also keeping noise from spilling into the dining area.
Leveraging History
With the design set, the chain is now turning its eyes toward expansion. The company expects to open four new Mr. Gatti's stores in 2016, followed by eight more in 2017. While it will continue to support all its stores and franchisees, Poates has tapped this concept, along with the GattiTown family entertainment center, as the company's growth vehicles going forward.
And though there is serious competition both in the fast-casual pizza sector and for the family-dining dollar, Poates predicts that the chain's history — and the memories people have of it — will help Mr. Gatti's succeed. "We're not a new entry," he says. "We simply began the way we are now. We are just going back to our roots. We have great history, we have latency, we have brand awareness. Folks know us. They have great memories associated with the brand. We're bringing those back by reactivating and redeveloping."
Project Team
Project lead: Jay Battle, vice president of development, Gatti's Pizza
Architect: Scott Lay, Lay Construction
Kitchen supplier: Concept Services
Interior design: Ashley Malone, Lay Design
Kitchen design: Charlie Kaminsky, Jerry DeFeo and Michael Poates, all of Mr. Gatti's Pizza
Snapshot
Headquarters: Fort Worth, Texas
Concept owner: Sovrano, LLC
Concept: Rustic-casual Italian
Segment: Fast casual
Average check: $11.29
Location: Initial locations will be in the Dallas/Fort Worth area.
Units: 4 Mr. Gatti's locations; 91 brand concepts, including Gatti's Pizza and GattiTown
Opened: 1969
Size: 3,500-4,300 square feet
Real estate: Retail center; retail and freestanding locations are being considered for fiscal 2017
Design highlights: Rotating deck oven covered in red glass tiles; rich textures and textiles, including wood and stone fixtures
Build-out time: 10 weeks